View 4 Items
SALT LAKE CITY — From the sidelines to the stands and everywhere in between at Rice-Eccles Stadium, here's what you may have missed during Utah's 42-10 win over Arizona last Friday night.
Spida shoutout
The Utah men's lacrosse team was introduced during the football game Friday night, as it prepares for its first season as a sanctioned NCAA sport in 2019.
Twitter user Matt Hamilton shared a video of Utah Jazz star guard Donovan Mitchell — who attended the game along with Royce O'Neale, Georges Niang, Raul Neto and Naz Mitrou-Long — giving a shoutout to the Utah lacrosse team.
Aquabats and marching bands
Part of the pre-game festivities included a throwback to Ska music from the Utah marching band, as it played The Aquabats' "Martian Girl" before the team ran onto the field.
It was like taking a momentary trip back to the turn of the century.
One-liners and laughs
Whether it was discussing who they would want to win last weekend's USC-Colorado matchup (a Trojan victory), making a first appearance at the podium or answering a question about a career first, there were several memorable one-liners delivered by Utes during the postgame press conference.
Comment on this story
Big hit for Bernard
BYU transfer Francis Bernard has played sparingly as a reserve this season behind Utah's starting rover linebacker Chase Hansen. During the fourth quarter Friday, he showed the hard-hitting potential he displayed at BYU when he made an ooh-inducing tackle on Arizona running back J.J. Taylor.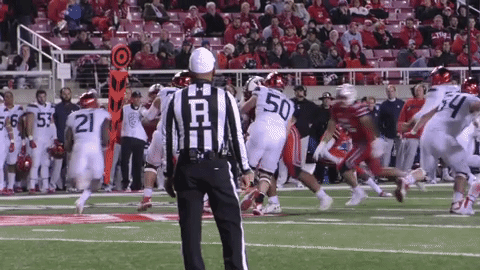 Whittingham's 200th win
Utes coach Kyle Whittingham reached 200 wins as either an assistant or as head coach at Utah with the victory over Arizona. He credited the players for his personal landmark.