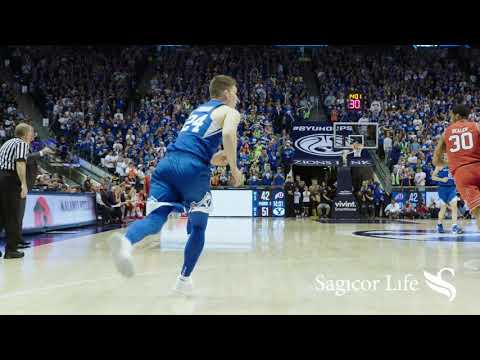 View 70 Items

It felt great. Ultimately I like to just do it for my guys because they've got my back and I've got their back, and we got this win together.

—BYU's Payton Dastrup
PROVO — Both BYU and visiting Utah were down significant contributors due to injury for Saturday's game.
For the Cougars, it was sophomore Dalton Nixon missing his second straight game due to a reported foot injury. The 6-foot-7 sophomore last played in BYU's 80-68 win over Illinois State on Dec. 6 and had been averaging 6.7 points per game while playing a key role off the bench.
Utah's loss was perhaps even more significant, given the strides freshman Donnie Tillman had been making in recent outings. The 6-foot-7 swingman was averaging 10.7 points, good for third on the team, along with being tied for the team lead in rebounds (6.2.)
Tillman last played in Utah's 77-67 win over Utah State, but was apparently limited and finished with no points in his 16 minutes played. Tillman's injury was a stated foot ailment, with no timetable for his return.
DASTRUP FILLS IN: Helping fill in for the loss of Nixon and playing big for the Cougars off the bench was sophomore Payton Dastrup, although not for the reasons most assumed heading in.
The 6-foot-10 Mesa, Arizona, product acquitted himself well playing in the post, but it was behind the arc where he stood out most. Dastrup doubled his made 3-point makes on the year by hitting two big ones during the second half, helping the Cougars separate from the Utes in the process.
"It felt great," Dastrup said of his performance and the win. "Ultimately I like to just do it for my guys because they've got my back and I've got their back, and we got this win together."
Although growing up in Arizona, Dastrup has been a life-long Cougar fan, making his performance in the 77-67 win even sweeter, "Today was something special," he said.
Dastrup finished Saturday's game scoring eight points in just nine minutes played.
COUGAR FANS WITHOUT HATS: It's been almost two years since Utah coach Larry Krystkowiak canceled the Utah versus BYU rivalry game for 2016-17 season for stated safety concerns for his players, but it was fresh on the minds of those in attendance on Saturday. Those concerns stemmed primarily from an instance when then BYU freshman guard Nick Emery punched Utah guard Brandon Taylor during Utah's 83-75 win in 2015.
"I am concerned about the potential for serious injury in the current atmosphere of this rivalry," Krystkowiak said in a press conference in January 2016, right after the announced cancellation. In interviews since the incident, Krystkowiak has indicated his decision was due to not only Emery's punch, but for what the Lone Peak product said to Taylor and the Utah coach right after.
Well, BYU fans are slow to forget Krystkowiak's actions, and they let the Ute coach, and his team, know about it throughout Saturday's game.
Students adorned themselves with safety hazard gear while chanting, "That's not safe!" when hard fouls were dealt out, on top of booing Krystkowiak loudly during pregame introductions. Even the BYU band got into the act, playing the '80s Men Without Hats classic "Safety Dance" during at least one timeout.