Shutterstock
BrandView
This story is sponsored by KSL Classifieds. Learn more about
KSL Classifieds
.
America! A land where our forefathers died to guarantee the Three Inalienable Freedoms: life, liberty, and the right to be outraged at things on Yelp. And if all men (etc!) are created equal, nowhere is that more true than in the land of internet reviews, where Hunter G. Huntington has every right to get as mad at a McDonald's for not recognizing Bring Your Crossbow to Lunch day as @KarlKardashian801 was when her foie gras came out slightly too foie-gras-y.
But reviews can be good, too! Like the time your hair guy gave you the perfect Bieber cut, or your sushi burrito was the perfect blend of Mexico and Japan, and you got to heap praise on both of these local artisans. Either way, reviews separate the bad from the good and the good from the best, helping businesses improve or just keep rockin' in the free world. So what are you waiting for? Pick your avatar, put your fingers on home row, and get commenting. Don't know where to start? Check out our Best-Worst Online Review Hall of Fame below, each with a helpful pointer.
Pointer #1: Review places you've actually been.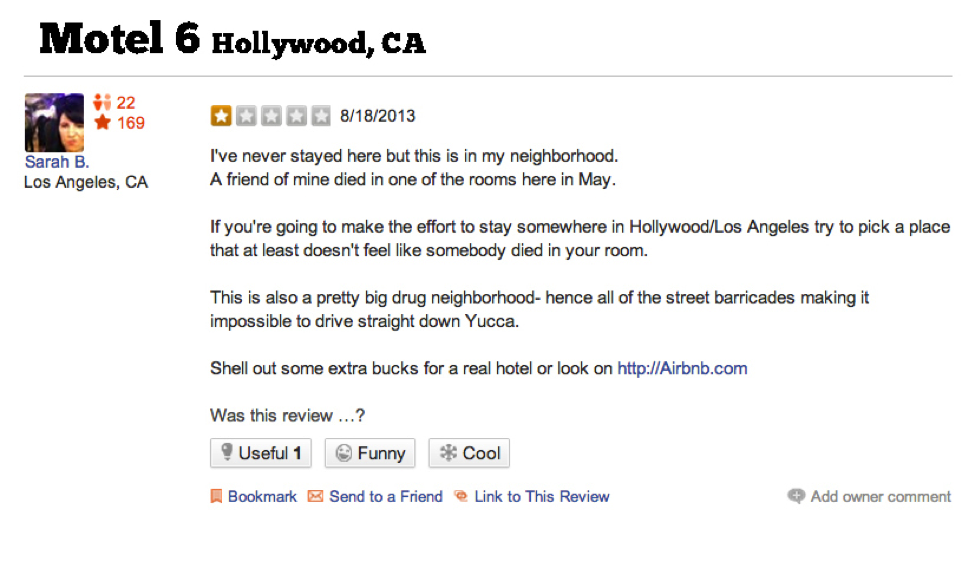 Guys, Sarah B. has some solid advice here. If you're considering staying at a motel but then you remember that your friend died there, DON'T DO IT. Instead, stay at home and write a review of the place as if you've been there. Then start reviewing hospitals by the same standards.
Pointer #2: One-star means will not return.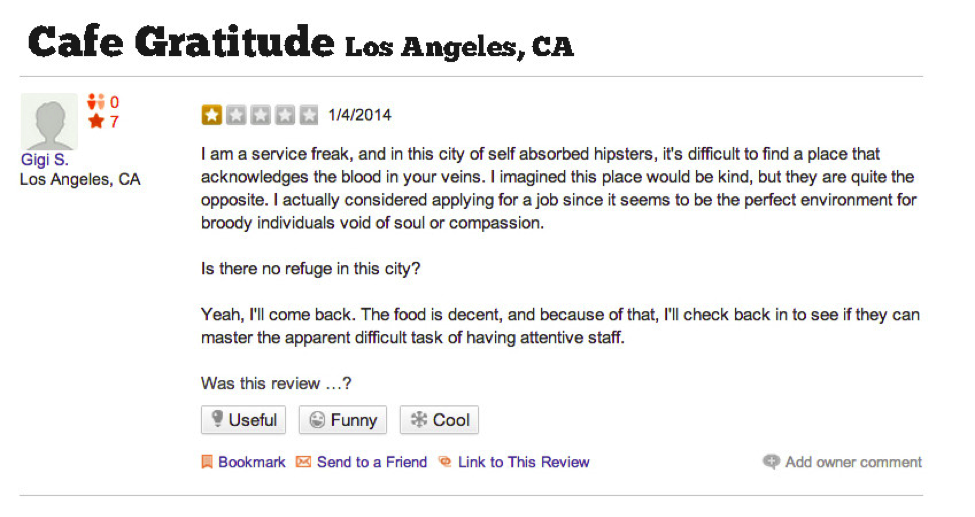 All is not as it seems at Cafe Gratitude (Cafe Attitude, more like)! Instead of nice, grateful servers, it's staffed by what are essentially anti-vampires, a.k.a. people who don't give a second thought to the blood in your veins. But don't worry! One-star Gigi will be back.
Pointer #3: When threatened with death: review, review, review!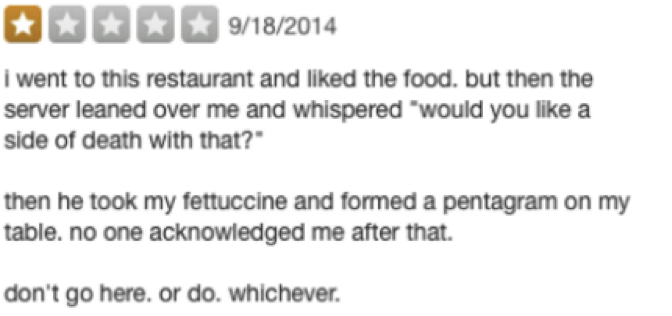 Now this is what we in the reviewing biz call a Legitimate Complaint. If your local pasta-slinger turns out to be a rogue Satanist who dabbles in the dark noodle arts, the least he could do is acknowledge you after the complimentary Side of Death! Good thing the alfredist fired off this review before they met their inevitable end. (But you can still go here, as the reviewer notes. It's up to you.)
Pointer #4: Don't be afraid to call a spade a spade.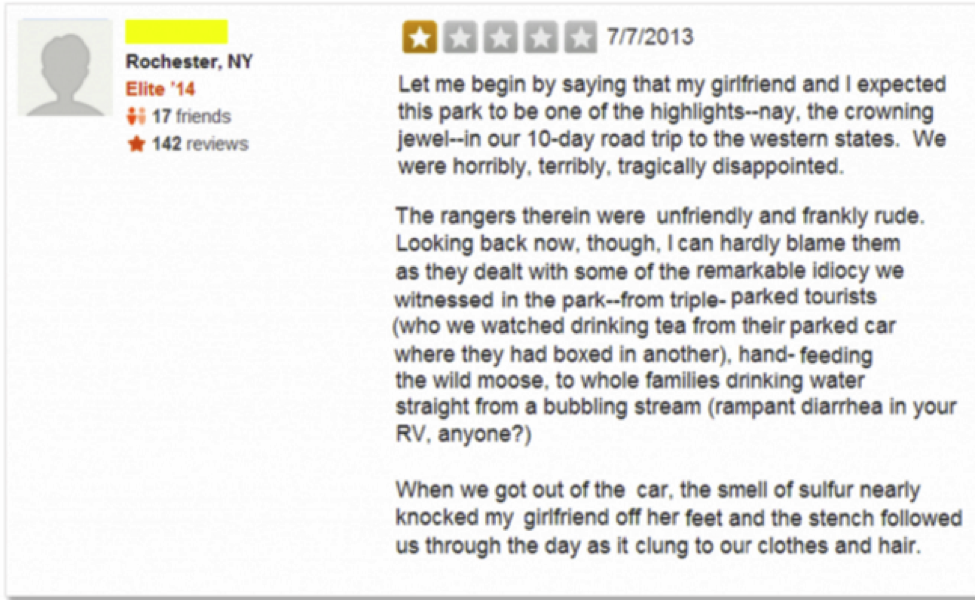 There's a whole darkly comic sub-genre of scathing national park reviews. "John Muir, your ideas are stupid and your park is stupider." "Millions of people like Yosemite? BIG DEAL IT SUCKS." "The variegated geothermal hot pots would be a lot better if they smelled like patchouli. Two stars." We can only hope these reviewers found a way to wash off the stink of sulphur and horrible, terrible, tragic disappointment.
Pointer #5: Don't throw the busboy out with the bathwater.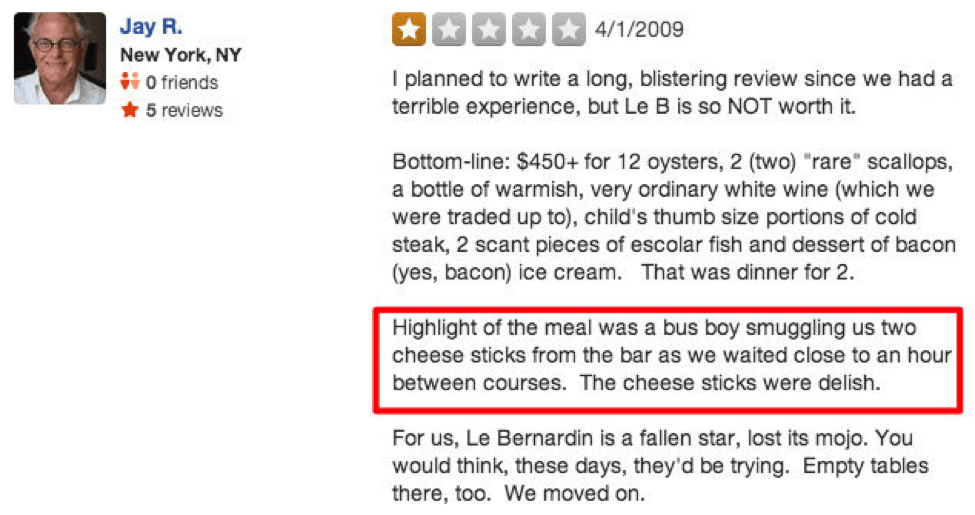 Jay R. knows a loser when he sees one. Losers charge you half a thou for what amounts to some pretty scanty appetizers. Losers serve you bacon ice cream. But busboys are the unseen heroes of overpriced restaurants, smuggling you the string cheese you wanted in the first place. (Someone should tell Jay R. about Hot Dog On a Stick.) Moral: when everyone else sucks, give the good guy a shout out.
Pointer #6: Know thyself.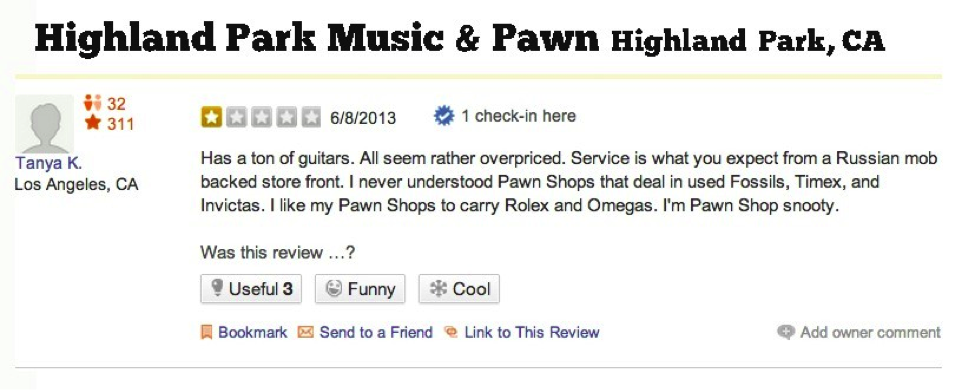 If you, like Tanya, rely on pawn shops to supply your Rolex needs, and if you are surprised when they sell things like guitars, know that going in. You're not in the wrong store — you're just pawn shop snooty!
Pointer #7: Rate a business on what it sells.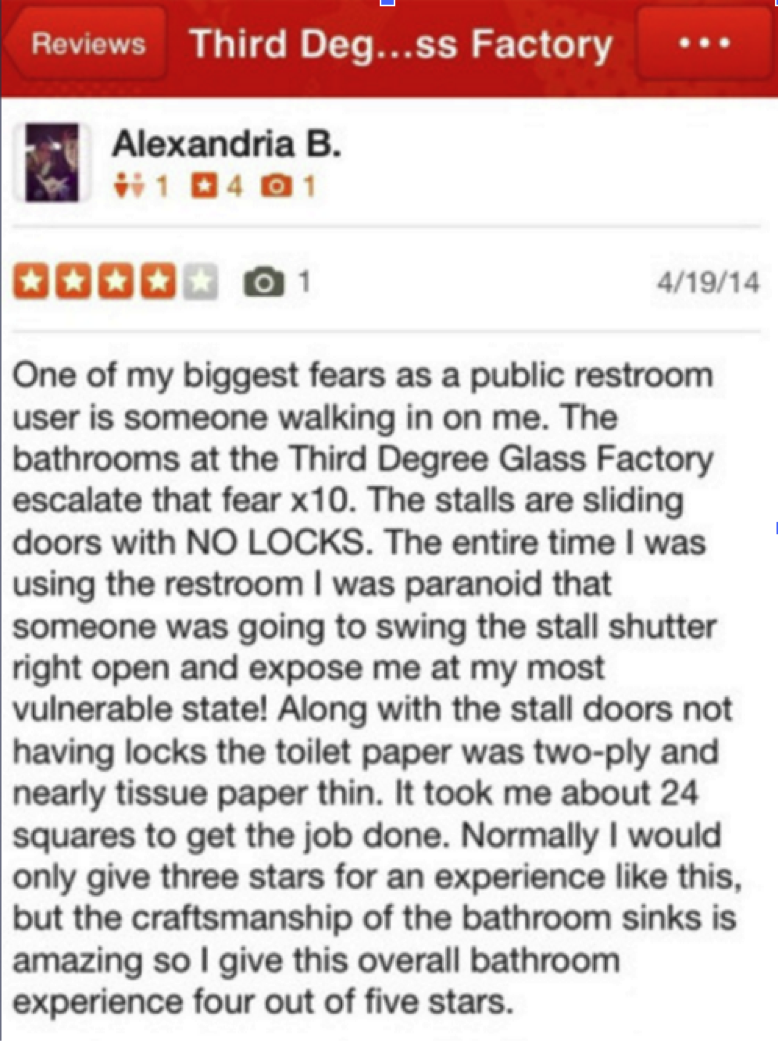 Alexandria has searched all of America for a glass gallery with an amazing bathroom, and what does she get? Stuck in another sliding-door-toilet situation with only 24 squares of the good stuff. If it weren't for that bathroom sink, she would never peruse artisanal glass here again!
Pointer #8: Keep it civil.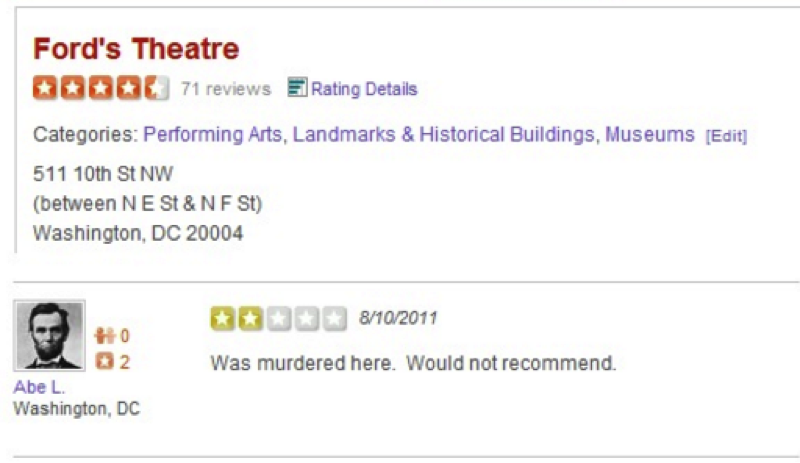 Assassinated at your favorite local theater? That's no excuse to raise your voice. Take a page from our sixteenth president: When they go low, give 'em two stars for effort. (Paging Sarah B.: Someone has been killed here. We don't think you'd like it.)
Got all that? Now you're a reviewing pro. So pick your favorite business and show them some love! Tell the world about their great prices, friendly customer service, or superior products. Speaking of which, don't forget to vote for your favorite Utah businesses in KSL Classifieds Voter's Choice awards! The deadline is September 30 (tomorrow), so hurry up and get opinionated!