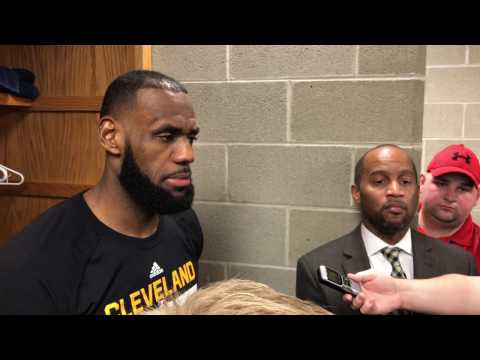 View 45 Items

SALT LAKE CITY – The Jazz injury report on Tuesday was as blank as an executioner's stare. Under a section called "Roster Notes" it said "None." It has been that way for three games, and coach Quin Snyder must be wondering if this is too good to be true.
Depth is a major plus in an 82-game season. But when everyone is healthy, can there be too many cooks in the kitchen?
"It's different," Snyder said of his fully-stocked roster. "That's for sure."
Still, the timing was terrific. How better to face the defending champion Cleveland Cavaliers than to bring the entire cast and crew?
Turned out it was more than enough.
The Jazz looked a lot like the team they hope to be during their 100-92 win. They worked all the angles. It wasn't a perfect night, but good enough to allow breathing room. Rudy Gobert made a flip shot and several jailbreak dunks. Utah led by 15 at the half, making Cleveland look every bit the Mistake by the (Great Salt) Lake. But the second half started and the Cavs went on a 19-2 run, cutting the deficit to one. LeBron James made a downright felonious dunk of his own. His 3-pointer in the mid-third quarter put Cleveland up by two.
The hunt was on.
But the fourth quarter was largely an even affair. Afterward, the box score told the story: Six Jazz players scored in double figures. The defense limited Cleveland to 37 percent shooting. Utah had seven more assists and four more rebounds and better 3-point shooting.
Thus at the midway point in the season, and now that the Jazz are healthy, the big question is whether they will be content to make the playoffs, or go for something bigger. Tuesday said something about their plan. They're alive and, at least for the moment, thriving despite an injury-laden first half of the year.
"I think we expected it," said Gordon Hayward, who had 28 points. "I think going into it we had high expectations for ourselves. There's a long way to go ... so it's important not to get too high on the highs, but not too low on the lows."
But there are even wider reaching ramifications than making the playoffs. Hayward can become a free agent next summer. If he thinks the Jazz have maxed their potential, he could be gone like the last slice of pizza. Although contract incentives favor him staying in Utah, he is approaching his best years. Kevin Durant didn't wait when the chance came to join a title contender.
In some ways, the Jazz are looking great. They are tied for the eighth-best record in the league and are tied for fifth in the conference standings, two games behind the Clippers. They lead the Northwest Division.
At the same time, through the injury-marred first half of the season, they've consistently gone off the rails against top competition. Utah is 6-12 against teams with .500 or better records.
"I feel from an injury standpoint, we'd be unrealistic to think we could be in a lot better place," Snyder said. "There are always games you think we could have got this one or that one, or play better here, play better there, but hopefully over the next month we can start making some real progress."
It sure looked like progress on Tuesday.
If the Jazz were to defeat Cleveland, home was a good place to start. The Cavs are in the middle of a six-game road trip. As good as the Jazz feel about improved health, they no longer have a built-in excuse. In some ways, the 100 player-games missed this year worked to Utah's advantage. Fans and media have been patient. Opponents overlooked them. Injured players got some rest.
The season reaches the halfway point on Friday against Detroit. They're solidly positioned to make the playoffs — their foremost (and most realistic) goal. On the downside, until Tuesday they didn't do a lot against top-level competition.
Their reputation has been that they're tough to beat, but not elite (say it in rhyme).
If they are to impress Hayward enough not to consider other opportunities, the Jazz need to convince him this is the place. That's a shopworn phrase in Utah. But at the moment, it looked a lot like he was buying it all.