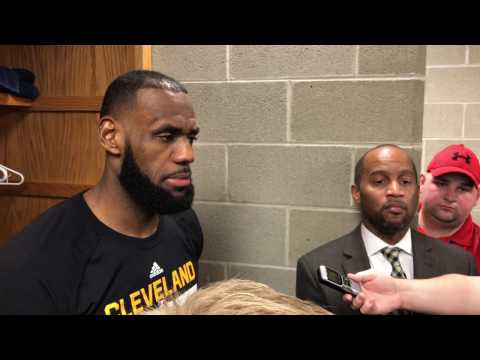 View 45 Items

The crowd could feel it. It was definitely a good win. Anytime you can beat LeBron and his team here, it's a good win.

—Gordon Hayward
SALT LAKE CITY — The Utah Jazz didn't need any Sundiata Gaines made-for-Hollywood heroics. They didn't need a game-winning jumper by Gordon Hayward. They didn't need a great play by Deron Williams or Devin Harris, either.
While those all evoke good memories for Jazz fans in previous Utah wins against LeBron James teams, this growing-before-our-eyes squad didn't need any late-game theatrics to beat the self-proclaimed king another time in a 100-92 victory over the Cleveland Cavaliers.
"The crowd could feel it," Hayward said. "It was definitely a good win. Anytime you can beat LeBron and his team here, it's a good win."
To pick up this fun win over the Cavaliers, the Jazz simply needed another All-Star performance by Hayward; the return of Rodney Hood's shot; one more double-double and defensive dandy by Rudy Gobert; some unexpectedly good guarding by Joe Ingles; solid outings from George Hill, Derrick Favors and Trey Lyles; some terrific team defense; and, last but not least, a lot of poise after the Cavs went on a 17-0 run early in the second half.
If you think that paragraph was long, just consider that doing all of the above was easier read than done.
That, however, is just what it took for the Jazz to return from a subpar road trip to notch a much-needed win and prevent James from winning in Utah for the first time since 2010.
"Contributions up and down the board," Hayward said.
Hayward had the biggest contribution of the night for the Jazz, scoring 28 points on 10-of-12 shooting with four 3s and grabbing nine rebounds.
But all five Jazz starters scored in double figures, helping the Jazz (24-16) improve to 3-0 when that happens. Hood broke out of his slump with 18 points and four 3-pointers, Hill chipped in with 13 points and seven assists, Derrick Favors added 12 points and Gobert compiled 11 points and 14 rebounds while annoying the Cavs offense.
Utah also got nice performances from Lyles (12 points and two timely 3s) and Ingles (five points and surprisingly solid defense on James).
It all added up to the team's third home win in a row over Cleveland. James hasn't won in The Viv since he and his Miami Heat team won there on Dec. 8, 2010.
James, who scored a game-high 29 with six rebounds and five assists, seemed to take yet another loss in the Beehive State rather well.
"I feel great in this arena all the time. You know, they talk about the altitude, I don't get really that tired for some-odd reason and I have had some pretty good quarters," said James, who sparked the Cavs' second-half start with a big third quarter.
"But," he added, "(I'm) never on the winning side, but I'm glad the fans got an opportunity to see their team win and me make a couple plays."
James made quite a few plays early in the third quarter when the Cavs turned a 58-43 deficit into a two-point lead with an overwhelming 17-0 run shortly after halftime.
James scored 13 in that spurt.
"We knew they were going to make a run. They're the world champs for a reason," Hood said. "They got great players on their team. They're a great team. They've been together. We knew they were going to throw a punch, but we had to fight back."
Though their big lead melted away quicker than the snow in the Utah valleys did thanks to warmer weather this week, the Jazz did the best possible thing they could.
They responded with their own huge run.
Utah's 16-0 surge began with a Hood layup and ended with a Hayward turnaround jumper and 74-60 lead.
Hayward, who got a few "M-V-P" chants from Utah enthusiasts, scored 10 points in that game-changing burst.
"He made some big shots tonight," Gobert said of Hayward. "When he is playing like that, he is a real leader, and that's what we need."
The Jazz continued to play strong the rest of the way, only allowing Cleveland to pull within six with an inevitable late-game push.
Hood ended the Cavs' hopes with a corner 3 to put the Jazz up 99-90 with 2:06 remaining.
"When he gets going, he's hard to stop," Hayward said of Hood. "And tonight he was on fire from the corners, especially. We need that from him."
They needed a lot of good nights from a lot of people, and they got those too. That's just how Jazz coach Quin Snyder likes it.
"I'm glad we shared the ball and we tried to defend," said Snyder, whose team held the Cavs to 36.5 percent shooting. "The message for us is an internal mesaage that that's how we have to play."