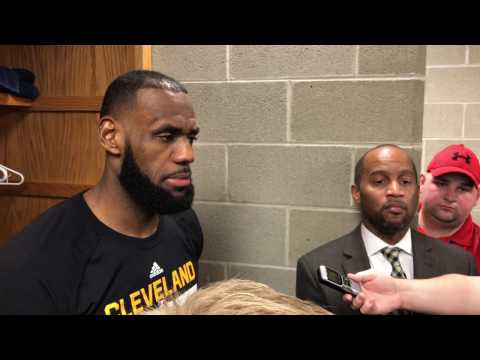 View 5 Items

The first thing I told him when he walked into the locker room the other day is, 'If you want to fit in, shoot the ball every time you get it.'

—LeBron James, on Kyle Korver
SALT LAKE CITY — Kyle Korver has a well-deserved reputation as one of the best 3-point shooters in NBA history.
So, after being traded from the Atlanta Hawks to the defending NBA champion Cleveland Cavaliers last weekend, he must've been mighty glad to hear what his new teammate, superstar forward LeBron James, had to say before Korver started preparing to play his first game with the Cavs on Tuesday night against the Utah Jazz.
"The first thing I told him when he walked into the locker room the other day is, 'If you want to fit in, shoot the ball every time you get it,' " James told reporters prior to Tuesday morning's Cleveland team shootaround at Vivint Arena. "Shoot the ball as soon as it touches your hands. Shoot it. We don't care."
That's got to be some sweet "strings music" to a guy like Korver, 35, who's in his 14th NBA season and spent more than two of those seasons, 2007-10, with the Jazz. He set an NBA record for single-season 3-point accuracy (53.6 percent) in 2009-10 in Utah before leaving via free agency to sign with the Chicago Bulls.
The Bulls traded Korver to the Hawks in 2012, and he helped a resurgent Atlanta franchise reach the NBA playoffs all four years he was in Atlanta, including an Eastern Conference finals appearance in 2015. He made his only NBA All-Star Game appearance that same year.
Korver admitted he had mixed emotions about being traded away from a team whose success he'd contributed greatly to, and in leaving an organization where he's enjoyed meaningful friendships.
"It's where I had my best basketball years, honestly. It's where I had all my kids. It's hard to leave that behind," he told reporters last week after being traded in exchange for Mike Dunleavy, Mo Williams and a 2019 first-round draft pick.
But Korver also knows that playing for the Cavaliers gives him the greatest chance he's ever had in his long career to win a coveted league championship.
"Atlanta was as long as I've played anywhere," Korver said, "and I built a lot of great relationships on and off the floor. I feel like I've been through a lot with the organization, and there was a total overhaul of who they were since then.
"There's definitely connections in that, you know, and I put my heart into it for a bunch of years.
"But I know this is an incredible opportunity for me," he said. "And I've always felt like the better the players are around me, the better I can be. This is the most talented team I've ever been on, for sure."
Indeed, with perennial MVP candidate James, point guard Kyrie Irving and forward Kevin Love leading the way, the Cavs came into Tuesday night's matchup with a 28-8 record, by far the best mark in the Eastern Conference.
Korver caught Cleveland's interest after J.R. Smith, an integral part of last year's championship squad, suffered a broken thumb that will keep him out of the lineup until late March.
"There's a lot of things to figure out, and I haven't practiced with the team," Korver said with a laugh before Tuesday night's tipoff. "So I don't really know what I'm doing out there, but I'm gonna go out there and whatever time I get I'm gonna try to do my best.
"I'll be ready. Someone asked me earlier that I've usually had to work pretty hard for my shots, and maybe it'll be easier for me now. Now I'm just gonna catch it and, if I'm open, I'm gonna let it fly."