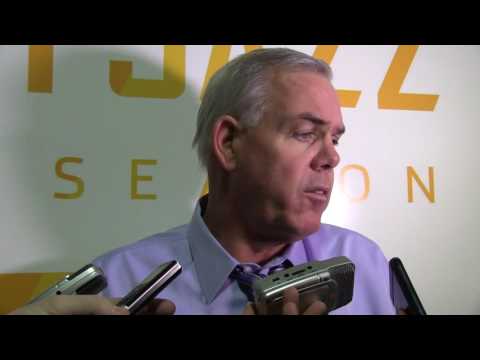 View 39 Items


The best thing we did was we just rebounded the ball on both ends of the floor.

—Dave Rose
BYU 77, Utah State 63
SALT LAKE CITY — BYU rebounded from two consecutive losses but it wasn't because of its shooting or scoring.
It was the Cougars' rebounding and defense that made the difference in a 77-63 victory over Utah State Wednesday night at Vivint Smart Home Arena.
After falling 114-101 last Saturday at home to Utah Valley University, BYU came out hungry and with an aggressive, defensive mindset.
"We couldn't wait to play," said senior guard L.J. Rose, who scored 18 points, grabbed nine rebounds and dished out six assists against the Aggies. "We embarrassed ourselves and the university on Saturday. We knew we had to bounce back. We had something to prove."
Forward Eric Mika scored a game-high 20 points to go along with seven rebounds and four blocks.
"Our mindset was just getting back to playing defense," Mika said. "It turned into a grind because we were so focused on defense."
.@BYUbasketball's Eric Mika (@erc95with) the play of the night (play of his life?) with the steal, spin move and dunk vs. @AggieHoops pic.twitter.com/XnPOMhgOXY

— Brandon Judd (@brandonljudd) December 1, 2016
The Cougars outrebounded the Aggies 55-31 and tracked down 23 offensive boards which BYU head coach Dave Rose said "is a pretty good number."
Rose liked the energy his team played with against USU.
"The best thing we did was we just rebounded the ball on both ends of the floor," he said. "That's a physical thing. It's a mindset. To be able to do that against a ball-control team was the best thing for us."
With the win, BYU improved to 5-2 on the season while USU dropped to 3-3.
There were plenty of rebounds to be had in this game, as the Cougars shot just 35 percent from the field, including 4 of 20 from 3-point territory. USU wasn't much better, hitting 41 percent of its shots and going 5 of 19 from distance.
BYU proved it could win by slowing down the pace, uncharacteristic of its typical fast-paced, run-and-gun style.
"Our guards were really having a hard time shooting that thing in," said Dave Rose. "We really relied on Eric ... That hasn't been the strength of our team (this season), 3-point shooting. That's kind of been a staple for us … What we needed to do was to slow it down and then execute some half-court sets. It's the most half-court set calls we've had in a game. I think you could tell that all the guys were playing for was to win."
Starting forward Kyle Davis did not play due to an injury sustained in the second half of the loss to UVU. Mika left the game with four minutes left in the first half due to an ankle injury, though Mika returned and played most of the second half.
Freshman Yoeli Childs made his first career start in place of Davis and he recorded a game-high 12 rebounds and scored nine points.
"He did an awesome job," Mika said of Childs. "In his first game starting as a freshman, he missed a few shots but he got his hands on balls and was playing like an absolute beast."
And with Mika out late in the first half, sophomore Braiden Shaw scored eight straight points, including three putbacks, to help BYU take a 37-31 halftime lead.
"We came out with the mentality that we were going to play hard and we all crashed the boards and did our thing," Shaw said.
30
comments on this story
BYU made 1 of its first 11 shots to start the second half but L.J. Rose drilled a couple of big 3s that gave the Cougars some breathing room. Rose's 3-pointer with 4:21 remaining gave BYU a 65-56 advantage.
"L.J. hit some really big shots, which is good to see," said Dave Rose.
Over the final four minutes, the Cougars knocked down 12 of 14 free throws to seal the victory. On the night, L.J. Rose hit 11 of 12 from the charity stripe.
But more than anything, he was happy about his team's defensive performance.
"We gave up 92 points to Valpo and 114 to Utah Valley," L.J. Rose said. "That's not acceptable."
BYU faces USC Saturday (6 p.m., MST, ESPNU) at the Staples Center in Los Angeles.