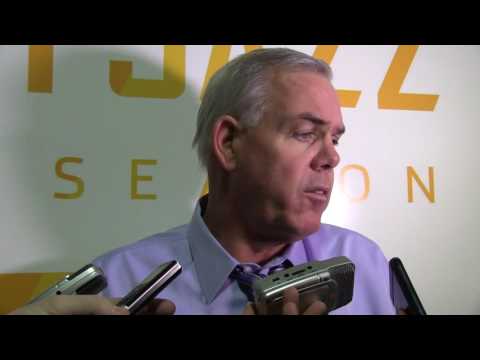 View 3 Items


SALT LAKE CITY — Inquiring minds wondered: How in Cosmo's name would BYU react to its defenseless 114 points yielded to Utah Valley last Saturday in the Marriott Center?
In Wednesday's 77-63 win over Utah State in the Vivint Smart Home Arena, the Cougar defense improved by 51 points.
It is a start for Dave Rose's young team that showed in back-to-back losses to Valparaiso and UVU, it has a long way to go before taking on Gonzaga in WCC play.
"The most impressive thing to me was how the guys responded as far as the energy that we played with," said Rose.
"We had good energy and contested things pretty well. Twenty-three offensive rebounds in a game where there are 56 missed shots is a pretty good number. With the group that is just learning how to go through this whole process, to see them respond to a really disappointing loss with this kind of effort is what our staff is most impressed with."
But there was defense played by his team. It turned the game into a half-court grind it out affair, but it was designed for maximum effort on defense and deliberate offense.
Instead of watching 18 bombs whiz by its faces, BYU saw USU make just 5.
And there were rebounds, with BYU holding a 55-31 advantage.
And there was a patient, methodical pounding of the ball inside.
And reckless play or defenseless efforts from bench players.
And junior Eric Mika found a way to stay out of foul trouble and play 29 strong minutes. He led everyone with 20 points, 7 rebounds, 4 blocked shots and a series of slam dunks including his own steal, drive and finish with a flush in the second half.
"Believe it or not, pretty much every practice was about defense," said Mika. "Every practice was almost all about defensive drills. We made sure we came out not protecting something but proving something."
Utah State led by five just one minute played after the opening tip. Then BYU used a tag-team shuffle of Mika, freshman Yoeli Childs, Braiden Shaw and Jamaal Aytes.
The Aggies came into the Utah Jazz arena averaging 73 points, 36 from 3-point land and 48 percent from the field. USU made 5 of 19 (26 percent from 3) and 26 of 63 (41 percent) from the field against BYU.
While those aren't earthshaking figures, it marked a major improvement from USU's flat-out failure to build a wall.
It was a steady dose of putbacks, defensive board clearouts and twice as many second-chance buckets (20 to 10) the Aggies couldn't handle.
Shaw, whose number got called when senior Kyle Davis couldn't suit up, scored 8 straight points on 4-of-4 shooting with 4 boards during a key stretch just before halftime to keep the Aggies at bay, 37-31 at the break.
For Mika, Aggie post players Norbert Janicek (5 of 8, 12 rebounds, 15 points) and Alexis Dargenton gave him plenty of opportunities to get in foul trouble. But he finished with just three. USU's Jaylen Moore led the Aggies with 15 points but BYU's rebounding edge was insurmountable.
That BYU advantage is a little misleading. It was evident USU coach Tim Duryea did not want Dave Rose to unleash a fast-break transition game and he had four players vacate early after Aggie shots.
The Cougars got a smooth, smart and efficient effort from transfer point guard LJ Rose, who scored 16 of BYU's 40 second-half points. Where he'd made just 2 of 11 from beyond the arc in BYU's previous games, he had 2 of 4 in this game. Nick Emery and TJ Haws combined to go 5 of 23.
Rose was 10 of 11 from the line for a career-high 18 points, and added 9 rebounds, and 6 assists, and that effort may have been the standout performance of the night for either team.
"Everyone who has watched us play or knows our team knows we are a very capable team," said Mika, who praised freshman Childs.
"While I was boxing out, he went and got a lot of rebounds. He did an awesome job in the first game starting as a freshman. He got a lot his hands on a lot of balls out there."
Mika found himself wrestling a rebound away from Rose late in the game and didn't know that was a board that would have given Rose his 10th and a double-double.
"I felt bad," said Mika. "I told him I owed him one the next game."
EMAIL: dharmon@deseretnews.com.
TWITTER: Harmonwrites