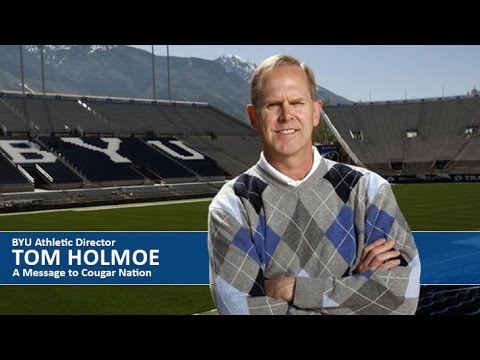 Six seasons later, our stated goals in going independent have been reached and surpassed to levels we never expected.

—BYU athletic director Tom Holmoe
BYU athletic director Tom Holmoe emphasized that football independence is achieving and surpassing its goals while also pumping the overall strength of Cougar athletics during a State of the Program address Friday.
During the pre-recorded video address — shared via social media, YouTube and broadcast on BYUtv — Holmoe reaffirmed that independence is working for BYU. This comes on the heels of the Big 12's recent announcement that it will not expand.
"Although we were disappointed with the news, the experience left us with a newfound energy and even stronger desire to represent BYU and our sponsoring church (The Church of Jesus Christ of Latter-day Saints) at the highest level," Holmoe said.
Through the process of pitching itself as a potential expansion candidate to the Big 12, Holmoe said the school was able to self-evaluate the strength of the overall athletics program.
Holmoe admitted there have been times over the years, with the changing landscape of college football, where he's questioned the sustainability of independence.
But since the Cougars went independent six years ago in football, he emphasized that the program has achieved and surpassed its stated goals: greater access for fans to see the team compete, citing the school's frustration with their conference TV network in the Mountain West Conference, and exposure for the program on a national and global level. The Cougars' partnership with ESPN is essential.
"Six seasons later, our stated goals in going independent have been reached and surpassed to levels we never expected," Holmoe said. "We are averaging 10 football and 14 men's basketball games a year on ABC or ESPN. Our partnership with ESPN is strong. It's unique. It gives us an opportunity to play some of the nation's best competition in front of a national audience."
Holmoe also pointed out that only two college football teams have played every game this season so far on national TV: BYU and Notre Dame.
Up next for the Cougars (4-4) is a 1:30 p.m. MDT matchup Saturday against Cincinnati. This game will be broadcast by CBS Sports Network, a partner of the Bearcats' conference, the American Athletic Conference.
Holmoe also declared the school will be ready for any future opportunities for the school's athletics program to join a power conference.
"In the future, if other P5 opportunities should arise, we will be very prepared to showcase BYU and all it has to offer," he said.
The former BYU safety, who spent six years in the NFL, said he was impressed with how much support the Cougars received in their season-opening game against Arizona in the first game of the Kalani Sitake era.
"We'll play anyone, anywhere, anytime, and our fans will come out in droves to cheer us on," he said. More than 30,000 Cougar fans showed up for the Cougars' 18-16 victory over the Wildcats in Glendale, Arizona.
Holmoe emphasized the overall strength of the BYU athletic program. This fall, the Cougars have a women's soccer and women's volleyball team ranked in the top 15 nationally, as well as a BYU's men's cross country team ranked No. 3. In recent seasons, the Cougars' men's and women's volleyball programs have been national runners-up after reaching the national championship match.
The BYU men's and women's basketball teams are also a staple in national postseason tournaments year in and year out.
"We all know there are great financial resources in the Power 5 conferences, and it was hard not to dream about what we could do with that money," Holmoe said. "As our staff went through the process of self-evaluation, I pondered on how we can get even stronger in the areas of adaptability and resources.
"Many people don't see this side of BYU athletics, but I believe our teams do more with less than almost every school in the country," Holmoe said, while also saying the athletic program is in the strongest financial position it's ever been.
An example of the Cougars' strength lies in the annual NACDA directors cup, Holmoe said, which gauges the overall success of a college's athletic department. Since 1994, when the rankings first began, Holmoe said BYU has finished with an average national ranking of 31st, finishing ahead of half of the Power 5 schools.
Holmoe also shared the story of an email he received from a BYU fan, in which the fan shared his sentiment that the Big 12 presidents don't control the fate of BYU sports.
"We control our own future," Holmoe said. "I'm convinced we have a fantastic future ahead of us."
Email: [email protected]; Twitter: @brandonljudd