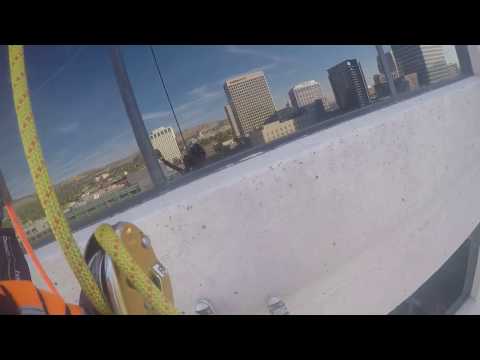 View 11 Items
McKenzie Romero

SALT LAKE CITY — The first step is a daunting one.
Dressed all in purple, Wendy Smith carefully eased herself off the roof of the Maverik Base Camp building downtown, planted her feet against the wall and began the trek 13 stories to the ground.
For the Sugar House resident, the 165-foot rappel during a fundraising event for the Salt Lake Area Family Justice Center also sent a message: Victims of domestic violence can find the courage to ask for help, and when they do, there are people waiting for them.
"I want to help as much as I can, and by supporting things like this, I want other women to know that people have been in their situation and so they're not by themselves," Smith said. "If they reach out, there are people who will help them and hold their hand and be supportive, because they can be brave as well."
Smith said she joined the effort because combatting domestic violence is an important and personal issue for her. She was one of up to 90 rappellers who made the descent in Friday's Over the Edge demonstration at the Maverik Base Camp building, 185 S. State.
Each participant was required to raise at least $1,000 in advance of the event, exceeding the YWCA's goal to raise $90,000 for its justice center. The total was helped along by the Salt Lake County District Attorney's Office, which matched every dollar raised by the first 25 participants and sent District Attorney Sim Gill down in the initial group of rappellers.
Rene Malecki, the family justice center's director, called the center's first fundraiser a success that brought in both financial and community support.
"We have 14 different community partners and staff who work with victims on a daily basis to really provide them with hope and healing and services to help them move forward," Malecki said. "So individuals who are raising money to help us continue these services, they're rappelling down to help all of the people who come to the family justice center rise up."
Malecki emphasized that 1 in 3 women in Utah will experience domestic violence, and another 1 in 3 in the state will experience sexual assault.
Charlotte Miller, chairwoman of the YWCA's board of directors, completed the descent with her husband, Dennis Ferguson. Dressed in Spider-Man costumes, the couple shared a cheer and kiss when they hit the ground.
"The families who show up at the family justice center are displaying a lot of courage to change their situation, and the amount of courage that we show to rappel off the building is so small compared to the courage of those families," Miller said. "We're doing this to help those families."
In addition to the funds raised, Miller said the event helped more Utahns learn about the free and confidential services the YWCA and family justice center offer, whether for themselves or someone they know.
After her descent, Heather Edwards, of South Weber, shared her appreciation for her Maverik co-workers who helped raise money for the family justice center. Her boss and others came out to cheer as Edwards made her trip down the building where they work.
"Apart from looking for a rush, it was a great cause," said Edwards, who was rappelling for the first time. "We were all pumped on our floor in the operations department about getting enough money raised for the YWCA and the family justice center."
Edwards has volunteered in the past for domestic violence shelters, she said, and so the call to action struck her personally.
"I thought, 'If people can go through that, then let's do this,'" Edwards said. "It was awesome. I love how much money we were able to raise in such a short period of time."
The event offered a celebratory atmosphere, with music playing and announcements and applause for each participant. Smith said the trip down was both exciting and nerve-wracking, and gave her a gorgeous view of downtown.
"I kind of freaked out for a minute, but then I was OK. It was really fun," Smith said. "I think there are lots of women out there in domestic violence situations who have to be extremely brave every day, and so (the rappel is), for me, a symbol. That was difficult for me, but there are far braver things that myself and other people do every day."
She noted that men experience domestic violence as well.
"I know it's difficult because I've been there and you have to be so brave," Smith said. "it's really, really scary, but people are around to help."
As she reached the ground, Smith was met by applause and a few tears from friends who came to cheer her on.
Chris Pasko, a close friend, praised Smith and other participants for not only bringing important contributions to the justice center, but for demonstrating that those who are facing domestic violence don't have to do so by themselves.
"With this cause, raising awareness actually helps the people in that situation because they know that they're not alone," Pasko said, becoming emotional. "You can raise money to help them, but awareness is just as powerful."
Help for people in abusive relationships can be found by contacting the YWCA, Women in Jeopardy, 801-537-8600, or the Domestic Violence Hotline, 1-800-897-LINK (5465).
Email: mromero@deseretnews.com
Twitter: McKenzieRomero