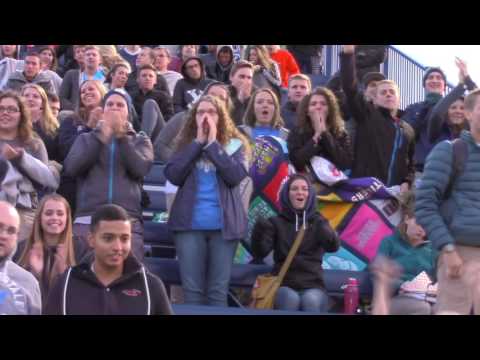 View 23 Items

PROVO — BYU coach Jennifer Rockwood delivered a short, basic, yet evidently well-headed speech to her women's soccer team at the half of Monday's match versus San Francisco. The result was a four-goal explosion during a seven-minute strectch which overwhelmed the visiting Dons while giving the Cougars their first West Coast Conference win of the season.
Once again it was senior Ashley Hatch leading the charge, sending three shots into the back of the net during the 4-0 win, as a somewhat tight and tense match turned into a a comfortable romp.
As for Rockwood's halftime message, it didn't involve any yelling, although Hatch mentioned her coach as having "a little more umph to her voice" and desiring her players to get off the snide and to get some goals.
"We only said two things," Rockwood said. "Nothing else matters unless we have energy and play two-touch. That's what we do and I said it several times."
The term "two-touch" refers to simply receiving the ball and letting go of it in a purposeful direction — keeping the attack direct and concise. As the final score shows, BYU executed its two-touch assignment rather well.
The Cougars' first successful attack came at the 53:47 mark when Hatch headed in a pass from Alyssa Jefferson for the lead. Just 20 seconds later Hatch scored another goal, this time receiving the ball, and a wide open net, after BYU forward Michele Vasconcelos forced the Dons' goalie into an attempted diving save.
"When we play in rhythm and in two-touch — especially in transisition — we've got a lot of weapons," Rockwood said. "We got that first goal on a nice set-piece corner kick and we were due...that kind of broke the ice, obviously."
At the 60:51 mark, Hatch finished off her hat-trick, this time dribbling around San Francisco's charging goalie for another goal made easy by the prolific senior, who leads the nation in goals scored.
"We had a lot of energy. We knew we could do it and we so we were kind of like, 'OK, let's put this away...it was a lot of fun," Hatch said of the four goal barrage.
As usual, the No. 3-ranked Cougars dominated possession throughout, and outshot the Dons 18-11. San Francisco struggled to create prime opportunities, as BYU's backline of Jefferson, Taylor Isom, Danika Bowman and Stephanie Ney, among others, proved stingy.
Also proving stingy was goalie Hannah Clark, who has played well while replacing injured starter Rachel Boaz. Due to the course of the match, Boaz was able to see her first action since breaking her hand on Aug. 26.
"I'm just so grateful that the team played a phenomenal second half," Boaz said. "Once we scored the third goal I was taking my sweats off — really hoping (I would go in.)"
With the win BYU improves to 10-1-1 on the season and 1-0-1 in WCC play while San Francisco falls to 4-7-0 overall and 0-2-0 in WCC play. Next up for the Cougars are two road matches versus Loyola Marymount and Pepperdine on Thursday and Saturday, respectively.
Twitter: @BrandonCGurney