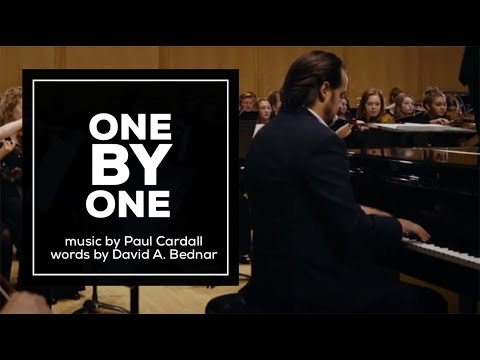 View 2 Items

World-renowned LDS concert pianist and recording artist Paul Cardall released a new video Friday.
The music in the video was produced by Cardall and the words were written by Elder David A. Bednar of the Quorum of the Twelve Apostles of The Church of Jesus Christ of Latter-day Saints. The video also features tenor Nathan Pacheco, The American Heritage Lyceum Philharmonic Orchestra and The American Heritage Youth Chorus with Kayson Brown conducting.
The video alternates between the performers in a concert hall and scenes of smiling families and individuals.
Cardall is a two-time No. 1 Billboard artist with seven other albums that have appeared on Billboard's New Age chart, according to his website.
"He is one of the most accomplished...artists in the world," said Jenn Gordan, Steinway & Sons artist manager, according to Cardall's website.
The song is on Cardall's newest album "A New Creation," which came out on Sept. 16.
"One by One is the heart of Paul Cardall's album, 'A New Creation,' which features a symphony of melodies by illustrating creation, heartache, and hope initiate the narrative followed by a wave of sweeping vocal and choral sonorities offering reassurance and spiritual power," according to the video's description. "This journey represents a state of innocence at birth, the ensuing brokenness of the human condition, but then focuses on mankind's potential to rise above that broken state of affairs to find healing and growth."