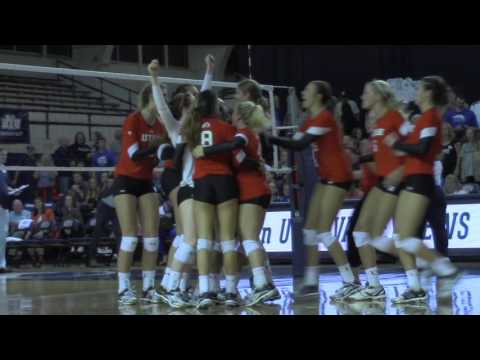 View 15 Items

PROVO — Considering the struggles Utah's Adora Anae had to go through to finally get on top of BYU, her match-winning point on Thursday was shockingly easy.
With BYU's Smith Fieldhouse crowd screaming, and with Utah up 14-13 in the fifth and final set, Anae suddenly found the ball in perfect position at the center of the net, by virtue of a BYU overpass. The junior knew exactly what to do, spiking the ball down to give the Utes a thrilling five-set win (27-25, 25-20, 23-25, 17-25, 15-13) over the No. 9-ranked Cougars.
"I wasn't even thinking and there it was, right there," Anae said. "It felt so amazing to be able to do that and to finally beat these guys."
For Anae, losses have come far too often over her three years playing for Utah. So this year, as a major goal, the Utes circled Thursday's game on the calendar, preparing hard in hopes of turning the tables. Preparations included piping in the BYU fight song consistently during practice sessions leading up to Thursday's win.
"We finally got them," Anae said.
Doing as much wasn't easy. Sure, the Utes stormed out to a two-set lead, leaving the home crowd a little stunned. But everyone knew the match was far from over, including Utah coach Beth Launiere.
"Even when we were up 2-0, I didn't think it would be easy," Launiere said. "This is too good of a team and too good of an environment for them."
Utah appeared poised for the sweep in the third, up 20-16 before the Cougars came storming back to take the set 25-23. The Utes then squandered a 7-2 lead in the fourth as BYU came storming back to take an easy 25-17 set four win.
As Launiere gathered her players after that fourth set, no one panicked, remaining focused on what had to be done.
"At that point it was just so much about our execution and just having an offensive mind," Launiere said. "It was a defensive battle, but we had to have an offensive mind. I just told them to go for it — just swing for kills."
Doing most of that swinging was Anae, who connected on 31 kills on 73 attempts. It's a workload fairly normal for the junior, who is leaned on heavily in most matches.
"She has the ability to carry us at times," Launiere said. "Last year she carried us a lot, and this year we're more balanced, which is great. But I did tell my setter to not be afraid to set her every ball because she has the ability."
With the win, Utah pushes its record to 8-2, and more importantly gains good momentum heading into Pac-12 Conference play.
"I think its absolutely huge for our confidence," Launiere said. "We've been building for a year now, and we were prepared for this match."
Twitter: @BrandonCGurney