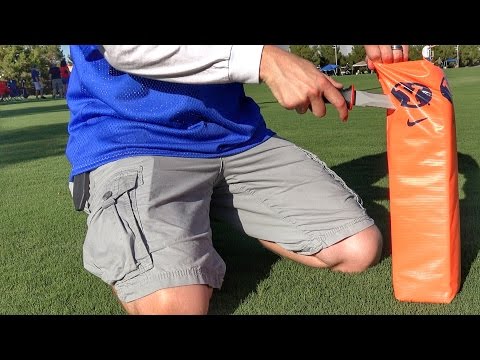 View 2 Items

Daniel and Lincoln Markham, the father-son tandem behind the YouTube channel "What's Inside," traveled to Glendale, Arizona, for the BYU vs. Arizona game this past weekend. When they got there they cut open a football pylon.
The two chronicled the journey on YouTube, updating viewers on the state of the pylon.
In the airport, the two were stopped on their way through security because the pylon looked like something suspicious when scanned through airport equipment. Daniel said in the video that the security officer told him it looked like a green mass.
Much of the video is filmed on a field in front of University of Pheonix Stadium where they cut open the orange cuboid to find a memory foam and a sand-like substance.
The Markhams have been producing "What's Inside" since January of 2014 when they posted five videos cutting open sports balls for Lincoln's science fair project.
The videos went viral.
Since then they have posted a video each week, cutting open something new and finding out what's inside.
Today, the channel has over 3.5 million subscribers.
UTubers is a feature that highlights YouTube videos created by people with ties to Utah