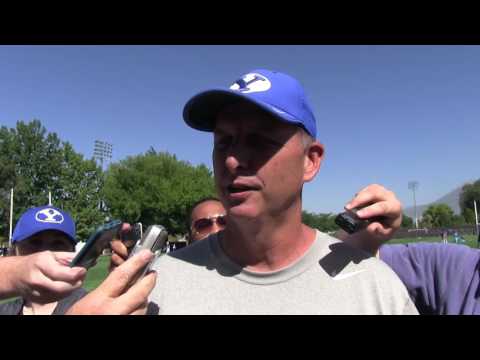 View 8 Items

PROVO — Twenty-five years have passed since Ty Detmer was involved in the BYU-Utah game.
"I haven't been part of the rivalry for a long time," he said Tuesday.
A quarter-century ago, Detmer was a record-setting, Heisman Trophy-winning quarterback for the Cougars. Now, he's their first-year offensive coordinator, with one game under his belt as a college coach.
As a player, Detmer participated in some memorable BYU-Utah games.
In his redshirt freshman year, in 1988, Detmer's Cougars suffered a stunning 57-28 loss at Utah. BYU had won 15 of the previous 16 contests against Utah up until that game. Detmer completed 10 of 20 passes for 238 yards and two interceptions.
"That put a bigger emphasis on the next year for us," Detmer recalled this week.
Yeah, you could say that. One year later in Provo, the Cougars exacted revenge, racing to a 49-zip halftime lead before winning 70-31. BYU scored touchdowns in each of Detmer's eight series. He completed 18 of 22 passes for 258 yards, no interceptions and four touchdowns and ran for another TD.
Having been pulled from the game, Detmer asked coach LaVell Edwards for permission to go to the bathroom. He sprinted into the locker room only to find it was locked. So he used the public bathroom instead.
"It was hard because the fans kept coming up and talking to me," Detmer said after the game.
The following season, at Utah, Detmer dominated again, completing 28 of 50 passes for 451 yards and five touchdowns in a 45-22 triumph.
Detmer's final regular-season game at BYU came in 1991 against Utah. The Cougars trailed 10-0 to start the game, and were down 17-14 at the end of the first quarter.
But Detmer wasn't concerned. "We'd probably have to be down by 35 before we'd start worrying," he said after the '91 game. (By the way, the last time BYU and Utah played, last December in the Las Vegas Bowl, the Utes led 35-0 in the first quarter before the Cougars came back to cut the deficit to 35-28 before losing by that score).
Detmer finished with 378 yards passing, including a 97-yard touchdown pass to Eric Drage — a school record that still stands as the longest play from scrimmage. He became the first college player to pass for 15,000 yards in a career. By the time he exited the game early in the fourth quarter in a 48-17 blowout win, Detmer received a standing ovation from the 66,003 in attendance.
"I got a little choked-up," Detmer admitted after the game.
That was the last time Detmer faced Utah — and now he'll meet them again Saturday at Rice-Eccles.
What are Detmer's memories of the rivalry?
"It was great for the state. The people here got excited," he said. "It's great … for football, to have those rivalries and have one early in the year like this is a lot of fun for the players."
Has the rivalry changed since he played at BYU?
"Anything with social media, that kind of fuels the fire a lot of times for people. It's definitely more intense than when I was here because you didn't hear that part of it and see some of those things," Detmer said. "That adds to it a little bit. But with (BYU head coach) Kalani (Sitake) having been there a long time, and the fans loving him when he coached at Utah, there's maybe not the bitterness that it has been in the past. We've all got good relationships as coaches with those guys up there and longtime friendships. As coaches, for me, it's preparing to beat a defense over there, not individuals. You don't make it personal. But you also understand the significance for our fans around the state."
On the field, the rivalry changed forever two years after Detmer left Provo and rode off into the National Football League. In 1993, Utah beat BYU in Provo for the first time since 1971 on a 55-yard field goal with 25 seconds remaining. Since that 1993 contest, the Utes are 15-7 against the Cougars.
BYU has lost six of the last seven meetings with Utah and five in a row. The Cougars haven't won in Salt Lake City in a decade.
Detmer was 3-1 against Utah as a player. Certainly, BYU is hoping for more of that kind of success against the Utes in the future.
---
BYU (1-0) at Utah (1-0)
Saturday, 5:30 p.m. MDT, Rice-Eccles Stadium
TV: Fox
Radio: 1160 AM, 102.7 FM