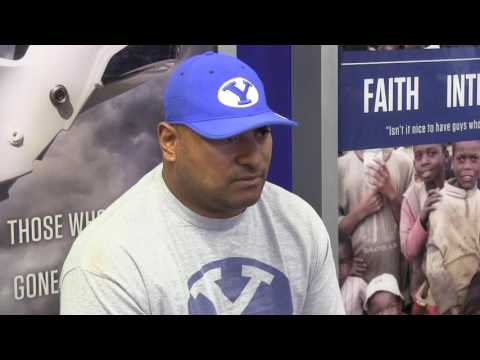 View 2 Items

PROVO — BYU coach Kalani Sitake isn't necessarily making a concerted effort to douse the hatred that too often defines the BYU vs. Utah rivalry, but at the same time, hopes he can do his part.
The first-year Cougar head coach addressed the media Monday, carrying himself in his typical laid-back manner, expressing gratitude toward the institution he's preparing his team to go against. When asked if he's actively campaigning for an end to any hatred between the two programs, he shrugged off the notion, yet recognized his mere presence may defuse a lot of it.
"My role is to coach football, and to get these guys ready for a football game, but how I do it and the way I go — it's just my personality," Sitake said. "… (Utah was) great to me and my family for 10 years. I had a great perspective and my point of view was awesome. They were great to me and so I'll never say anything bad about the University of Utah."
Sitake began coaching at Utah in 2005 as a linebackers coach. He rose from that post to become defensive coordinator in 2009 before leaving the program for Oregon State just prior to the 2015 season.
On Monday he expressed a strong connection and admiration for Utah coach Kyle Whittingham, the coach who gave him his first job at a Division one program.
"I love Kyle, and he loves me, and we're going to be friends no matter what," Sitake said. "We'll get on the football field, compete, and then we'll hug afterwards."
As for the players he now coaches, they've received Sitake's message of what the game is really about and what it should be about.
"He's telling us it's not about hate. It's all about the team, and if we keep it team-oriented that we'll be fine," said BYU running back Jamaal Williams.
Playing for the here and now: It's no secret that Utah has owned the rivalry in recent years, winning five straight leading up to Saturday's contest. But Sitake and his players aren't focused on the opportunity to turn the rivalry around, hoping to build toward a successful 2016 season.
"I'm not really worried about the past, in this instance," Sitake said. "We're just worried about this game and this season…We control what we can control, and that's now. We can't go back and change the past."
Players, particularly seniors, are mindful of BYU's recent fortunes, however, including safety Kai Nacua.
"Since I came here as a freshman, I've been 0 and 3," Nacua said. "I don't plan on going 0 and 4."
Samson on a swivel: Nacua's younger brother, Samson Nacua, plays receiver for Utah and is in his freshman year. Should Samson enter the game Saturday, Kai may have a little something for him.
"If he does get in, I told him to keep his head on a swivel because I just may leave my assignment to go hit him," Kai said jokingly.
Name now known: If fans didn't know Jake Oldroyd's name before his game-winning field goal against Arizona, they shouldn't feel bad since several of his teammates didn't know who he was, either.
When asked of Oldroyd's rising popularity since Saturday's game, Williams grinned, saying, "We all know his name, now."
Williams is actively encouraging Oldroyd, a freshman, to parlay his new-found fame into serving notice around campus.
"He's starting to walk like (MMA fighter) Connor McGregor around school now," Williams said. "I told him to do that — to walk into class and say, 'Here I am.' I just want him to enjoy it, you know? Because not everybody gets that opportunity. We're just all grateful and happy for him."
Twitter: @BrandonCGurney