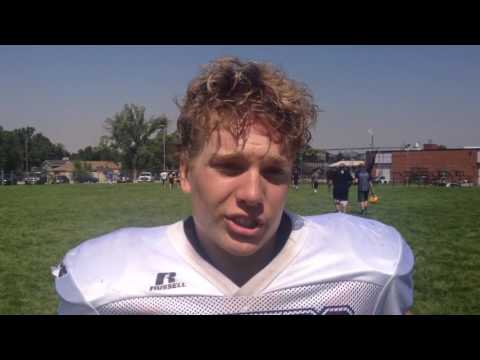 View 13 Items

---
Note: Bonneville finished with a 2-9 overall record in 2015 and tied for fourth in Region 5 with a 1-4 record. It did not qualify for the 4A playoffs.


---
Bonneville 2015 offensive and defensive stats
WASHINGTON TERRACE — There are times when on-the-field success reflects neither the work put in on and off the practice field, nor the character of a team. No one understands this more than Bonneville head coach Jantz Afuvai and his Lakers.
Bonneville finished the 2015 season with a 2-9 overall record, which included a devastating 7-0 loss to Box Elder in the Region 5 play-in-game. Despite the lack of success experienced by his team last season, Afuvai had nothing but good things to say about his now departed seniors.
"We had a great senior class. We had great linemen, skill players, we had the whole package. It was just a really tough region. In my opinion (Region 5) is probably the best region in the state," said Afuvai. "We were in every game that we played and we played really hard. Our record was just indicative of really good football."
Those great seniors are no longer Lakers, and as a result Bonneville football is decidedly youthful.
"We are going to be young this year for sure," said Afuvai. "We are going to rely on a lot of juniors as well as some sophomores. This is also the first year we have brought ninth-graders up so we have some added depth that we have never had before."
The presence of so much youth on the roster means the Lakers will rely all the more heavily on this year's senior class and any and all returning starters. Offensively, Bonneville returns six starters. Among those returnees is quarterback Andrew Kemp.
Kemp threw for 386 yards, one touchdown and four interceptions in spot duty last season, and he will shoulder a significant burden within the Lakers' offense.
"He brings a level of speed and shiftiness that we haven't had," Afuvai said of Kemp. "He is going to be an added asset to our spread offense. Andrew is a throwing and running threat, which will make him hard to game plan against."
Bonneville will also rely heavily on running back Tate Macfarlane. "He will play h-back, which is a receiver in our set," said Afuvai. "We expect him to do some big things for us this year."
Receiver Sage Thornock is another returning starter. As a junior, Thornock caught seven passes for 211 yards and two touchdowns. His 30 yards-per-catch was by far the best mark on the team.
"He is one of the fastest kids in the state," said Afuvai. "We will utilize Sage on the edge and if people want to go one on one with him, then we will gamble our money that way. Those two kids (Macfarlane and Thornock) are going to be fun to watch."
The Lakers return two starters on the offensive line in Carson Rowser and Hendrick Buckway. Afuvai noted that those two are vital to the success of the offense, both in protecting the quarterback and opening running lanes for Macfarlane and a young group of running backs.
"These kids know our scheme really well and the pace that we play with. We really want to push the pace, and all of these kids have trained to play as fast as possible," Afuvai said when asked what was the strength of his offense.
Defensively, the Lakers run a base 4-3 scheme, but Afuvai noted they are willing to adjust the scheme based on the offense they are playing. "The ability to adjust on defense has been key for us. We face so many different types of offense in this region. We practice and train so we can adjust week to week," said Afuvai.
The Lakers will look to three-year starters Rowser and Buckway to anchor not only the defensive line but the defense as a whole. "We really need them for their experience. They know what it is like to play on Friday night," said Afuvai.
Macfarlane, Kemp and Thornock will man the secondary, with Macfarlane in particular expected to shine at cornerback.
Afuvai noted that his linebackers, while young, have worked hard this offseason and have talent. "We are just waiting to see which ones will step up and take the starting jobs," said Afuvai.
"We want to play as a team," Afuvai said of the most important goal he has for the Lakers this season. "We want to gel and have 11 guys on the field that are in sync with one another. We don't want to rely on a super athlete and have him drag us along. That is not Bonneville football."
---
Bonneville Lakers at a glance
Head coach: Jantz Afuvai is entering his fourth season as the head football coach at Bonneville High School. He has compiled a 7-25 record with the Lakers. Afuvai is a graduate of Bonneville High School and Weber State University.
Offense (6 returning starters; spread offense)
Offensive coordinator: Jantz Afuvai
Returning offensive starters
Carson Rowser (OL)
Hendrick Buckway (OL)
Tate Macfarlane (RB)
Andrew Kemp (QB)
Sage Thornock (WR)
Josh Spivey (RB)
Defense (6 returning starters; 4-3)
Defensive coordinator: Jake Afuvai (1st season)
Returning defensive starters
Carson Rowser (DL)
Hendrick Buckway (DL)
Tate Macfarlane (CB)
Andrew Kemp (DB)
Sage Thornock (DB)
Josh Spivey (LB)
Coaches' preseason Region 5 straw poll: Sixth
Deseret News Region 5 prediction: Sixth
Bottom line: The Lakers will be very young this season. They have talent, particularly in Sage Thornock, Andrew Kemp and Tate Macfarlane. Bonneville also boasts experience along the offensive and defensive lines, thanks to Carson Rowser and Hendrick Buckway. A lack of experienced depth and an incredibly competitive region will make improving on last season very difficult for Bonneville.
---
Last 5
2015 — 2-9 (1-4 in Region 5 — Missed playoffs)
2014 — 4-7 (2-4 in Region 5 — Missed playoffs)
2013 — 1-8 (1-5 in Region 5 — Missed playoffs)
2012 — 3-7 (0-5 in Region 5 — Missed playoffs)
2011 — 5-5 (1-4 in Region 5 — Missed playoffs)
---
Bonneville coaching history

2013-current — Jantz Afuvai (7-26)

2012 — Tyler Gladwell (3-7)

2011 — Randy Johnson (5-5)

2006-2010 — Matt Williams (21-31)

1975-2005 — Thom Budge (237-104)

1972-1974 — Brent Hancock (14-12)

1968-1971 — Larry Neves (25-11)

1960-1967 — Harry Burchell (31-40)

---
Deseret News First Team All-Staters the past 10 years

2009 — Connor Stephens, DL

2007 — Jim Eskelsen, OL

To view second team and honorable mention all-staters through the years, check out the Deseret News All-State Archives.