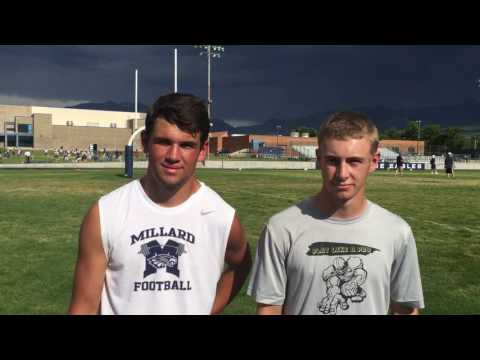 View 10 Items

Note: Millard finished with a 5-6 overall record in 2015 and was fourth in 2A North with a 2-3 record. It lost to Beaver 45-7 in the 2A quarterfinals.
Millard 2015 offensive and defensive stats
FILLMORE — Ethan Stephenson is ready to give back to the program that shaped him as a young man.
Stephenson was a star running back at Millard High School in 2002 and 2003, leading the Eagles to a pair of semifinal appearances. After a decade of being away, Stephenson is coming home.
"I get to replace my head coach and I get to give back to the community that gave so much to me. That's the biggest thing that I've felt," said Stephenson, who graduated from Millard in 2004.
Stephenson replaces his old coach, Marshall Sheriff, who stepped down this offseason after 16 years as Millard's head coach, finishing with a 135-55 career record.
Once a regular contender in 2A, Millard is a combined 16-16 over the past three seasons with just one winning record. Change can often invigorate a team and a community, and Stephenson believes his arrival has done that.
"The level of excitement needs to come back, and I think the changes I've been able to make have excited the kids and they've already bought into what we're going to run," said Stephenson. "Change is what helps the most. Nothing against coach Sheriff, he taught me so much."
Stephenson inherits a team with just a handful of returning starters, the perfect time to overhaul an offense as the program shifts from an inverted wishbone to a Wing-T.
Stephenson has never played in the Wing-T or coached in the Wing-T, but he believes it gives Millard the best chance at success. He spent the past five years as an assistant coach at Dixie High School, where he had a front-row view of the offensive mastery of former Dixie coach Blaine Monkres in the spread offense.
Andy Stokes took over for Monkres last year, which allowed Stephenson to take on a slightly larger coaching role and get a better feel for the responsibilities of the job.
Running the spread offense at the 2A level is extremely difficult, but after conversations with Stokes, Stephenson believes the same principles can apply for the Wing-T.
"I have a little bit smaller of a team and a little bit different style of athletes, but (Stokes) said 'you can run a Wing-T out of it and still have some of the success that we'd had,'" recalls Stephenson about his conversations this offseason.
It may take a while before the passing aspect of the Wing-T comes around, but there's enough talent at the skill positions for Millard to be successful right away.
"That's what I really want to utilize is our speed, we have a couple of really fast guys on the outside that can turn that corner and get to the edge," said Stephenson.
Turner Koyle was Millard's second-leading rusher a year ago with 52 carries for 276 yards and three touchdowns. He's expected to take on a much larger role this season along with Jaxon Wardle, who led the team in receiving.
Carson Teeples is another player who could make big contributions at running back.
There was uncertainty at quarterback this summer as the coaching staff debated between sophomore Hayes Monroe and junior Jalen Robison. Monroe is a slightly better thrower, and Robison is a slightly better runner.
If Robison doesn't stick at quarterback this season, he'll play a huge role at running back.
The offensive line returns a pair of starters from last season, Kaleb Rowell and Hunter Gamble, and like the newcomers they've picked up the new blocking schemes just fine.
"It's a pretty simple blocking scheme we've got going on, and I think it's been really easy for them to know how to block and pick up and extend," said Stephenson.
Defensively, Stephenson said he's been pleasantly surprised by the depth of the team. When he took the job he admits he was worried about the defensive line and how many varsity-caliber contributors there'd be, but at team camp in late July it was one of the strengths.
The linebacking core of Wardle, Teeples and Anderson looked strong as well this summer.
With just two returning starters defensively though, the challenge once the season gets going is for those new defensive starters to stay focused every play regardless of the play before.
"I think the biggest thing especially for our defense is keeping intensity. If there's a big play, or we screw up right now, we can shake it off and keep playing," said Stephenson.
---
Millard Eagles at a glance
Coach: Ethan Stephenson is entering his first year as head coach at Millard High School. He's also a graduate of Millard.
Offense (5 returning starters; Wing-T offense)
Offensive coordinator: Ethan Stephenson
Returning offensive starters
Kaleb Rowell (OL)
Hunter Gamble (OL)
Turner Koyle (RB)
Jaxon Wardle (WR)
Tyler Marshall (WR)
Offensive newcomers to watch
Hayes Monroe (QB)
Jalen Robison (QB)
Carson Teeples (RB)
Defense (2 returning starters, 3-4 defense)
Defensive coordinator: Stoney Myers
Returning defensive starters
Jaxon Wardle (LB)
Turner Koyle (S)
Defensive newcomers to watch
Kaleb Rowell (DL)
Hunter Gamble (DL)
Carson Teeples (LB)
Hayden Anderson (LB)
Jalen Robison (CB)
Tyler Marshall (CB)
Coaches' preseason 2A North straw poll: Fifth
Deseret News 2A North prediction: Fourth
Bottom line: After three years of mediocrity, change might be just what Millard's football program needs to try to get back to competing for region championships. That's not going to be easy in a difficult region with North Summit, South Summit and Summit Academy. New coach Ethan Stephenson is optimistic that the change in offensive philosophy will help the Eagles remain competitive near the top of the region. Inevitably though there will be a learning curve, and if the players get discouraged with the lack of early wins, another .500 season could be in the cards this year.
---
2016 schedule
Aug. 19 — at Juab, 7 p.m.
Aug. 26 — at Delta, 7 p.m.
Sept. 2 — BEAVER, 7 p.m.
Sept. 9 — at Enterprise, 7 p.m.
Sept. 16 — SUMMIT ACADEMY, 7 p.m.
Sept. 23 — at American Leadership, 7 p.m.
Sept. 30 — NORTH SUMMIT, 7 p.m.
Oct. 7 — at South Summit, 7 p.m.
Oct. 12 — GUNNISON, 7 p.m.
---
Felt's Facts for Millard High School

All-time record: 561-255-22 (90 years)

Region championships: 40 (1933, 1937, 1944, 1945, 1946, 1947 co, 1949, 1950, 1951, 1952, 1953, 1954, 1955, 1956, 1957, 1958, 1959, 1960, 1962, 1963, 1967 co, 1969, 1978, 1979, 1980, 1981, 1983 co, 1988 co, 1989 co, 1997, 1998, 1999 co, 2001, 2002 co, 2003, 2004 co, 2006, 2007, 2009 co, 2010)

Playoff appearances: 67
Current playoff appearance streak: 21 (1995-2015)
All-time playoff record: 80-50

State championships: 13 (1950, 1951, 1952, 1953, 1958, 1960, 1976, 1978, 1981, 1982, 1988, 1995, 2001)

State championship record: 13-8

Most played rivalry: 92 meetings with Delta dating back to 1926. Millard leads 50-38-4.

Felt's Factoid(s): Millard's 40 region championships are the most in state history, as are its 12 consecutive region titles (1949-60). … Millard also has the most undefeated, untied regular seasons — 18, including four consecutive on two occasions (1957-60 and 1978-81). … The Eagles have appeared in 21 championship games (won 13), 130 state tournament games and made the playoffs 67 times, all state records.
---
Last 5
2015 — 5-6 (2-3 in 2A North — 2A quarterfinals)
2014 — 6-5 (3-3 in 2A North — 2A quarterfinals)
2013 — 5-5 (4-2 in 2A North — 2A first round)
2012 — 8-3 (5-2 in 2A North — 2A quarterfinals)
2011 — 9-3 (6-1 in 2A North — 2A runner-up)
---
Millard coaching history

2016 — Ethan Stephenson (0-0)
2000-2015 — Marshall Sheriff (135-55)

1999 — Dennis Alldredge (7-4)

1995-1998 — Franklin Bramall (36-9)

1992-1994 — Al Marshall (12-17)

1984-1991 — Dennis Alldredge (50-32)

1973-1983 — Lew Monsen (99-27)

1967-1972 — Nyle Norris (40-22)

1965-1966 — Lynn Foxley (10-7-1)

1964 — Rex Lilly (3-5)

1943-1963 — Taft Watts (149-33-10)

1942 — Sam Gordon (1-3-1)

1941 — Meldon Walker (2-3)

1938-1940 — Stan Watts (8-6-1)

1936-1937 — "Riff" Kimball (6-4)

1935 — unknown (1-3-1)

1934 — F.G. Richards (0-2-1)

1933 — Dunn Taylor (6-2)

1931-1932 — Leo Probert (0-6)

1930 — Phil Baker (0-4)

1927-1929 — Royal Chamberlain (2-8)

1926 — Eddie Kimball (0-3-1)

---
Deseret News First Team all-staters the past 10 years

2015 — Kyler Rowley, QB/DE
2015 — Cole Whatcott, OL/LB
2014 — Skyler Cranney, QB/DB
2014 — Gerardo Ruvalcaba, RB/LB
2013 — Eric Alcala, OL/LB

2012 — Jesse Rhodes, RB/DB

2011 —Pancho Alcala, RB/DB

2011 — Jesse Rhodes, RB/DB

2011 — Keith Kesler, OL/DL

2010 — Nate Robison, QB/DB

2010 — Jesse Rhodes, RB/DL

2010 — Pancho Alcala, RB/DB

2009 — Rendon Shields, RB/LB

2009 — Thomas Kesler, OL/DL

2009 — Kade Wilcox, RB/DE

2008 — Clancy Mortensen, RB/LB

2007 — Freddy Alcala, OL/LB

2007 — Grant Barber, QB/DB

2007 — Clancy Mortensen, RB/DB

2007 — Josh Robinson, WR/DB

2007 — Zack Wilcox, RB/LB

2006 — Tyrel Beckstrand, WR/DE

2006 — Daniel Freeman, OL/DL

2006 — T.J. Robbins, RB/LB

2006 — Kyle Tuttle, QB

2006 — Scott Whitaker, OL/LB

To view second team and honorable mention all-staters through the years, check out the Deseret News All-State Archives.
High school football: Millard Eagles 2016 preview
Millard's Jaxon Wardle and Turner Koyle talk to the Deseret News about the upcoming 2016 season.