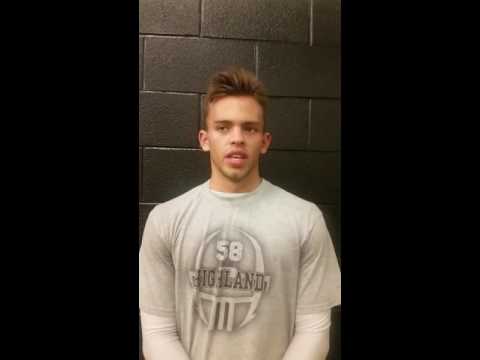 View 15 Items

Note: Highland finished with an 8-4 overall record in 2015 and was second in Region 5 with a 4-1 record. It lost to Timpview 49-27 in the 4A semifinals.

Highland 2015 offensive and defensive stats
SALT LAKE CITY — Some teams are defined by whole seasons, others by individual, memorable moments. For the Highland Rams, their football program was defined by the last 3:08 of last season's quarterfinal against Corner Canyon.
After the Rams defeated Salem Hills in the first round of the playoffs, the Rams struggled early in their quarterfinal game and with just over three minutes left in the game were down 21 points to the Chargers, who were hot off their big 27-0 win over Olympus.
However, the Rams did not give up that night and had one of the most incredible comeback playoff wins in state history, tying the game with three straight touchdowns in the final 3:08 and then defeating the Chargers 41-38 in double overtime.
According to head coach Brody Benson, the fight and determination that his team displayed is one of the defining characteristics of the program and is something that he and his predecessors have tried to instill in the team each year.
"It's nice to have your guys not have 'quit' in their vocabulary," said Benson, who is entering his 11th year as head coach. "They will always fight until the end, no matter the outcome. They are always going to fight, and I love that about this program."
While Highland could not advance any further, losing to eventual champion Timpview in the semifinals, the great comeback gave everyone involved with the program, especially the returning players, a bit of excitement as well as a reminder of what type of program Highland is.
"Wins like that and games like that reveal the true character of your team," Benson said. "We always talk about being a tough, gritty, blue-collar team that goes out and outworks people, and I think wins like that kind of help lay the foundation for what kind of program you want to be and your mentality and the overall toughness that you want out of your kids."
As for this year's squad, Benson is hopeful that they can build upon the success of last year's team and go even deeper in the postseason.
With several key pieces returning from last year's squad, things are looking good for the Rams in 2016. Both the offense and the defense are returning seven starters from 2015.
Star quarterback James Pembroke, who led the team in both rushing and passing in 2015, leads the senior core in 2016 while other key players should fill in nicely for some of last year's key contributors who have since graduated.
To help Pembroke in the Rams' balanced running attack is Jake Boren, who saw plenty of success in 2015. Boren was one of Highland's best rushers with 318 yards off 41 carries, including one touchdown, in 2015.
Defensively, the Rams will miss the presence of graduates Jayden Paulani and Andrew Parkin, who combined for 167 tackles and 10.5 sacks. However, Elijah Shelton and Soseti Tupola are ready to fill the void and improve upon their success from 2015, which included a combined 84 tackles and three sacks.
"We're looking to build and take that positive step forward and our guys this year have taken that seriously," Benson said. "They want to be a harder working group than we were last year, they want to go out and be better than we were last year. When you have that mindset and you show up and do that every day, good things are going to happen."
In 2016, Highland expects to make the playoffs and continue its streak of making the playoffs, which extends over 30 years, and go even deeper in the postseason.
The Rams believe that if they keep up their work ethic, toughness and determination, further success in the playoffs is inevitable.
"If you show up every day and try to get better than the day before and outwork yourself and your teammates from the day before, good things are going to happen," Benson said. "The scoreboard will take care of itself."
---
Highland Rams at a glance
Coach: Brody Benson is entering his 12th season as Highland's head coach with a record of 82-30. He is a graduate of Granger High school and Southern Utah University
Offense (7 returning starters, Triple-Option)
Offensive Coordinator: Brandon Winn
Returning Offensive Starters
James Pembroke, QB
Jake Boren, RB
Soseti Tupola, FB
Lilo Clark, FB
Elijah Shelton, WR/TE
Colton Pulver, OT
Kenta Yamazaki, OL
Offensive Newcomers to Watch
Brady Reed, FB
Bronson Olevao, RB
Defense (7 returning starters, 4-3 defense)
Defensive Coordinator: Jan Jensen
Returning Defensive Starters
Jake Boren, CB
Trayton Keyes, CB
Brandt Graham, SS
Lilo Clark, LB
Soseti Tupola, LB
Izzy Vaifoou, DE
Elijah Shelton, DE
Caden Hilborn, DT
Mike Pafoke, NT
Defensive Newcomers to Watch
Jake Kayser, LB
Hunter Lotulelei, DT
Kaufusi Pafoke, DT
Braden Saddler, DT
Coaches Preseason Region 5 Straw Poll: Second
Deseret News Region 5 Prediction: Second
Bottom Line: With so many returning starters including some of their best players from 2015, the Rams should expect to do very well in 2016. Also, with the momentum and excitement from last year's incredible comeback in the quarterfinals of the playoffs, the Rams have a real possibility to go even deeper in the playoffs than last year.
---
2016 schedule
Aug. 19 — at Mountain Crest, 7 p.m.
Aug. 26 — OLYMPUS, 7 p.m.
Sept. 2 — SKY VIEW, 7 p.m.
Sept. 9 — at Bountiful, 7 p.m.
Sept. 16 — BOX ELDER, 7 p.m.
Sept. 23 — BYE
Sept. 30 — at Woods Cross, 7 p.m.
Oct. 6 — at Davis, 7 p.m.
Oct. 14 — EAST, 7 p.m.
Oct. 19 — at Bonneville, 7 p.m.
---
Felts Facts for Highland High School

All-time record: 401-227-3 (59 years)

Region championships: 15 (1958, 1959, 1961, 1963, 1986, 1987, 1988 co, 1996, 1997, 2003 co, 2004 co, 2005 co, 2006 co, 2007 co, 2009)

Playoff appearances: 42
Current playoff appearance streak: 33 (1983-2015)
All-time playoff record: 54-37

State championships: 5 (1959, 1961, 1963, 1986, 2010)

State championship record: 5-4

Most played rivalry: 58 meetings with East dating back to 1957. Highland leads 34-24.

Felt's Factoid(s): Highland holds the record for biggest comeback in state history. Down 28-0 to Bonneville in the second quarter of a 1995 playoff game, Highland scored 31 straight points to win 31-28.
 … Nate Orchard (then Fakahafua) amassed 200 receiving yards in helping Highland to the 4A state title in 2010 — one of only two players to have at least 200 reception yards in a state championship game.
---
Last 5
2015 — 8-4 (4-1 in Region 5 — 4A semifinals)
2014 — 7-4 (4-2 in Region 6 — 4A first round)
2013 — 7-4 (4-2 in Region 6 — 4A first round)
2012 — 8-5 (3-2 in Region 6 — 4A semifinals)
2011 — 7-4 (3-2 in Region 6 — 4A quarterfinals)
---
Highland coaching history

2006-current — Brody Benson (82-39)

2001-2005 — Ray Groth (40-21)

1996-2000 — Larry Wilson (43-14)

1986-1995 — Tom Kingsford (76-36)

1977-1985 — Roger DuPaix (55-38)

1974-1976 — Dennis McLaughlin (7-20)

1971-1973 — Tony Polychronis (10-17)

1966-1970 — Jerry Simons (24-24)

1961-1965 — Bill Fickinger (40-10)

1957-1960 — Larry Palmer (24-9)

---
Deseret News Mr. Football recipients

1997 — Morgan Scalley, QB

Deseret News MVPs the past 10 years

2010 — Nate Orchard, WR/DL

Deseret News First Team all-staters the past 10 years

2015 — Andrew Gramer, OL
2015 — Jayden Palauni, DL
2013 — Bryan Mone, DL

2012 — Luti Nonu, OL

2012 — Bryan Mone, DL

2012 — Adam Webber, LB

2011 — Quincy Clark, DL

2010 — Sione Houma, RB

2010 — Ono Tafisi, OL

2010 — Desmond Collins, DL

2010— Hayes Hicken, K

2009 — Toi Tafua

2009 — Ono Tafisi, OL

2008 — Latu Heimuli, DL

2007 — Latu Heimuli, DL

2006 — Sean Swenson, QB

2006 — Liam McNally, RB

2006 — Braden Brown, TE

2006 — Tim Bickmore, OL

To view second team and honorable mention all-staters through the years, check out the Deseret News All-State Archives.