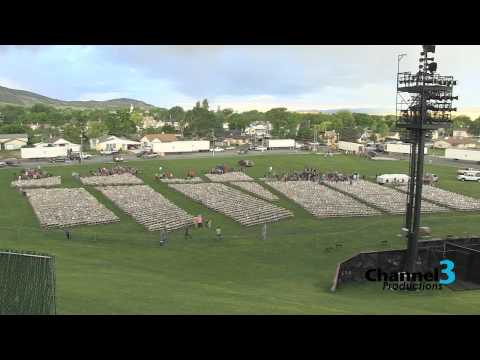 View 39 Items

MANTI — One of central Utah's annual summer traditions is about to commemorate a noteworthy achievement.
Manti's Mormon Miracle Pageant, set on a green hillside below the Manti Utah Temple with hundreds of performers and thousands looking on, will celebrate its 50th anniversary next week.
"It's a special event," said Ted Olson, second counselor in the pageant presidency. "There is no question about it. It's a significant milestone."
The pageant, sponsored by the missionary department of The Church of Jesus Christ of Latter-day Saints, is scheduled for June 16-18 and 21-25, with each performance starting at 9:30 p.m. Admission is free.
The 50th anniversary festivities will include devotionals and concerts prior to each nightly performance. Elder M. Russell Ballard, a member of the Quorum of the Twelve Apostles, recently spoke to the production's cast of more than 900 in a special devotional, according to the LDS Church News. For more information on the devotional speakers and concerts, visit mantipageant.org.
Each year, between 70,000 and 100,000 people travel to Manti to see performers depict scenes from the Book of Mormon and early church history events surrounding the coming forth of the Book of Mormon. The pageant presidency estimates that more than 4 million visitors have attended the pageant in the last half-century, Olson said.
Olson is one of many in the community who can tell stories about the pageant over the years. He has been involved for more than 35 years, including the first pageant in 1967. His father was the first Angel Moroni. In later years, two of his sons performed as Angel Moroni, and another has played young Joseph Smith.
One year, a rainstorm threatened to damage the lights, yet they functioned when it was time to begin. On another occasion, computers that weren't working suddenly came to life at a crucial juncture. Olson also considers it a miracle to see hundreds of volunteers rise early and set up about 14,000 chairs in about an hour and a half — a feat that has been recorded and can be seen on a YouTube video.
"The Mormon Miracle Pageant lives up to its name," Olson said. "There have been a lot of miracles, so it has been faith-promoting in that aspect."
Olson said each production is "a manifestation of the faith of people in central Utah."
"When you count all the traffic monitoring, chair setup, security, ushering, food services and more than 900 in the cast, it's a massive effort that requires a lot of work from a lot of people," Olson said.
The pageant has influenced thousands of young people over the years. About two-thirds of the cast consists of people younger than 18, Olson said. He fondly recalls one of his children climbing atop a pile of dirt, holding up his hands and saying, "I am Samuel the Lamanite. I speak the word of the Lord unto this people."
"We have a high percentage of young people having faith-promoting experiences that prepare them to be good missionaries and ambassadors for the LDS Church," Olson said. "We've even occasionally had nonmembers in the cast who, as they opened the Book of Mormon to study their part, end up joining the church. … It's just a far-reaching influence for good, and that's all there is to it."
Milt Olsen, a former Angel Moroni on the temple tower and the pageant's executive secretary and set director, has had similar feelings and experiences. Olsen said it's been said many times that if the community went through the trouble to arrange the set and prepare the cast with the message presented and no one came to see it, it would still be a worthwhile activity.
"It's about strengthening and building the testimonies of the young people and those who come to see it," Olsen said. "That's what has happened for 50 years."
If you go ...
What: The Mormon Miracle Pageant's 50th anniversary; a fireside and concert will precede each performance
When: June 16-18 and 21-25, 9:30 p.m.; fireside and concert schedule noted below
Where: Foot of the Manti Utah Temple, U.S. 89, Manti
Note: Due to limited seating, each patron is encouraged to bring a blanket or chairs. All events are open to the public, and admission is free.
Web: mantipageant.org
June 16
4 p.m.: Historic Costume Exhibit: 50 years of pageant costumes
7:30-9 p.m.: Aspenroot concert
June 17
4:30-5:30 p.m.: BoredShorts TV (Kid History) fireside
7:30-9 p.m.: Voice Male a cappella concert
June 18
4:30-5:30 p.m.: Elder Michael T. Ringwood fireside
7:30-9 p.m.: Jenny Oaks Baker concert
June 21
4:30-5:30 p.m.: Sportscaster Wesley Ruff fireside
7:30-9 p.m.: Paul Cardall pianist concert
June 22
4:30-5:30 p.m.: Sister Elaine S. Dalton fireside
7:30-9 p.m.: Mary Kaye concert
June 23
4:30-5:30 p.m.: Shayla Osborn Beck fireside
7:30-9 p.m.: Aspenroot concert
June 24
4:30-5:30 p.m.: Rory Scanlon, BYU professor and noted costume expert fireside
7:30-9 p.m.: Nashville Tribute Band concert
June 25
4:30-5:30 p.m.: William and RaNae McKee fireside
7:30-9 p.m.: OneVoice International Gospel Choir concert