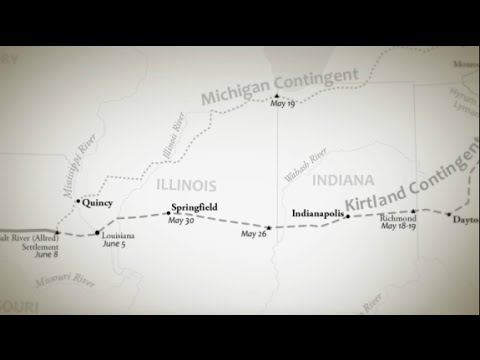 View 14 Items




SALT LAKE CITY — The newest volume of the Joseph Smith Papers offers an inside look at such historical events as Zion's Camp, new positions in The Church of Jesus Christ of Latter-day Saints' leadership, construction of the Kirtland Temple and the publication of the Doctrine and Covenants.
This new 668-page historical resource, titled "The Joseph Smith Papers: Documents, Vol. 4, April 1834-September 1835," features 93 documents, including revelations, minutes of meetings, correspondence and historical photos, said Matthew C. Godfrey, a co-editor of the volume.
"In this volume, you really start to see Joseph developing and maturing as a leader, taking on some pretty difficult issues and calling upon the Lord to solve problems in a way that will be beneficial to the church," Godfrey said.
Brenden W. Rensink, Alex D. Smith, Max H Parkin and Alexander L. Baugh also served as co-editors for "Documents, Vol. 4," which will become available on Monday, May 9.
In a recent interview with the Deseret News, Godfrey discussed five interesting documents featured in "Documents, Vol. 4."
1. Zion's Camp list
The new volume has several documents related to the Camp of Israel expedition, also known as Zion's Camp, which took place in the spring and summer of 1834. There are letters from Joseph Smith to his wife, Emma, and statements by Joseph to people in Missouri about the true purpose of the camp, Godfrey said.
A full list of those who made the march from Ohio to Missouri has not been found, Godfrey said, but there is one financial document with the names of those who contributed funds to the camp.
"On the surface it sounds pretty boring, but it's interesting because this ledger contains a list of about 170 men and their contributions to Zion's Camp's general fund," Godfrey said. "This is, as far as I know, the only contemporary list of who was in Zion's Camp. It shows the sacrifices they made, from John Tanner, a wealthy member from New York who gave $170, to others who gave five or 10 cents, all they have."
One curious contribution comes from Jane Clark, a single woman from Indiana who gave $50, Godfrey said.
"It's one of the largest contributions," Godfrey said. "You have this single woman who is contributing this great sum of money to the camp; that's pretty interesting."
2. New leadership
Joseph Smith extended new leadership callings to many of those who journeyed to Missouri in February 1835. "Documents, Vol. 4" includes minutes from the meeting in which they were called and a record of what was said during their ordination blessings.
"The ordination blessings given to the (members of the Quorum of the) Twelve and Seventy are quite interesting to read," Godfrey said. "It's neat to see these and realize some of the great promises that were made to these leaders who went on to do so much for the church throughout their lives."
In his blessing as an apostle, Brigham Young was promised that he would "cast out devils, heal the sick, raise the dead, open the eyes of the blind" and "go forth from land to land and from sea to sea," the document reads.
Heber C. Kimball, an apostle and future member of the First Presidency, was promised "that many millions may be converted by his instrumentality," the document reads.
"You read that and think that's a crazy promise," Godfrey said. "But you think about the (thousands of) people he converted in England and all their descendants; it probably does reach into the millions."
Not all blessings made such promises. Levi Gifford, called as a member of the Seventy, was told: "You are a strange kind of a man. Curious spirits trouble you, but in the name of the Lord Jesus we rebuke all the evil spirits that have troubled you, and say to you that you shall overcome them."
3. The Lewis Branch donation
One of Godfrey's favorite stories in church history is probably lesser-known among most Latter-day Saints. For much of 1834 and 1835, Joseph Smith and the church were heavily in debt and struggling financially due to the expulsion of members in Missouri and the cost of building the Kirtland Temple, among other difficulties, Godfrey said.
In September 1834, a branch of saints in Lewis, New York, followed instruction from the Lord in Doctrine and Covenants 101 (see verses 72-74). They pooled their money to the amount of $850 and sent representatives west with the goal of purchasing land in Missouri where they would live and help build Zion.
Joseph Tippets; his 22-year-old sister, Caroline Tippets; and their cousin, John Tippets, then traveled to Ohio with money to consult with Joseph Smith. The trio was encouraged by Joseph and church leaders to winter in Kirtland and then buy land in Missouri the following summer. In the meantime, they loaned Joseph Smith $450 — $150 of which was donated by Caroline Tippets — to repay debts.
Joseph Smith and Oliver Cowdery later expressed deep gratitude for the timely donation in prayer, according to "Documents, Vol. 4."
"Here is another example of someone making a significant donation to Joseph Smith," Godfrey said, "a significant donation he really needed."
4. Doctrine and Covenants published
The church's first attempt to publish Joseph Smith's revelations came in 1833, but a mob destroyed the printing office in July of that year, Godfrey said.
A second attempt to publish came in 1834 and was successful, resulting in the 1835 version of the Doctrine and Covenants, he said. The 1835 version included Joseph's revelations and seven lectures on faith given at the School of the Elders, which led to the book's new name, Godfrey said.
"The seven lectures on faith are supposed to encompass the doctrine of the church, what the church believes at that time," Godfrey said. "Joseph's revelations, coming from God, (contained) commandments that the Saints were supposed to obey, and were seen as binding, like covenants. That's where you get the name Doctrine and Covenants."
The lectures on faith were later removed from the Doctrine and Covenants in 1921, Godfrey said.
5. More excerpts
Among the 93 documents are several thought-provoking quotes by Joseph Smith and others. One example is from a blessing given by Joseph Smith Sr. to his son Joseph the Prophet on Dec. 9, 1834:
"Thou has been called, even in thy youth to the great work of the Lord: to do a work in this generation which no other man would do as thyself, in all things according to the will of the Lo(r)d."
This passage comes from a blessing given to Emma Smith:
"Thou hast seen much sorrow because the Lord has taken from thee three of thy children: in this thou are not to be blamed, for he knows thy pure desires to raise up a family, that the name of my son might be blessed. And now, behold, I say unto thee, that thus says the Lord, if thou wilt believe, thou shalt yet be blessed in this thing and thou shalt bring forth other children, to the joy and satisfaction of thy soul, and to the rejoicing of thy friends."
Joseph Smith Papers project
The Joseph Smith Papers is an ongoing series of volumes divided into six groups, including documents; journals; revelations and translations; histories; administrative records; and legal, business and financial records, according to josephsmithpapers.org.
"Documents, Vol. 4." is the fourth of approximately 15 planned volumes in the documents group, according to Godfrey.
The next volume of the Joseph Smith Papers, highly anticipated among Mormon historians and scholars, will be released in September and titled "Administrative Records: Council of Fifty, Minutes, March 1844 to January 1846," Godfrey said.
"Joseph Smith saw this organization as the governing body for the kingdom of God that would be put into place when Christ returned to the earth," Godfrey said. "These minutes have never been available to the public."