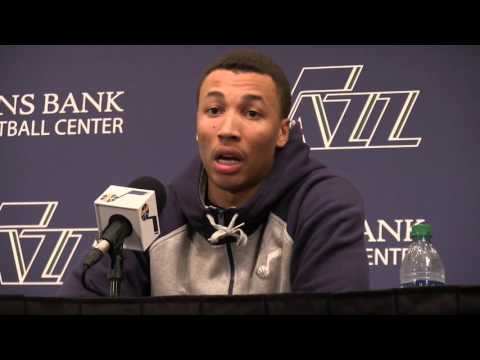 View 27 Items

SALT LAKE CITY — At first, the Jazz public relations people said Dante Exum wasn't going to be available to media on locker cleanout day.
No big surprise.
He wasn't available to play the last 82 games, either.
But as the saying goes in the Land Down Under, no worries. He appeared anyway. Was it symbolic? Soon he'll be playing at Vivint Arena. For the first time since last August, when he tore an ACL playing for the Australian national team, Exum was back under the lights.
You might say he was having a g'day, mate.
That's not to say Exum was as gregarious on Thursday as his countryman, Joe Ingles. Exum is reserved and polite, but not a joke-maker. At the same time, he was clearly happy his long winter of inactivity was ending. In June he'll resume contact play and learn whether he's in condition to compete for his country in the Olympics. The Jazz Summer League is a no-go, he said.
That doesn't mean he's disinterested in his day job; he says he's as ready as ever.
"It's been a long process," he said. "But I've felt good for a while. I'm ready to take the next step."
Defining the next step is where the story gets tricky. As one reporter phrased it, Jazz fans expect him to be "some combination of Magic, Stockton, Steph Curry and Steve Nash."
"Do you feel any pressure, as far as moving the team forward goes?" he was asked.
"I don't listen too much to what people say. I just do the best I can to make everyone around me better — and myself," Exum said.
One thing general manager Dennis Lindsey and coach Quin Snyder seem to agree upon is that Exum will be ready in October. Which means … what? That the Jazz will have an undisputed starting point guard? That they'll take yet another wide leap as a top-level defensive team? That a year from now they'll be discussing playoff matchups rather than offseason improvements?
Not necessarily.
All they're saying is they foresee good things.
Still, expectations for Exum linger. Sometimes an injured player's image rises by not playing. Exum has logged just 1,817 minutes in the NBA, covering 41 games during the 2014-15 season. Then came last summer's international event against Slovenia, when he planted his leg at an unnatural angle.
What will he bring in 2016-17? The Jazz are keeping hype to a minimum, other than to say he's learned a lot from watching from the bench, and that he has practiced his shooting.
In some ways, the coaches and management seem as curious as anyone.
Which brings us to Thursday, when the Jazz's other three guards dished off, saying decisions such as starting point guards are beyond their control. But it doesn't take much to deduce the rangy Exum will be the choice. At minimum, Jazz coaches are hoping he is a defensively elite, offensively competent starter. There was a reason his draft stock kept rising in 2014 when he was selected No. 3. At 6-foot-6, he has the arm span of a 6-10 person. He has high athleticism, size and quickness, but perimeter shooting isn't his strength. In his rookie season he connected on 35 percent of his tries — 31 percent from 3-point range.
At the same time, Snyder says Exum's shooting is improving, thanks to extra practice time while his leg healed.
So much for the adage that "shooting is all in the legs."
"It's not like he's suddenly become a deadeye at 3-point shooting," Snyder said with a wry smile, "but I think he's improved. The mechanics of his shot has been an emphasis."
But both Snyder and Lindsey dodged questions about where they expect Exum to be next year at this time.
"What will come back (this fall) is a player that's determined," Snyder said.
Other than that, everyone is going to have to do as Exum has, and learn to wait.