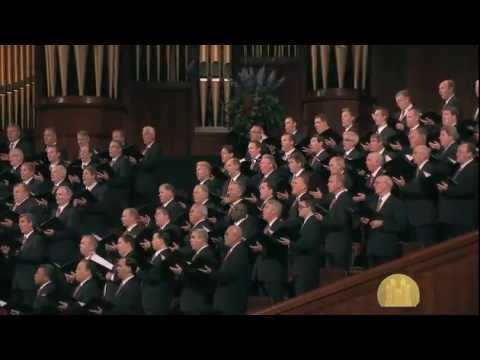 View 14 Items


More than 25 years ago, Lloyd D. Newell was called by LDS Church President Gordon B. Hinckley to serve as the voice of the Mormon Tabernacle Choir's weekly broadcast, "Music and the Spoken Word."
Newell's charge was to prepare and deliver nondenominational messages that convey universal truth, enlighten and uplift. Each "Spoken Word" should be an "inspirational gem," President Hinckley told Newell.
Reflecting on his experience a quarter of a century later, it's easy for the longtime announcer of the world-famous choir to feel nostalgic while holding a new hardbound collection of these treasured messages.
Of the more than 1,300 Spoken Word messages he has written, about 150 were recently compiled and published in a new book titled "Celebrating Music and the Spoken Word: 25 Years of Inspirational Spoken Words" (Covenant Communications, $19.99).
After all of Newell's efforts to research, write, edit and share, these concise moral messages have become like his children, he said.
"It's an account in some sense of how my life has changed over 25 years," said Newell, who has published similar books before. "For me personally, this is the most meaningful one because it's a representation of such an important and meaningful part of my life. No one else would hold that book and get emotional like I do, even just looking at it."
"Celebrating Music and the Spoken Word" has a sampling of messages from each of Newell's 25 years, complemented by pages of colorful images and illustrations. All proceeds from the book go to the Mormon Tabernacle Choir, Newell said.
While discussing the book, Newell was quick to express gratitude for such a long and unique association with the Mormon Tabernacle Choir. He could not have done what he has without the faithful support of his wife, Karmel, and their four children. Newell also praised his current editor, Ted Barnes, for his years of valuable feedback and insight.
"It has been a marvelous blessing, a weighty responsibility and a sacred trust and honor to be associated with the choir's broadcast over these 25 years," Newell said. "My life and my family's life are better because of it."
Mack Wilberg, the choir's music director, coordinates with Newell to prepare music for each broadcast.
"Each week, we work closely together as we create a broadcast that will touch hearts and encourage people to find greater happiness and meaning in life," Wilberg said in a news release. "Lloyd is a dear friend and colleague, and I am pleased to have this book as a tribute to his dedicated service over the years."
Each Spoken Word is typically crafted in a narrative style with a compelling anecdote that communicates a lesson or principle, and is designed for delivery at the microphone in two or three minutes, Newell said.
He is always on the lookout for ideas. They have come from newspapers, books, family members, daily life observances and even messages written by his two predecessors, Richard L. Evans and J. Spencer Kinard.
"I have a hungry beast that has to be fed every week. I'm always looking for material," Newell said. "Sometimes at church, somebody will give a talk and share a little anecdote. I will take a piece of paper and make a note."
A few months ago, an elderly woman spoke in Newell's ward of The Church of Jesus Christ of Latter-day Saints. She said her health isn't the best, but it could be worse; her financial situation isn't the best, but it could be worse. As she spoke, Newell took notes.
"It was a simple little thing, but I thought 'That's a Spoken Word,' and I wrote a (nondenominational) Spoken Word about it," Newell said. "The greatest challenge is preparing a message, and the greatest joy is delivering that message."
One of the most rewarding aspects of Newell's calling is to receive a letter from someone whose heart was touched by a Spoken Word. In his home, he has two large bins overflowing with mail from fans. Their letters usually read, "That message was just for me," or "It was something I needed to hear," or "I made a copy for each of my children," Newell said.
Newell's son recently returned home from a Mormon mission in Melbourne, Australia. While there, the son met a man who had corresponded with his father for years as an avid fan of "Music and the Spoken Word."
"When I did the news, no one at the end of the newscast ever said, 'Wow, that newscast really touched my heart,'" said Newell, a former TV news anchorman. "But with the Spoken Word, I'm fortunate to hear it all the time."
While the Spoken Word carries a special role in the broadcast, the real star of the program is the music featured by the choir and the orchestra, Newell said.
"The program is about the music," Newell said. "I hope to contribute by giving people a little nugget to help them learn something they didn't know, maybe relearn something, or maybe unlearn something they had wrong. I hope to touch hearts and give a little bright spot or inspiration: 'You can do it,' 'Hang in there.'
"We are here to spread goodwill, to lift spirits, to touch hearts, to give people a bright spot in their life," Newell continued. "There are countless people that depend on this broadcast each week to give them a positive uplift, comfort, peace. I can't tell you how many people say we're unable to, because of sickness or illness, go to church, and this is what helps us feel close to God, this keeps us going during the week."
Tenure for choir members is 20 years or until they reach age 60. How long will Newell continue as the choir's announcer? Like any LDS Church member called to serve, he said, he will continue to write his weekly messages until he's released.
"President Hinckley said, 'You will serve until further notice,'" Newell said. "I will serve until 'further notice.'"