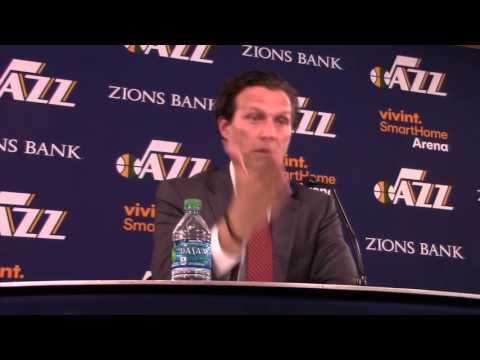 View 3 Items

I think one of the many remarkable things about Coach Pop and the Spurs is their adaptability

—Quin Snyder
SALT LAKE CITY — Utah Jazz coach Quin Snyder has the utmost respect for his San Antonio counterpart, Gregg Popovich, who has guided the Spurs to five NBA championships over the last 16 years.
After all, not only has Coach "Pop" put together one of the most impressive coaching résumés in the history of the NBA, but Snyder got a chance to work with him for three years while serving as head coach of the Spurs' D-League franchise in Austin, Texas, from 2007-10.
On Tuesday morning, as the Jazz prepared to face the Spurs for the fourth time this season, Snyder spoke with great admiration for the San Antonio coach.
Snyder also compared the contrasting styles of the Spurs and the Golden State Warriors, by far and away the league's two best teams this season — one of which the Jazz will face in the first round of this year's playoffs if Utah does indeed get there.
"I think one of the many remarkable things about Coach Pop and the Spurs is their adaptability," Snyder said. "If you think a short time ago, they set the bar on a style of play, the ball movement and the spacing and the passing and the cutting.
"The fact that Golden State's doing more of that now, to me, is indicative of Golden State's team and how good they are and the way they play. It fits their personnel. And now the way San Antonio plays is reflective of their personnel, and I just think it shows ... more evidence of how good Coach Pop is at figuring out how to use players in a way that they can be most successful.
"I think the consistent part is their defense," he said of the Spurs' success. "Their defense is good every year and looks relatively the same in that they're hard to score against. And offensively, I feel like, to me, teams adjust to what they're good at. You don't see National League (baseball) teams that play in massive ballparks getting away from pitching and defense. You're gonna reflect what your surroundings are."
SPURS VS. WARRIORS: As far as comparing the league's two top teams, Snyder said, there are certainly some similarities — and some major differences, too.
"They're obviously very different teams," he said of the Spurs and Warriors. "In San Antonio, you have a post-up dominant team that really makes you guard them in the paint, whether it's posting Kawhi Leonard or posting Tim Duncan or posting LaMarcus Aldridge or David West, you go on and on. They've got good post players.
"Both teams have shooting — that's probably the most consistent thing — and both teams are really good defensively. That's why they're the top two teams in the league.
"But they're different teams from a personnel standpoint," he said. "And for us, that requires a different game plan, but equally difficult."
BACK ATCHA: Prior to Tuesday night's game, Popovich was asked about Snyder, and the Spurs' coach had some colorful things to say.
"He's right in there except he's smarter than the rest of us," Popovich said of the Jazz coach. "That boy is like a bubble machine. He's like a cartoon with little bubbles coming out of his head with ideas about lots of different stuff. I'm serious, and some of it I understood and some of it I didn't.
"Great guy, great friend and guy to be around who is intelligent but isn't full of himself and enjoys people. He was wonderful when he was with us."
TOUGH MATCHUP: Entering Tuesday night's matchup, the Jazz were not only 0-3 against San Antonio this season but had lost badly all three times — 118-81 in December at San Antonio, 123-98 in January at San Antonio and 96-78 in February in Salt Lake City.
"They have the second-best record as a team in the NBA and they haven't lost at home all year, so that's two (Utah) losses," Snyder said. "And then Kawhi Leonard's one of the very best players in the league. Tim Duncan's playing now and (will be) in the Hall of Fame, Tony Parker's one of the best point guards to ever play, and you could just go on.
"So when you take the level of talent they have and then collectively how good they are together, they're a tough team to beat.
"So I don't feel like there's any shame in the fact that we've lost to that team," he said. "They're beating people and they're really, really good. ... They're just good."
TAKE A SEAT: Popovich has gained a well-earned reputation for sitting down his key players like Duncan, Parker and Manu Ginobili late in the season to help them rest up for the playoffs.
However, the Spurs brought a full roster to Utah on Tuesday night with the exception of reserve big man Boris Diaw, who stayed in Texas with a sore right adductor (thigh).
Asked which of his own players he might be sitting for Tuesday night's showdown, Snyder laughed a said: "We've rested Alec (Burks) and Dante' (Exum) most of the year."
PLAYOFF PUSH: Utah's top two players, Gordon Hayward and Derrick Favors, were asked what it was like to be pushing for a playoff spot with just five games to go in the regular season.
"It's a lot of fun," Hayward said. "We've been waiting for this for a little while.
"I think we go into every single game hoping to win and expecting to win. I don't look at (Tuesday's game) necessarily as like a must-win, I think we're just a team that's trying to win every single game."
Favors said the intensity of the late-season games almost have a playoff feel to them.
"It does for us because we're still fighting for a playoff spot," he said. "We're still in the race for the seventh, eighth spot or whatever, so every game right now is important for us.
"Just knowing that every game counts, every possession counts, you've just got to be mentally ready before every game and just come out and execute the game plan. We've just got to be ready. This is a good experience for us right now.
"Some of the teams we've played that already (have) their spot in the playoffs, they're starting to turn it up a little bit more getting ready for the postseason," Favors said. "And some of the teams that are not in the playoffs, they're trying to play spoiler. So we've just got to be mentally ready for every game."
Hayward was also asked what he's learned about his teammates as they make their late-season playoff push.
"I've learned a lot, but actually I already knew a lot of things about who we were," said Utah's leading scorer. "I knew we were a fighting team. We don't give up, we fight through adversity whether it's injuries, deficits in games, struggles offensively. We've been really solid on the defensive end, which has kept in games and allowed us to at least have a chance at the end."