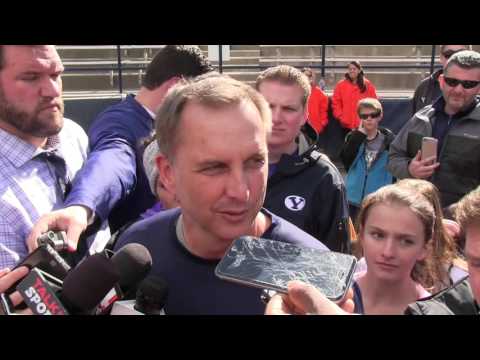 View 23 Items

Kalani Sitake's stoking of the interest/passion/enthusiasm of BYU football in the offseason was on full display Saturday at a Blue-White Game. It was purposely watered down schematically and star players were held out on the sidelines.
Still, people came.
Call it a "new thing" or kindling of curiosity or whatever, but Saturday's event drew more people, a crowd estimated at nearly 19,000, than any previous spring game I can remember. And that goes back to days of the dinosaur.
Fans filled in all but the top corners of the west side of LaVell Edwards Stadium and the east side filled in below the concourse, with a spattering six to 10 rows into the nosebleed section with empty corners.
This is what stood out about Saturday's milquetoast BYU spring game: Sitake is winning the offseason. Without a loss, he, his staff and players are as popular as ice cream.
On the perimeter of Saturday's game, there was a lot of chatter about the team's senior banquet Friday night staged to capacity at the Provo Convention Center.
A year ago, only seniors and their families were invited to the year-end event. Half the staff missed it and the atmosphere, according to attendees, was like a funeral.
This year, Sitake went all out to toast and salute BYU's senior players, guys he'd never coached, many he barely knew by sight or name, according to those present.
The invitation called for business casual dress but hours before the event began, Sitake put out the word: To heck with the dress up, come in Levis ready for fun. Everybody associated with the program showed up. There were slabs of ribs and meat in a down-both-sides feeding line. A live band played rock, reggae, jazz, pop, oldies and Polynesian favorites. Attendees were dancing until they dropped. It was a celebration, about as loud and boisterous as a BYU gathering is allowed to get.
It was a sendoff of capital proportions.
Sitake spoke from the podium and expressed his gratitude to Bronco Mendenhall for bringing in a senior class of this caliber. He thanked Mendenhall for leaving him and his staff "a great group" of players to coach.
His father, Tom, got up during a dance break and sang "Three Times a Lady," a hit by Lionel Richie. The performance prompted offensive coordinator Ty Detmer to tell him, "you've still got it, Pops."
The day after, I asked assistant head coach Ed Lamb if the party was everything folks were talking about.
"That was all coach Sitake and his support staff, the planning and everything else. I had nothing to do with it," said Lamb. "I had at least 10 players come up to me afterwards and say, 'coach, thank you so much for this, it meant a lot to me.' I told them, hey, this is coach Sitake, this is what he's about. We are family and we're lucky to hang out with you guys, if you don't feel like we're ruining your street cred.'"
Looking around at the crowds emptying the stadium, Lamb acknowledged it looked like a big number had showed.
"It was really cool. It was amazing. They were here to come see the guys run around and make some plays. How do you assess the spring game, the offense was good or the defense was poor. We're just assessing fundamentals."
So went the first major public offering of BYU football in the Sitake era. There were few sparks — by design. The stars were kept under wraps. Tanner Mangum threw for a couple of series. Taysom Hill was excused to be with his family after a sibling passed away. Both coordinators tried not to show much for the Arizona Wildcats who will be the first opponent of the season in Glendale, Arizona.
Still, Sitake appeared to have successfully pulled off another in a series of "feel good" public events and his players had nothing but praise, belief and hope in what he's selling them.
Even the horde of media members had to chuckle when their long-awaited interview with Detmer was postponed as he ran toward them and then right past them saying, "I'll be right back, I've got to go use the bathroom. I'll be back." And off he went to the south portal.
What you see is what you get. BYU football has a new and interesting atmosphere. It's a feeling of family Sitake's tried hard to create. It's like a campfire. Pull up a chair and toss on another log.
The kumbaya moment was alive and well over the weekend. The bubble has not burst. Everyone is undefeated.
Explained sophomore running back Trey Dye earlier in the week: "We really are a Band of Brothers. It isn't just a slogan somebody put on a shirt."
TWITTER: Harmonwrites