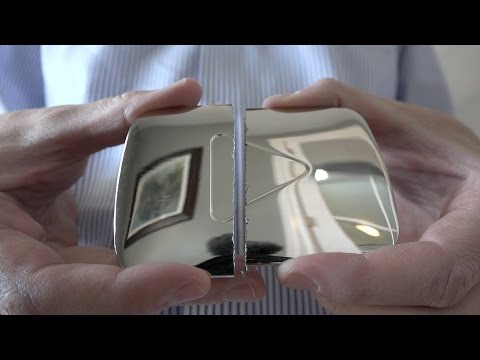 View 6 Items

When 10-year-old Lincoln Markham and his father, Daniel, made a series of YouTube videos exploring what's inside sports balls, they were simply trying to supplement Lincoln's elementary school science project. However, what started with five videos in January 2014 has grown into a YouTube channel with over 1.5 million subscribers.
But it really began with a father's desire to help his son learn and grow.
Before serving a mission for The Church of Jesus Christ of Latter-day Saints, Daniel Markham, a Kaysville resident, said he was "the shyest person in the world."
"I wouldn't talk to anybody," Markham said. "I was so nervous. I would never speak in church or in public, and I was just really shy, so I didn't want Lincoln to have that same thing."
The father and son completed the science project and posted the five "What's Inside?" videos on a YouTube channel that consisted almost entirely of the family's home videos. One year later, Markham, who elected to monetize his YouTube videos, noticed that the channel had begun to generate revenue, meaning something on the channel was being viewed a significant number of times. The father and son investigated, and they found that all the views were coming from the "What's Inside?" videos. They moved their family videos off the channel, and with that, their What's Inside? YouTube channel was born.
Markham began researching what makes YouTube videos successful, and he read that publishing a new video once a week helps. Markham and Lincoln began posting videos weekly, and the channel took off.
When they hit 1,000 subscribers in April 2015, they went out for ice cream. One week later, their subscribers doubled. When they hit 1 million subscribers in December 2015, they began to recognize the legitimacy of this side project. When 13 families recognized them recently while they were ice skating at the South Davis Recreation Center, it all became very real.
"We see the number, and it's there, and we think, 'Wow, that's a lot of numbers,' … but we're still amazed anytime someone recognizes us," Markham said. "It puts a face to the number a little bit, so it's just been a really, really neat experience, and we never would've imagined that it would've done this, but it's been a blast."
In their "What's Inside?" videos, Markham and Lincoln cut open and investigate what's inside everything from lava lamps to refrigerators (the refrigerator being Lincoln's favorite), but Markham believes the family friendly nature of the channel and their father-son relationship draws people in and keeps them watching.
"There's not a lot of clean content on YouTube. I mean, there is clean content, but there are also a lot of things that probably aren't the best for kids to watch," Markham said. "And that's one thing we want to make sure we always do is just keep it a clean channel."
It is not uncommon for viewers to comment on Markham and Lincoln's relationship.
"I wish my dad didn't leave me when I was 3," one viewer recently wrote.
Markham said messages such as these break his heart, but he said they also motivate him to "improve as a father and keep making these videos for others."
"I never thought I was an amazing father, and I still don't think I'm an amazing father, but it does make me a little sad and motivate me to keep doing what we're doing because there are kids out there who watch it, and maybe they can say, 'A father can be active in their son's life, and I want to be that way when I'm older,'" Markham said.
The success of their channel recently gave them an opportunity to collaborate with billionaire philanthropist Bill Gates and his wife, Melinda. The Gateses publish an annual letter discussing global issues and outlining their goals. This year's letter was directed to high school students and posed the question, "If you could have one superpower, what would it be?" Several YouTube channels, including Markham's, were chosen to collaborate with the Gateses to bring awareness to the annual letter.
Markham answered the Gateses' question about superpowers in a video titled "What's Inside a Water Filter?"
"Mine would be to bring clean, drinkable water to the entire world," he said. "Here in America, a lot of us don't realize how big of a need clean water is. Here's a crazy stat for you: If you took all of the people in the United States, everybody, and then you doubled that number, that number would be how many people do not have access to clean drinking water."
Markham and Lincoln traveled to the Philippines to film the "What's Inside a Water Filter?" video. The trip was meaningful for Markham, who was born in the Philippines and later returned to the country for two years when he was called to serve there as an LDS missionary.
Markham attributes his success as a sales representative for a biotech company and the success of the YouTube channel to the lessons he learned as a missionary.
"To talk to people and become comfortable presenting in front of people, it took a lot of time on my mission for me to become comfortable with that," Markham said. "... Now I feel like the mission has actually helped with the YouTube channel, too, because I'm comfortable being in front of millions of people on camera and putting that out there and being OK with putting it out there. So it's been an amazing and emotional tie-in to bring Lincoln."
While in the Philippines, they spent a day with a family Markham taught while he was on his mission. The family even makes a cameo in the water filter video. It was an experience both father and son will never forget, one Markham hopes will help Lincoln become excited to someday serve his own mission.
"It was really fun to see his eyes light up and to see him look at the different, unique things about a different culture," Markham said. "But then at the same time to tie it all in and say, 'We're all the same, and we're all brothers and sisters in this world, and whether you serve in the Philippines or you serve in Idaho, you're doing the same thing,' so I think in a way, it will help him realize that wherever he goes, it will be a unique and good experience."
Markham has no plans to quit his full-time job and is saving the revenue from the YouTube channel for Lincoln's mission and his children's college funds.
In the time he and Lincoln have spent making the 65 videos they have posted so far, Markham has enjoyed seeing his son develop as he learns how to be comfortable speaking on camera, manage money and create good marketing strategies, lessons he might not otherwise learn at a young age.
For now, Lincoln is just enjoying working with his dad.
"It's just really fun with the science and cutting stuff open," Lincoln said. "It's just fun spending time with each other."