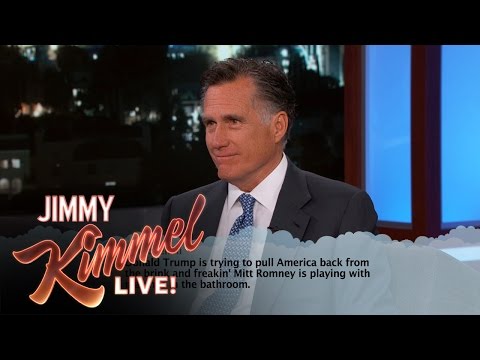 View 3 Items

During a visit to Salt Lake City last week, Mitt Romney criticized Republican presidential candidate Donald Trump, calling him "a phony" and "a fraud."
While some applauded Romney's speech, others took to Twitter to express their disapproval. The former Massachusetts governor appeared on "Jimmy Kimmel Live" and read some of the mean tweets in a YouTube video uploaded Wednesday.
Romney, the Republican presidential nominee in 2012, read one tweet from user @Vote4Trump_2016 that said, "I actually met Mitt Romney in a bank a couple months back. I'm now working on a time machine to go back and punch him in the throat! #TRUMP"
In response, Romney said, "Pic or it didn't happen."
On the show, Romney also addressed why he is speaking out against Trump.
"I was with my son," Romney said in a video. "We were driving and he said to me, 'Dad, what are you going to tell the grandkids you did to stop Donald Trump?' And I said, 'You know what? I've got to do something. Now is the time.'"
Watch the video on YouTube here.
The Clean Cut is a daily feature that highlights family friendly videos.
Lindsey Williams writes for the the Faith and Family sections of DeseretNews.com