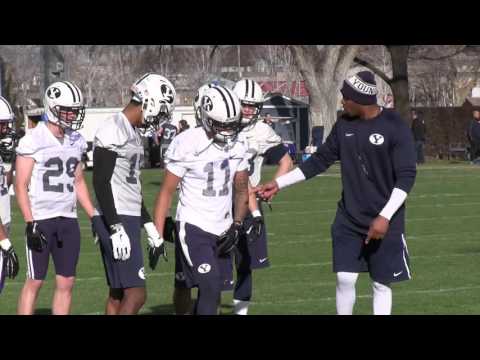 View 6 Items

He knows what it's like for us and that's a big thing. He's real different than what we had before in the way he coaches, but especially with how he relates to us.

—Senior cornerback Michael Davis
PROVO — Jernaro Gilford understands because he's been through all of it.
BYU's new cornerbacks coach started playing at BYU as a non-LDS minority athlete back in 1999, settled in and then eventually thrived within the program after incurring some initial struggles. He was a two-year starter for the Cougars and went on to receive a degree before getting into coaching in 2012.
Gilford has since earned a master's degree in education and couldn't be happier about his current post within the BYU football program.
"I'm absolutely loving it," Gilford said. "Being able to be around guys who have walked down the same path I walked down and look back. Then we get to relate all of what we learned to guys coming up in the program — it's great and I'm loving every minute of it."
As for the players he's currently coaching, their first impressions of Gilford are generally positive.
"He knows what it's like for us and that's a big thing," said senior cornerback Michael Davis, who is also a non-LDS minority player. "He's real different than what we had before in the way he coaches, but especially with how he relates to us."
Davis recalls the first time meeting with Gilford as a player and immediately finding a level of comfort and relatability.
"The first time he spoke with us he let us know that his door was always open if we needed to talk about anything," Davis said. "There was an immediate connection we felt. It wasn't just that we felt he was a coach we could trust, but almost like a real, true friend. I love having him here so far."
Several notable changes have come at BYU since Gilford's eligibility ran out in 2003, but a lot of it — the critical parts of what truly makes BYU what it is — remain the same, according to Gilford.
"I've been through everything these guys are going through," Gilford said. "Sure, things have changed here as far as new buildings, facilities, being independent and all that, but it's still the BYU I knew."
The BYU Gilford describes is one that can be tough on non-LDS minorities at the start, but also a school and experience that can ultimately prove beneficial to those who work through it.
"It's culture shock being here at first. It was for me and it is for a lot of these same guys," Gilford said. "So I feel it's important for me to help these guys understand that I've been through all of it and at the end of the day you're surrounded by great people. There's great people here to learn from. There were when I was here and the coaches here now — they're great men and the type of men I'm still learning from and benefitting from being around."
As for Gilford's position group, players are currently going through some growing pains learning the new defensive system. It's a system that involves a shift from zone-based coverages to man-based coverages.
"It's all about teaching man-to-man fundamentals with these guys now. It's about teaching them not to have so much zone eyes, but to shift it to man eyes, and that's something we're working through," Gilford said. "In zone your eyes are always in the backfield, on the quarterback, but with man it's always on your man. You lock down, and guys are still tending to peak at the quarterback a bit too much still, but we're getting through it and getting better every day."
For players like Davis, they believe in what's being taught and are confident they'll eventually thrive with the new techniques and new overall defensive system.
"It's fun, but it's a challenge so far for me and I think for all of us," Davis said. "But I really like how our new coach is and how he goes about things. I think we'll all be better because of it. I'm excited to keep progressing and to learn from coach Gilford and the other new coaches we have here."
Email: bgurney@desnews.com
Twitter: @BrandonCGurney