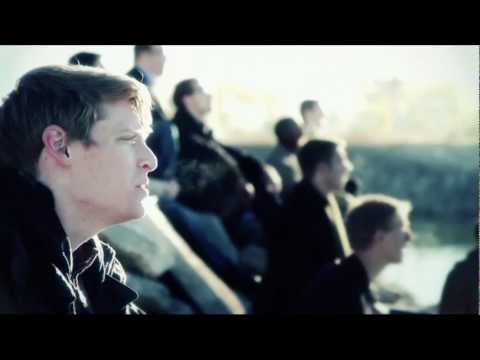 View 6 Items



PROVO — An ambitious idea from two BYU humanities students has turned into a 25-year success story.
What co-founders Bob Ahlander and Dave Boyce started in the fall of 1991 has become Vocal Point — a nine-man a capella group that provides vocal percussion, imitates the sounds of dozens of musical giants and dances in a variety of styles, resulting in a fresh and creative form of entertainment.
Vocal Point is celebrating its 25th anniversary with several events, including an alumni reunion and a music video shoot, culminating in four concerts March 4-5.
"This anniversary is a pretty huge milestone coming up for Vocal Point," Vocal Point artistic director McKay Crockett said. "Vocal Point has done some pretty spectacular things over the course of its 25-year history but especially in the last five years."
The anniversary events will feature Vocal Point alumni performing alongside current members. Ahlander expects more than 60 alumni and their families to come together with performers flying in from places as far as London and Hawaii. The group will perform a mashup of 25 hit songs from 1991-2016 in an arrangement created specially for the reunion video. Several children of Vocal Point alumni — approximately 45 of them ages 12-18 — will also perform in their own production number in the concerts.
According to Vocal Point's website, Boyce and Ahlander "first heard the contemporary a cappella sound during a visit to the eastern U.S." and decided to "bring that sound westward." With the help of Jill Petersen-Lex, the group's first artistic director, the co-founders held auditions in the fall of 1991 and "became an instant hit on campus," according to the website.
The singing group is made up of male BYU students chosen by audition every year. Ahlander, who also served as the group's artistic director from 2001-04, said the group's style is to take a good song, retool it for nine voices and deliver it in a crisp, confident, voices-only rendition.
Vocal Point has seen continued success since 1991, recording multiple albums and singles along the way. In 2005, the group won three Pearl Awards from the Faith Centered Music Association — for Best Sacred Recorded Song of the Year, Best Group Recording Artist of the Year and Best Performing Artist of the Year — and in 2006, Vocal Point took first place at the International Championship of Collegiate A Capella.
It has also performed the national anthem at Utah Jazz games and toured throughout the United States, and its concerts are routinely sold out.
The group's popularity soared in 2011 when it delighted fans and television audiences on season three of NBC's "The Sing-Off." It finished in the top five and has since made a string of popular music videos on YouTube.
Crockett said the group's appearance on "The Sing-Off" really boosted public awareness and that the group continues to do well.
"Their most recently released music was just nominated for seven CARA Awards (Contemporary A cappella Recording Awards), (which are) comparable to the Grammy Awards of a cappella," he said. "Aside from being a constant best-seller among LDS retailers, Vocal Point's music has also started being distributed nationally."
Crockett said that over the holidays, Barnes & Noble began selling the group's music at all of its stores nationwide.
"With requests coming from literally every corner of the globe, Vocal Point is truly becoming a worldwide music group," he said. "And it all started in one small classroom from BYU."
Vocal Point has also seen success on social media with thousands of followers across its Twitter, Facebook, YouTube and Instagram accounts, which share videos and news about the group.
"With millions of views and hundreds of thousands of followers, the online mission to promote positive and uplifting music to the world is an impressive accomplishment for any group, let alone a group of student volunteers," Crockett said. "In addition to music videos and social media, tens of millions of people listen to Vocal Point's music online via Spotify, Pandora, etc."
Ahlander and Crockett say there's even more to come.
Ahlander said he hopes to create an endowment fund that can provide scholarship money to group members.
Additionally, Vocal Point is currently part of BYU's Performing Arts Management office, which has song and dance groups touring the world, and Crockett and Ahlander are hopeful that Vocal Point will be approved for international touring as well.
"Our purpose was to spread the joy of music and, through that medium, open people's hearts to the joy that comes through faith," Boyce said in a news release. "I can't think of anything better than to see that go all across the globe."
But the chief goal is to have a positive impact wherever the group performs, Ahlander said.
"We want to affect people for good," he said.
Crockett said it's clear that "this a cappella thing is not going away. Our job is to make sure everything's excellent."
If you go ...
What: Vocal Point 25th Anniversary concerts
When: March 4, 5:30 and 8 p.m.; and March 5, 2 and 8 p.m.
Where: Covey Center for the Arts, 424 W. Center, Provo
How much: $17 for adults, $15 for students
Phone: 801-852-7007
Website: coveycenter.org or byuvocalpoint.com
Note: Tickets to some of the performances are sold out. Also, memorabilia from the group's history will be on display March 3-18 in the L. Tom Perry Special Collections area of the Harold B. Lee Library at BYU.
Sharon Haddock is a professional writer with more than 35 years' experience, 17 at the Deseret News. Her personal blog is at sharonhaddock.blogspot.com.
Email: haddoc@deseretnews.com