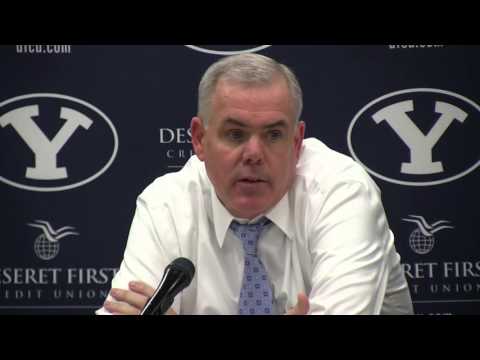 View 29 Items




We can learn from this.

—Kyle Collinsworth
If the West Coast Conference tournament is anything like Gonzaga's win over BYU Saturday night, an intense, hard-fought and emotional tug of war, Las Vegas is going to be an interesting ticket.
BYU has defeated every team in the WCC. Gonzaga has the best talent, Saint Mary's the best team chemistry and accuracy. BYU can be explosive and scores more than anybody. You have to stop all five Saint Mary's starters. Gonzaga is big and strong.
There isn't much difference in these WCC teams at the top. None has had an elite season. All have had ups and downs. This makes Las Vegas a rat race, a maze of emotion, an all out war.
Gonzaga's strength propelled the Zags to a solid first-half come-from-behind 71-68 victory over the Cougars in the Marriott Center. The atmosphere was electric, most all plays proved vital, and the final two minutes were dramatic.
BYU had plenty of chances to beat Gonzaga in the final minutes. Not to be.
BYU's NCAA Tournament hopes now come down to a stretch of three games in the Orleans Arena. If the Cougars go 3-0, they get the league's automatic bid.
"We can learn from this," said Kyle Collinsworth, who had 15 points, 15 rebounds and eight assists, two assists from a back-to-back triple double.
"There are always positives, this makes us more hungry. When we play them again, we are going to be more hungry. At this point we have nothing to lose. There were tons of positives."
The Cougars took 16 more shots than the Zags but Gonzaga was more efficient, shooting 47 to 32 percent. BYU managed to make 10 of a whopping 32 shots from distance and if they'd made their last two? Well. …
The game underscored BYU's reliance on the 3-ball, and how tough it is when teams take away the Cougars' pace of play and force a half-court game.
Mark Few got his squad to slow BYU down, double up Cougar senior Collinsworth, turn the battle into a half-court game. He then got kind of lucky as a pair of long wide-open 3-point shots by freshman Nick Emery missed the mark in the final 90 seconds with the Zags up by two. On one of those shots, freshman Zac Seljaas missed a tip at the rim.
Gonzaga beat BYU 71-68.
It was a great victory for Gonzaga, which had a rare season of losses to WCC teams but ended up getting a piece of the championship with the split with BYU.
"It's where we're supposed to be. It's where we expect to be," Few said. "This group adapted and played some pretty good basketball. And we were (very) good on the road this year in conference."
The game ended with BYU down 70-68 with 3.5 seconds left and the Zags with the ball out of bounds under the Cougar basket after Emery's 26-footer bounced over the backboard. In a crazy dead ball foul, Domantas Sabonis, who scored 15 points and had 14 rebounds, fouled out of the game after he pushed BYU guard Chase Fischer trying to get open.
On the ensuing BYU in-bounds play, Dave Rose ran a play that usually has Collinsworth throw the ball in play. Instead, he posted up Collinsworth inside the key.
A split second before the ball came to Collinsworth, Zag forward Josh Perkins had both arms wrapped around the Cougar senior with his hands locked. Collinsworth broke free, got his hands on the ball but Perkins knocked it away, leading to a BYU foul on Silan Melson, who scored the game's final point from the line.
"I tried to reach for it, felt like I got grabbed a little bit, tried to extend my arm to go get it. A tough play, I'm sure it's a tough angle for a ref just like our job is tough play at the end and unfortunately didn't work out at the end."
Aside from the critical possessions by both teams in the final two minutes, BYU may have lost this game in the first half when Collinsworth got his second foul and went to the bench at the 8:24 mark with his team up 24-18.
The Cougars then went flat, making just 1 of 9 shots until he returned with 2:49 left. By then, Gonzaga went to Sabonis inside, the Cougars missed wide open threes and the Zags raced to a 36-28 advantage. BYU cut Gonzaga's 10-point second-half lead to two but couldn't find the mark at crunch time.
"It's tough obviously," said Fischer. "Tough mood in the locker room and it will be tough tomorrow, but we've got everything in front of us. In the WCC this year the top three is beating everybody and each other. Nate (Austin), Kyle and I will regroup everybody next week on the team and get ready for a four-day tournament where we can make some noise and get back to the tournament."
We shall see.
EMAIL: dharmon@deseretnews.com.
TWITTER: Harmonwrites