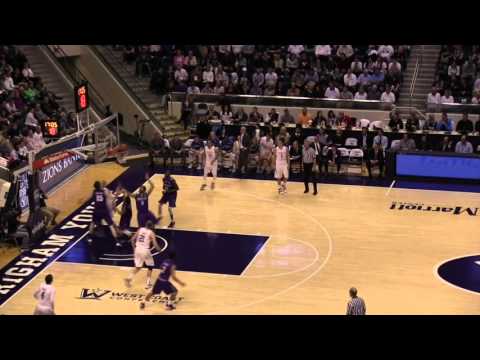 View 28 Items

PROVO — In mid-January, Portland handed BYU one of its most bitter defeats of the season, just two days after the Cougars recorded one of their sweetest wins at Gonzaga.
Senior guard Kyle Collinsworth made sure BYU avenged that loss Thursday night at the Marriott Center.
Collinsworth notched his 11th career triple-double, an ongoing NCAA record, and his fifth of the season, in the Cougars' dominating 99-81 victory over the Pilots.
During that loss at the Chiles Center last month, Collinsworth struggled, shooting 4 of 17 from the field. Thursday, Collinsworth scored 14 points (shooting 5 of 8 from the floor), pulled down 10 rebounds and dished out 16 assists.
"He was terrific tonight. He was really engaged and sharing the ball," said BYU coach Dave Rose. "He was good offensively, he was good defensively and he was rebounding the ball well. It was one of his better games."
"Credit to my teammates. They spaced the floor well and knocked down shots," Collinsworth said. "We played at a good pace and we shared the ball. There were a lot of assists tonight when you share the ball well. When you do that, the ball comes back to you. Sometimes you get a triple-double and sometimes you don't."
Collinsworth also set the BYU record for most assists in a season, surpassing Matt Montague, who had 217 in 2002. Both players reached that mark in 30 games.
The Cougars took care of business against Portland by building a 21-point halftime lead and holding on in the second half.
Chase Fischer poured in a game-high 21 points, Nick Emery scored 18, Jordan Chatman added a career-high 13 points, Kyle Davis had 11 and Zac Seljaas chipped in 10.
As a team, BYU shot 52 percent, racked up 30 assists on 36 field goals and hit 11 3-pointers. Fischer, Emery and Chatman each drilled three 3-pointers apiece. The Cougars outscored the Pilots in the paint, 46-26.
"It was a good team win," Fischer said. "We have a lot of weapons."
Portland was led by Jazz Johnson, who scored 17 points while Bryce Pressley added 15. Alec Wintering finished with five points on 1 of 10 shooting from the floor.
BYU improved to 22-8 overall and 13-4 in the West Coast Conference while Portland fell to 12-18 and 6-11.
Portland scored the first five points of the game and led early, 13-11. A 7-0 BYU run gave the Cougars an 18-13 advantage.
Midway through the first half, BYU was clinging to a 20-17 lead when it took control of the game. The Cougars went on an 18-2 run, that included four 3-pointers — one by Fischer, two by Chatman and one by Emery.
BYU increased its lead to 24 points, 50-26, after a 3-pointer by Emery. The Cougars went into the locker room at halftime ahead 53-32.
At intermission, BYU was shooting 53 percent from the field and Portland was shooting 37 percent. The Cougars knocked down seven 3-pointers in the first half.
Emery scored 13 points, Fischer had 12 and Collinsworth added 10. By halftime, Collinsworth already had eight assists and seven rebounds.
"I was pleased with our mindset coming out to start the game," Rose said. "Defensively, we were really focused and did a good job of controlling Wintering, who can dominate the game from that position. We rebounded the ball well and Jordan Chatman hit some big shots in the first half to give us some separation."
The Pilots showed some fight by scoring eight consecutive points early in the second half, but the Cougars quickly quelled that brief uprising by scored seven in a row. Moments later, BYU extended its lead to 25 points.
Portland whittled the deficit down to 76-62 with 9:45 remaining, but the Cougars eventually put away the Pilots. Portland outscored BYU in the second half, 49-46.
"In the second half, we kind of got caught up in trying to outscore them. We weren't as good defensively," Rose said. "They got hot from the 3-point line and we were lucky to make a few shots and keep the score at a little bit of distance. Overall, it was a good win for us."
BYU hosts Gonzaga Saturday (6 p.m., MST, ESPN2) on Senior Night.