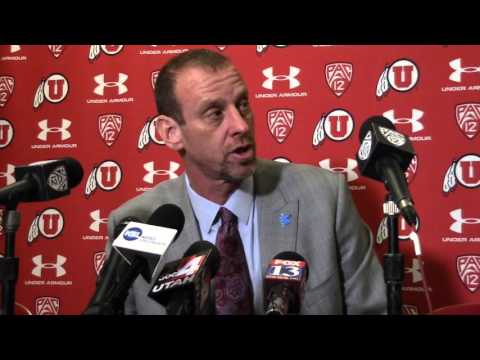 View 14 Items

I was really impressed with our guys coming out of the locker room and even the last few days with our preparation. (They) shared the basketball, made threes and defended really well. Our zone was, I thought, really good tonight.

—Utah coach Larry Krystkowiak
SALT LAKE CITY — It took just over three minutes for things to be settled Thursday night in the Huntsman Center. That's how long 22nd-ranked Utah needed to lay the groundwork for an 81-46 dismantling of Arizona State.
The Utes made their first five 3-point shots — three from Jordan Loveridge and a pair by Brandon Taylor — to take a commanding 15-0 lead with only 3:10 off the clock.
"It's tough for teams to come in when you've seen Jakob (Poeltl) do what he does, night in and night out. I think they tried to kind of live with outside shots," Loveridge said. "We're a great shooting team so it was tough. They kind of picked their poison."
Utah wound up making 16 shots from beyond the arc in recording its fifth consecutive win.
"I was really impressed with our guys coming out of the locker room and even the last few days with our preparation," said Utah coach Larry Krystkowiak. "(They) shared the basketball, made threes and defended really well. Our zone was, I thought, really good tonight."
After the strong start, the exorcism of the Sun Devils grew even worse. They continued to falter as the Utes continued to turn up the heat and made the situation even more of a H-E-double hockey sticks.
Arizona State's scoreless drought came to an end when Obinna Oleka made a jumper with 15:18 left in the half.
Utah responded with another 15-0 run. Dakarai Tucker paced the outburst with two 3-pointers as the Utes extended their lead to 30-2.
The Sun Devils went more than 10 minutes between their first two scores. By the time Oleka added a layup, they were 1 of 18 from the field and had turned the ball over 10 times.
Utah eventually built a 36-point advantage and led 44-10 at halftime.
Loveridge led the Utes with 14 points while Taylor added nine.
Defense, however, headlined the effort. Arizona State wound up shooting just 14.3 percent (4 of 28) over the first 20 minutes. The Sun Devils had 12 turnovers, leading to 21 points for the Utes.
"Going into this game we really wanted to focus on defense," said forward Brekkott Chapman. ". . . I feel like we did that tonight and it worked out for us."
Utah's lead swelled to 45 points in the second half. Chapman wound up with a game-high 15 for the Utes. He also grabbed nine rebounds.
Krystkowiak was pleased with a lot of things, particularly that the team met a goal of finishing with less than 10 turnovers (ending up with nine). Arizona State scoring leader Tra Holder came up empty, missing all six shots he took in 32 minutes of play.
Overall, Krystkowiak said it was "a heck of a performance" by the Utes.
"Our defense is what I was really impressed with," Krystkowiak continued.
The victory moves Utah into sole possession of second place in the Pac-12. The Utes (22-7, 11-5) are one-half game behind conference-leading Oregon (22-6, 11-4) and one-half game ahead of Arizona (2-6, 10-5) and California (20-8, 10-5).
Utah's student section "The MUSS" began chanting "We want 'Zona" late in the game. The Utes host the ninth-ranked Wildcats, who dropped a 75-72 decision at Colorado earlier this week, Saturday at noon. They'll complete the quick turnaround somewhat rested. Nobody played more than 28 minutes — Poeltl saw the court for just 23 — and a total of 11 Utes got into the game.
Even so, Krystkowiak noted that the 41-hour turnaround between Pac-12 games will be a challenge. It's something the Utes haven't faced all season.
"I thought it was real important to not wear some people out," Krystkowiak added.
The Wildcats, he continued, are a really good basketball team — a big, physical rebounding squad with a lot of experience.
"It's going to be on in terms of our guys having to be dialed in mentally in one day's time," Krystkowiak said. "We won't have a shootaround on Saturday morning and we've got to get some things prepped and get in the right frame of mind for it."
Following the Arizona game, Utah closes out the regular season March 5 at home against Colorado.
Email: dirk@desnews.com
Twitter: @DirkFacer