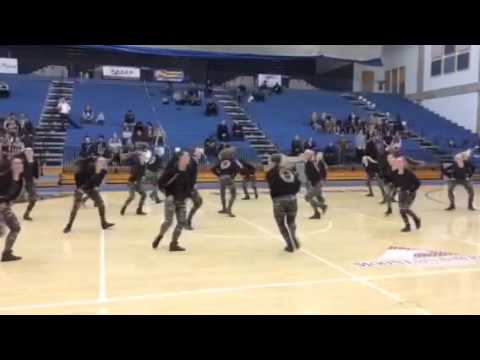 Our team went back in the locker room and talked about how we won't forget it. So it was awesome.

—Emily Kessinger
TAYLORSVILLE — After four years of high school drill competitions, Emily Kessinger thought she'd dealt with it all.
But during a performance Monday at the 4A state basketball tournament, the Maple Mountain Elleves found themselves dealing with a nightmarish situation for any dancer group — no music.
"We've had parts where (the music) cut out or skips a part, but never no music at all," said the senior team captain after Monday's performance.
The dancers stood in formation on the floor for several minutes while Salt Lake Community College officials tried to figure out why the sound system wouldn't play their music.
"It's kind of hard," Kessinger said of trying to remain focused during a technical difficulty. "We have our adrenaline when we walk on, and then it kind of died standing there."
And then, her coach Molly Brenchley told the girls to go ahead with their routine sans musical accompaniment.
"We got the go from my coach, and so we just went with it," Kessinger said of performing their hip hop routine without music. "As soon as our coach said go, my heart started racing. It was definitely memorable."
Brenchley said she knew the girls could perform a cappella because they've done it before.
"They've done it in practice with counts," she said, and then she smiled at Emily.
The coach acknowledged it was an usual decision as most teams will leave the floor if they have music issues. But Brenchley said the Elleves came to support their girls basketball team and perform a routine they love.
"We came all this way," she said with a shrug. "So, we might as well dance right?"
And the loudest cheers for the music-less routine came from the opposing fans from Mountain View.
"They were so supportive, which was so nice," Kessinger said. "Our team went back in the locker room and talked about how we won't forget it. So it was awesome."
Email: adonaldson@deseretnews.com
Twitter: adonsports