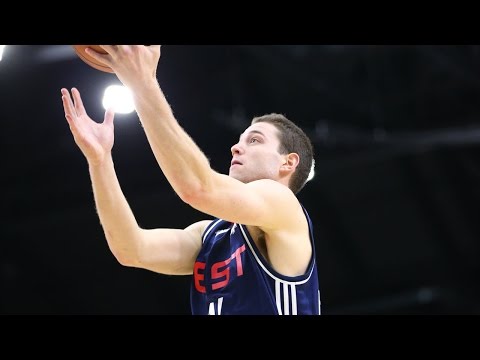 View 4 Items

TORONTO — All these years later, Jimmer Fredette still knows how to put on a good show.
During Saturday's D-League All-Star festivities, that turned out to be the case on and off the court.
Away from the game, the good-natured Fredette participated in a couple of entertaining videos that played for a Ricoh Coliseum crowd which, not surprisingly, was much smaller than the one that had watched the NBA All-Star teams practice on the same court hours earlier.
In one video, the former BYU star confidently belted out lyrics to popular Justin Bieber and Drake songs. He knew the songs well, the 26-year-old admitted.
"Of course," he said. "I love Justin Bieber, love Drake. They're great, amazing artists from here, Canada."
In another video, Fredette humorously tried to guess what the Canadian slang word "biffy" meant. While laughing, he speculated that it was an adjective like "cool" or "great." The actual meaning of biffy: toilet.
In the game, Fredette entertainingly showed those watching — some of whom are in Ontario for the NBA's All-Star Weekend festivities — that he can still shoot the lights out and score in bunches.
In a reserve role, the Westchester Knicks guard scored a game-high 35 points, making 13 of 19 field goals and six 3-pointers, to go with eight assists and six rebounds in only 25 minutes.
Fredette hit a key late long ball and then was very cool (not the biffy kind) at the foul line in crunch time. His pair of charity-stripe swishes with two seconds remaining clinched a 128-124 victory for the East stars.
The Jimmer was a no-brainer to be named MVP.
Nobody else in the D-League All-Star Game had more than 17 points.
Nobody else in the D-League All-Star Game had a passionate fan try to start "JIM-MER! JIM-MER!" and "MVP! MVP!" chants, for that matter.
Nobody else in the D-League All-Star Game had ever scored as much as him, either.
His response?
Humble as expected.
"It's an honor just to be out there and play with these great players," Fredette said. "To be in the All-Star Weekend is something that's special. I've never been a part of it before, so it's been a lot of fun to be here."
Even saying that was another case of Fredette showing he's a good sport. As a lottery pick, a former NCAA Player of the Year and an athlete with four NBA teams on his résumé, he'd certainly rather be on vacation right now like other players who are in the non-hyphenated pro basketball league in North America.
Fredette is holding onto hope that his NBA dream will be revived as tightly as he clutched onto the golden basketball trophy with the letters M-V-P on it.
"You're always hopeful. Everybody in this league, that's what their dream is. They want to get back or into the NBA — or further their career, wherever it is," Fredette said. "That's what this league is, it's a developmental league and I'm no different."
Fredette's agent keeps in daily contact with NBA front offices, but the sharpshooter — who's also hoping his D-League stint will show people that he's more than just a sharpshooter — continues to deal with what is in his control.
"You've just got to stay grounded, keep your head down, keep pushing," Fredette said, "and when someone does call and wants you, be ready for your opportunity."
Fredette seems to be stuck in a weird spot. He's clearly too good to be in the D-League long-term yet it's also been made clear in previous stints that he might not be cut out for the NBA, either.
Europe seems like the obvious answer — and it just might turn out to be the box he ultimately checks. For now, though, Fredette continues to pursue the career he'd eagerly envisioned long before he was drafted in the lottery by the Sacramento Kings, long before Jimmermania swept the nation when he went to college in Provo and long before he fine-tuned his hoops skills by balling against incarcerated criminals in a New York prison.
"Obviously, I would love to be back in the NBA. Everybody wants to be in the NBA. That's the whole goal. I'm no different than that," Fredette said. "I'm going to work every single day to go and try to make it back into the NBA. That's everybody's goal, so you just go out there and play every single time. Don't let your mental state get down. You've just got to keep pushing and know that you can play."
That's what Fredette will continue to do, for now, in the D-League under the Knicks' umbrella.
His motivation in the minors?
"Just continue to go out there and show that I can play all aspects of the game — be able to pass the ball, get into the middle, shoot a floater, (hit) pull-up jumpers," he said. "Defensively, just being able to go out there and fight and show that you can play within a defensive scheme, and go out there and be aggressive. I think that's what they want to see — they want to see fight."
Even that isn't enough sometimes. Finding the right team can be an even bigger challenge as he found out thanks to experiences with the Kings, Bulls, Pelicans and Spurs (this past training camp).
"There's a lot of guys in the NBA (and) it's about finding the right fit, a coach that has some trust in you (who) will play you night in and night out, consistently," he said. "Trying to find a right fit is the tough part."
Hours after giving others a nice reminder that he is still a talented scorer and playmaker — during his record-setting All-Star Game and by finishing second in the D-League 3-point contest — Fredette boarded a plane to return to his D-League team in upstate New York.
He didn't even get to stay in Toronto long enough to soak in the NBA's All-Star Saturday events.
"I would love to be able to stay," Fredette said, "but we start practice tomorrow. … Right back to reality."
EMAIL: jody@desnews.com
TWITTER: DJJazzyJody