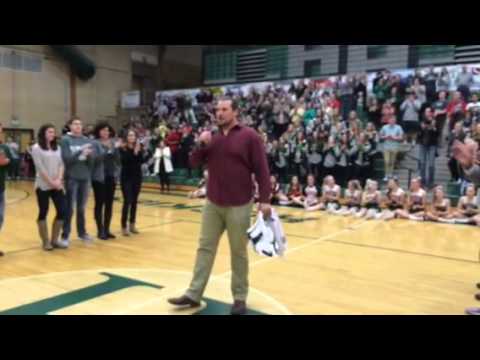 View 26 Items

Never in a million years would I have thought I would be getting my jersey retired at my high school. It was a little more emotional than I thought it was going to be for me. But like I said, it's a huge honor, and I'm very humbled.

—Zane Beadles
MIDVALE — Zane Beadles stood in the middle of a basketball court in the packed gymnasium at Hillcrest High and tried to put into words how much it meant to the former Utah and current NFL lineman to have his high school jersey retired.
"This is a huge honor, and I love this place," Beadles said, pausing to choke back emotion. "I grew up a Husky, I was very proud to be a Husky."
The 29-year-old, who was drafted by Denver but now plays for Jacksonville, said after the ceremony that took place during halftime of Murray's 74-57 win over the Huskies that he never even dreamed of such an honor.
"Never in a million years would I have thought I would be getting my jersey retired at my high school," said Beadles, who graduated from Hillcrest in 2005. "It was a little more emotional than I thought it was going to be for me. But like I said, it's a huge honor, and I'm very humbled."
The school's student body officers have been raising money for Beadles' charity — Zane Beadles Parade Foundation — which helps the families of children suffering from cancer in Denver, Florida and Utah. And then he presented the student body with a golden football given to players by the NFL to present to the communities that support them.
Friday's half-time ceremony began when he and his family stood at center court enjoying a standing ovation from the packed gymnasium. A list of his accomplishments was read, including that among his many accolades in college and the NFL (All-American, Pro Bowl, AFC championship) was the fact that he graduated from high school with a 3.9 GPA and college with a 3.7 GPA. He's also never missed a football game, starting the majority of those contests, a feat that is almost unheard of in football.
"Knock on wood," he said when asked about his durability. "I've been lucky so far with injuries."
He credits his durability and success to those who taught him the value of hard work — his parents, his high school coaches and teachers and his college coaches.
"Those people laid the foundation for me, and helped me develop the mentality that I've had throughout my career," he said, adding that he believes athletics can inspire and uplift a community far beyond the field. "In my experience, athletics are a huge ambassador for any school, whether it's a high school or a college program. Athletics are a huge deal in our country, and people know that and people understand and want to be a part of a winning athletic program on a winning team, and that only makes a school stronger."
While the halftime ceremony was a celebration of Hillcrest's past, the school's current athletes were battling one of 4A's best teams Friday night in second-ranked Murray. The game was a close contest the first half with Muray leading 33-26 at the break. But the beginning of the third quarter was when the Spartans turned the game decisively in their favor.
Murray head coach Jason Workman said teams often run into different kinds of ceremonies in the second half of the season, and, as coaches, they just hope "they don't get too stagnant" during the extended halftimes.
That was certainly not the case for the Spartans, who've been a model of consistency since losing early in region play to Olympus.
"I got a group of guys who have so much experience that it's not hard to motivate them," Workman said. "They knew the importance of the start of the third quarter, and what we're trying to accomplish tonight."
The Titans and Spartans are tied for first-place in the region race, so there is no margin for error.
"There is pressure for both teams," he said. "It makes it so nobody has a two-game lead, every game is important, and you can't coast."
The Spartans success could be attributed to their experience and the fact that they have four players averaging double digits. Friday the team was led by Peyton Christman, who scored 19 points, Zack Dickerson, who added 17 points, and AJ Hodges, who scored 16 points, and James Walljasper, who finished with 12.
Hillcrest, which is, by contrast, a very young team, was led by Eli Walch, who scored 16 points, and Bassel Tekarli, who added 13 points.
Email: adonaldson@deseretnews.com
Twitter: adonsports