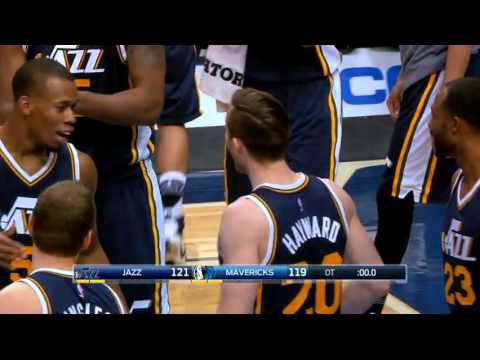 View 13 Items

I'm so happy right now. Derrick (Favors) and I have never had a win in Dallas. … Just a great win for us.

—Gordon Hayward
DALLAS — In his six NBA seasons, Gordon Hayward had never won a game in Dallas.
The Utah Jazz hadn't strung together a seven-game winning streak in that span, either.
That all changed in dramatic fashion Tuesday night.
With time running out in overtime, Hayward lost his defender, 6-foot-1 Raymond Felton, in a pick, raced around the perimeter to his left with the ball, stepped back to get some space between himself and 6-foot-11 Zaza Pachulia and then unleashed a perfect-form jumper just before the buzzer sounded.
Swish.
Game and drought over.
A celebratory mosh pit in front of the Jazz bench followed, after Utah extended its longest winning streak since 2010, thanks to the 121-119 victory.
"I'm so happy right now," a beaming Hayward said. "Derrick (Favors) and I have never had a win in Dallas. … Just a great win for us."
Utah hadn't beaten the Mavericks in the American Airlines Center since Jan. 9, 2010, when — how's this for a coincidence? — Deron Williams was the Jazz's star player.
Since then, the Jazz had lost 10 straight in Dallas and, more recently, dropped nine of 10 overall to Dirk Nowitzki & Co.
In the first half, it appeared that the same old Jazz were going to suffer the same old type of loss. The Mavericks lit up the arena from deep, hitting 6 of 12 3-pointers and all 11 free-throw attempts (while strangely not making a field goal inside the arc) to take an early lead.
Dallas led by 15 points on several occasions in the first half and even enjoyed a 10-point advantage early in the fourth quarter.
Favors, Hayward and Rodney Hood — the Jazz's hero before his "Hot Wing" partner's game-winner — then went to work to help the Jazz force overtime.
"I think we have a fight in us. It seems like every time we come here they punch us in the mouth early," Hayward said. "Today, we didn't let it get to 20 or 30, which has sometimes happened in the past. We kind of just kept hanging around, hanging around, hit some big shots and gave ourselves a chance to win, which is all you can ask on the road."
Hood hit the biggest shot in regulation.
After Felton and Williams exchanged free throws (six in all) and Hayward hit back-to-back layups, the Jazz found themselves trailing by three points with 7.1 seconds remaining in the fourth quarter.
Not surprisingly, the Jazz put the ball into Hood's hands and the second-year shooting guard forced overtime with a clutch 3-pointer a few feet behind where Hayward drained his game-winner a few minutes later.
Hood, continuing his terrific play of late, scored a game-high 29 points.
"He's been playing phenomenal," Hayward said. "Tonight he kept us in the game, (hit) a big 3 to tie it, which probably is a bigger shot than my shot, honestly, to give us a chance, put us into overtime. He's been a guy we've leaned a lot on when we need a bucket. "
Neither team scored for 100 seconds after Chandler Parsons tied the score at 119-all with a 3-pointer with under two minutes left in overtime. The Jazz appeared to have taken the lead when Parsons was called for goaltending on a Hood breakaway layup with 39.1 seconds left, but the call was overturned.
The Jazz then ended up with a chance to run the clock out and take the last shot after Parsons missed a go-ahead trey with 25 seconds left.
Guard Joe Ingles inbounded a pass to Hayward on the far side after a timeout with 4.2 seconds to go, and then Hayward did his magic, getting help from a pick by Favors.
"I think we are learning more and more how to make winning plays," Jazz coach Quin Snyder said. "But the key to me is that we are making the right plays. Gordon made the right play and he made the shot. The resolve that he had to get the ball and to create that shot was terrific."
Hood called this win one of the best of the season, ranking it "1A or 1B."
Added Hood: "It was great playing against a veteran team like that and being able to gut one out at their place."
Hayward finished with 20 points for the Jazz, who continue to surge up the Western Conference standings. Utah is now 26-25, the first time the team has been above .500 since an 8-7 start.
Incidentally, that was the Jazz's record after they beat New Orleans, the team they face Wednesday on the road, on Nov. 28.
"They rose up and hit a very difficult shot," Dallas coach Rick Carlisle said. "We had a couple of opportunities to step up into really good shots and they just didn't go down."
Parsons scored 24, Williams contributed 23 points and five assists and Nowitzki added 17 points and nine rebounds for the Mavericks. Dallas dropped to 29-26 and is only one game ahead of Jazz for sixth place in the West.
Judging from his pregame quotes, Carlisle wasn't surprised that the Hood and Hayward duo did his team in. Before his team lost at home to Utah for the first time in six years, here's what he had to say about the Jazz's potent pair:
"As a young wing tandem, I don't know of any two that are better."
When it mattered most — at the end of regulation and overtime — nobody was.
JAZZ NOTES: Point guard Trey Burke is suffering from the flu and did not travel with the team for its final two games before the All-Star break. ... Center Rudy Gobert scored 14 points with 10 rebounds for the Jazz. ... Favors finished with 16 points, eight rebounds and six assists after going scoreless in the first half. ... Dallas attempted only two field goals (and missed both) inside of the arc in the bizarre first quarter. ... The Jazz are now only 2-18 when teams score 100 or more points against them.
EMAIL: jody@desnews.com
TWITTER: DJJazzyJody