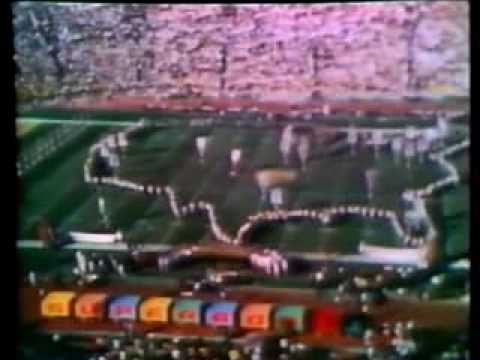 View 3 Items

There were no dancing sharks, no Beyonce and a Destiny's Child reunion, no Prince rocking out in the midst of a Miami thunderstorm when two professional football teams met to settle a championship at the Los Angeles Memorial Coliseum Jan. 15, 1967.
Those over-the-top performances would come later in the annals of Super Bowl halftime megashows.
There were, however, plenty of other big-for-their-day halftime pyrotechnics, including a pair of men flying around with jet packs and a shootout at the O.K. Corral, when the Green Bay Packers and Kansas City Chiefs faced off in Super Bowl I.
Then-20-year-old Andrea Griffith was there, soaking it all in while playing her part. The Tucson, Arizona, native and member of The Church of Jesus Christ of Latter-day Saints was on the field for that first Super Bowl as the first chair flutist for the University of Arizona marching band.
The band was the halftime show for Super Bowl I. The game was called the AFC-NFC World Championship Game for the first two Super Bowls.
"It was quite an honor. And it's become so commercialized and bigger. They have all kinds of people performing now, but it was just different then," said Griffith, now 69 and living in Kearny, Arizona, a small mining community about 80 miles north of Tucson.
According to the Super Bowl's official website outlining the entertainment history of the event, the U of A band, also known as The Pride of Arizona, played during pregame and for the national anthem as well. The marching band from Grambling State also played a part in the festivities, as did the University of Southern California Chorus.
At the time, Griffith was on scholarship at Arizona and not far from getting married at the age of 21. She played two years with the band, but this was by far the biggest showcase she was ever a part of.
Among the highlights of the band's halftime performance at that first Super Bowl included playing a score from "The Sound of Music," performing a pair of songs with renowned trumpeter Al Hirt and acting out the gunfight at the O.K. Corral.
During one stretch of the show, members of the University of Arizona band formed a pair of giant football players on the field and synchronized the two walking toward each other, a move that symbolized the forming of the American Football League and National Football League to what is the modern-day NFL.
As the two players walked toward each other, their legs kicked a pair of giant footballs and from them emerged two men wearing jet packs, symbolizing a kickoff. They flew for a short distance around midfield and quickly landed, meeting at the 50-yard line.
"When (the jet packs) went off, it was awful," Griffith said. "The noise was so loud that it was painful. We all thought we were going to be deaf after that. It was so loud, but it was quite interesting even though we were in pain."
Griffith also recalled performing with Hirt, an accomplished trumpeter and Grammy Award winner who was born in New Orleans, who joined the band for "Way Down Yonder in New Orleans" and "Trumpeters Holiday."
"The thing that sticks out in my mind is that Al Hirt was playing with us on Trumpeters Holiday," Griffith said. "He started the whole thing really fast and it was twice as fast as our band had been doing it. We were all really irritated with him."
Griffith and her family recently had the chance to relive the performance when a niece, Kathy Hulse, found a video of the band's halftime performance on YouTube.
It was indeed a rare find.
"It was amazing. I didn't know there was (a video) out. I had never seen it," Griffith said. "Then it was interesting. When I watched the video just recently, I thought it came across OK. It sounds like we did OK keeping up with (Hirt). We didn't feel that way at the time."
Any extra preparation for playing on such a big stage was likely restricted to extra holiday-time rehearsals, Griffith recalled.
"I'm sure we practiced over the holiday season, which we wouldn't have ordinarily," she said. "We had been in practice from the football season. We played every couple weeks, so we were in pretty good shape."
Griffith said there was a small group of LDS members in the band, but it was such a quick trip that there wasn't time for the group to take in any church-related activities, like a visit to the Los Angeles Temple.
"We just went out there and went back, as I remember," she said.
Griffith said she wished she had kept a journal of the trip and admits she never took any photos from the experience.
"You think you're going to remember something forever. And then you don't," Griffith said. "Or (memories) can be false. We can think something happened and it really didn't."
In her two years with the band, she also took a trip to the Beehive State.
"I remember going up to Utah. I think that was our first away game when I was a freshman. That was a lot of fun," Griffith said.
All this happened to a young woman who's never been to a Super Bowl since then — on Sunday, Super Bowl 50 will match the Carolina Panthers and Denver Broncos — and describes herself as having no interest in football, "even though my husband loves it and was in high school football."
"It was quite an experience," she said.
Email: [email protected]; Twitter: @brandonljudd