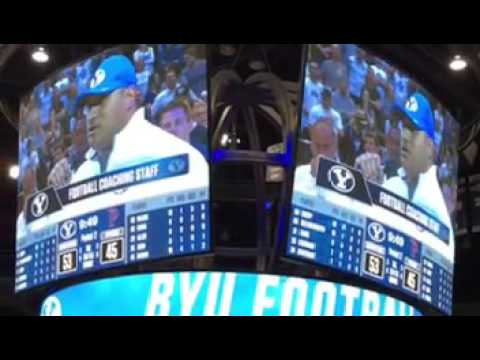 View 6 Items

PROVO — While the Marriott Center crowd cheered loudly for the basketball team on Saturday, the biggest cheers were reserved for the halftime show.
Surprisingly enough, not for the Jean's Golden Girls dancing group, which did perform, but for the introduction of the new football staff.
The new coaches were introduced by video, which showed highlights of those new coaches who did play for the Cougars. Those former players included new cornerbacks coach Jenaro Gilford, receivers coach Ben Cahoon and, most notably, new offensive coordinator Ty Detmer and head coach Kalani Sitake.
All coaches on staff were then introduced one by one to the crowd and were greeted with deafening roars, particularly for Detmer and Sitake.
The new Cougar head coach then took to the microphone to address the crowd.
"It's good to be home," Sitake said. "It's an honor to be here tonight before you. These great men, this great team we have — to be part of the BYU football program. It's an honor for us to be able to coach such tremendous, excited and exceptional young men. We've seen a lot of progress and we'll be ready to go this fall."
He then made sure to give thanks to the crowd, particularly the BYU student section.
"We give a lot of thanks, and sincere appreciation, to the best fans in the world, Cougar Nation," Sitake continued. "It would be crazy for me to talk about the fans without giving a shout out and props to the best student section in the world, the ROC."
Obviously, the crowd obviously responded very positively to his props, but the loudest ovation may have come after his closing words.
"Whether it's royal (blue) or navy, we own it, because it's all BYU blue," Sitake said. "So we have a Y on our court, we have a Y on the field, we have a Y on our logo, a Y on the Mountain and a Y in our hearts. We are always repping the Y wherever we go."
5
comments on this story
RECRUITS IN THE HOUSE: Most of the football prospects taking official visits to school over the weekend were in attendance at the game. Seated right by the student section, most of them were relatively passive watching the game, but cheered with the crowd when each coach was introduced, perhaps giving thanks for the free snowmobile outing and loads of great food, among other things, enjoyed on the trip.
Around 20 official visitors were in Provo over the weekend, including 5-star prospects Mique Juarez and Najee Harris. Other notables included Brighton High receiver Simi Fehoko and Maple Mountain High quarterback Jaren Hall.
Email: bgurney@desnews.com
Twitter: @BrandonCGurney