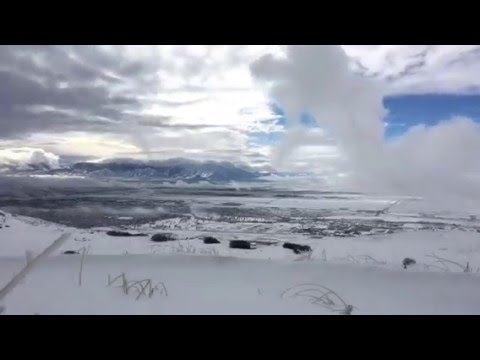 View 2 Items

SALT LAKE CITY — A winter storm blanketed much of the state Saturday, leaving road travel tricky in some places.
Snow is expected to continue to fall in southern and central Utah through Monday.
"We're expecting all the roads in central and southern Utah to be impacted by the storm," said Christine Kruse, a meteorologist with the National Weather Service in Salt Lake City. She said "depending on the location," mountains in those areas might see up to 2 or 3 feet of new snow.
The coming storm is forecasted to leave up to 14 inches in Cedar City, 1 to 2 feet near Hanksville and up to 8 inches at Lake Powell.
Saturday's cold front cleared the inversion that was hanging around earlier in the week, leaving far fewer bad air days this January than last year, Kruse said.
The highest snowfall totals Saturday were in Cache County, where Providence and Logan received more than 11 inches, Kruse said.
On the Wasatch Front, Brigham City reported 6 inches of snow, Bountiful got 6, and in Salt Lake County, Olympus Cove had 5 inches and nearly 7 fell in the upper Millcreek area.
In Utah County, it was much the same, tapering off toward Springville, where 4 inches of new snow was reported for the day.
"It was a pretty strong cold front," Kruse said, adding that "a good bit of snow came through with that."
The lower temperatures created heavier snow, with greater water content, leaving side roads and highways slippery. Various canyon roads were closed or restricted to vehicles equipped to travel them. Ski and snowboard enthusiasts were delayed on many of the canyon roads adjacent to resorts, but normal travel times resumed by late afternoon.
An overnight avalanche that covered the road in American Fork Canyon kept that canyon closed most of the day.
Utah Highway Patrol troopers and local police departments were busy throughout Saturday responding to vehicle slide-offs and crashes, most of them minor, but leaving drivers temporarily stranded in the storm.
From midnight Saturday through 4 p.m., the Utah Department of Public Safety reported nearly 75 crashes in northern Utah, with 12 in Weber, 11 in Davis, 48 in Salt Lake and 19 in Utah counties.
There were about half as many slide-offs, though some were likely unreported throughout the day.
Kruse encouraged caution throughout the weekend when traveling on mountain passes and canyon roads. She said they'd be the hardest hit in the coming storm, especially in southern and central Utah.
The storm could reach as far north as Provo, but Kruse said there would only be light accumulations there Sunday.
No other significant weather events are expected through the remainder of the week.
Email: wleonard@deseretnews.com
Twitter: wendyleonards