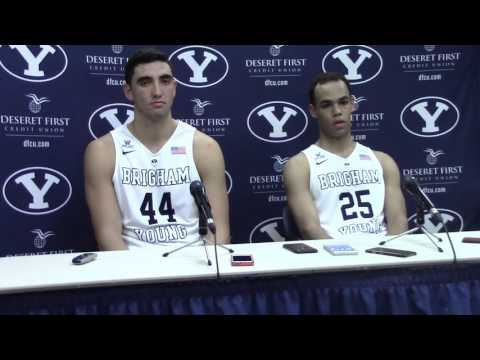 View 21 Items



PROVO — BYU coach Dave Rose mentioned prior to Thursday's game versus Loyola Marymount that he would shake up his rotation a bit. One player mentioned prominently in that shakeup was freshman forward Jakob Hartsock.
Through 21 games played this season, Hartsock had only seen action in 10 of them while logging an average of just over three minutes played in those games when he left the bench.
In Thursday's win over the Lions, however, Hartsock subbed in for Nate Austin at the 12:32 mark of the first half and made an immediate impact.
With the Cougars struggling, the Bartlesville, Oklahoma, native gave his team an immediate boost, including a 3-point basket that tied the game at 15-15. From there, the Cougars took control to end the half up by a comfortable 38-24 margin.
"He's got really good talent," Rose said of Hartsock on his coach's show, per KSL.com. "I think that right now the way that things sit with our team and a few games at home where younger guys usually perform a lot better, we will see what he can do with some minutes. Hopefully it will turn out to give us a lot more depth. It's all up to him now, because I think that he will actually have an opportunity to get out there and play."
Hartsock played six total minutes in the first half, providing a solid end on both sides of the court while likely making the sort of impact Rose envisioned.
Hartsock signed with BYU in 2012 and immediately left to serve a mission for The Church of Jesus Christ of Latter-day Saints to Las Vegas upon graduating from high school. He is the younger brother of former BYU forward Noah Hartsock.
Rydalch sets record: In BYU basketball action away from the Marriott Center on Thursday, it was Lexi Rydalch leading the Cougar women's team past the Lions for an 82-75 road win. In the game, Rydalch became the West Coast Conference's all-time leading scorer, with 2,221 points scored.
"For me, becoming the No. 1 scorer is a great honor because it means I've been doing a good job with my role. I'm doing what the team needs me to do," Rydalch said in an interview with WCC.com. "It's awesome, just because there have been so many great scorers in this conference. … It's awesome to be among those honored names in the conference."
Email: bgurney@desnews.com
Twitter: @BrandonCGurney