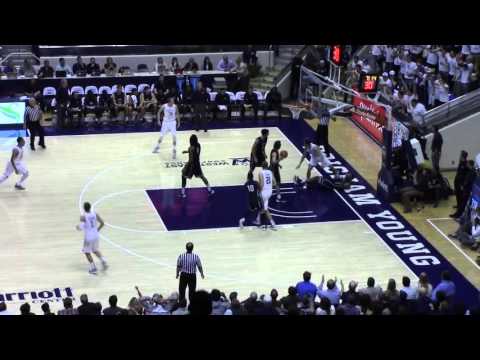 View 21 Items



A lot of it had to do with being back in the Marriott Center. We love this place and our fan base. It's nice to play in front of them.

—BYU forward Corbin Kaufusi
PROVO — For a while, it was a little like déjà vu all over again for BYU and Loyola Marymount Thursday night at the Marriott Center.
Just seven days after the two teams faced each other in Los Angeles, LMU started strong, but the Cougars responded.
Different venue, same result — this time, BYU cruised to an 87-62 victory over the Lions.
Last week, LMU made 17 of it first 21 shots against the Cougars. Thursday, the Lions hit their first four shots — including a couple of dunks — to take an early 8-0 lead, a reminder that LMU took a 15-point first-half lead a week ago before BYU rallied for a 91-80 win.
But LMU's hot shooting didn't last long this time.
Cougar coach Dave Rose called a timeout, got his team's attention and BYU started to share the ball more, shoot the ball better and improve its defense.
"It looked early like we were really winded. We haven't played a lot here," said Rose. "We got through the initial burn and got our second wind and kind of settled down a little bit."
And the Cougars took control.
"We knew what they were going to do. They kind of stuck it to us last week," said guard Jordan Chatman, who scored eight points and grabbed seven rebounds. "We were down by a lot. We wanted to come back and get some revenge for that."
While last week's game was in doubt until late, BYU dominated for most of this contest.
"A lot of it had to do with being back in the Marriott Center," said forward Corbin Kaufusi. "We love this place and our fan base. It's nice to play in front of them."
There were a few other similarities between the two games. LMU had a 20-0 run in the first half last week, and the Cougars went on a 20-2 first-half run Thursday to put the game away.
While BYU assisted on 28 of 32 baskets last week, the Cougars assisted 23 of 32 buckets Thursday.
"That was definitely an emphasis for us," Chatman said.
The only bad news for BYU on this night was freshman guard Zac Seljaas suffering a shoulder strain on his shooting arm in the second half. He will be re-evaluated Friday morning.
The Cougars were led by five players in double figures — Kyle Davis (19), Chase Fischer (17), Kaufusi (12), Kyle Collinsworth (11) and Nick Emery (10).
Davis drilled 9 of 13 shots from the field and Fischer nailed four 3-pointers for BYU.
No, Collinsworth didn't have a triple-double like he did a week ago, but he did have eight assists and five rebounds to go with his 11 points.
LMU forward Adom Jacko, who scored 26 points on 11 of 12 shooting last week, finished with 20 points on 9 of 16 shooting Thursday.
"Jumping" Jacko recorded three rim-rattling dunks in the first half.
"Jacko had his way for the first eight minutes of the game," Rose said.
LMU made 9 of 11 3-pointers a week ago, but got only 2 of 22 3-pointers to drop Thursday.
"We challenged their shooters pretty well," Rose said. "The fact that (LMU made) 2 of 22 from the 3-point line is not what happened last Thursday night. As we got them to miss, we challenged them better. Our confidence increased."
The Cougars shot 51 percent for the game, including 56 percent in the second half. LMU shot 33 percent. The Cougars outrebounded the Lions, 47-37.
BYU trailed, 15-10, with a little less than 13 minutes remaining in the first half when the Cougars enjoyed an offensive explosion that included 3-pointers by Jakob Hartsock, Emery and Seljaas and an emphatic drive, dunk by Collinsworth. BYU led 30-17 with 4:40 left until halftime.
During that stretch, LMU went five minutes without scoring.
The Cougars extended their lead to as many as 16 before going into the locker room at intermission with a 38-24 advantage.
Fischer drilled a pair of 3-pointers to start the second half, then a 10-0 Cougar run gave BYU a 54-32 lead.
The Cougars led by as many as 30 with 4:26 left in the game.
Kaufusi got involved in a big way in the second half, scoring all but two of his points over the final 20 minutes.
"We played a lot of guys who haven't played a lot of minutes in the past week or two," Rose said. "It's good to get them out there and see them produce."
With the win, the Cougars improved to 15-7 overall and 6-3 in West Coast Conference play while the Lions dropped to 10-11 and 3-7.
BYU hosts Pepperdine Saturday (8 p.m. MST, ESPN2).