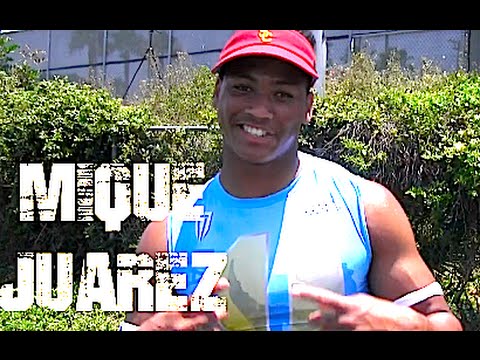 View 7 Items

The Utah and BYU football programs will be rolling out the red carpet in earnest this weekend, attempting to make final pitches to several highly sought-after prospects while working to affirm other players' prior commitments.
National Letter of Intent (NLI) Day is Wednesday (Feb. 3) when all programs will finalize their 2016 recruiting classes. The weekend prior to Feb. 3 marks the final opportunity to provide official visits for football recruits given the NCAA-mandated dead period that begins on Monday and lasts until NLI day.
So making a last strong bid is imperative, which is why both Utah and BYU's final list of visitors include several high-profile prospects already committed to either program or still uncommitted.
A unique aspect of this year's final visits will be at least three prospects looking to split time at both programs — visiting BYU for a couple of days and then immediately driving about an hour north to see what Utah has to offer. Those three include Bradlee Anae (defensive end from Kahuku, Hawaii), who will have concluded his BYU visit on Thursday before heading to Utah, East High offensive lineman Johnny Maea and defensive lineman Wayne Kirby (Pocatello, Idaho). Maea previously committed to Utah and will likely spend Thursday and Friday in Provo and then Saturday and Sunday in Salt Lake City, along with Kirby.
Utah will welcome as many as six previously committed prospects, according to Utezone.com, including Maea, Cole Fotheringham (tight end, San Clemente, California); Leki Fotu (defensive end, Herriman High); Alec Dana (receiver, Caffey College, California); Tucker Scott (offensive lineman, San Clemente, California); and Alema Pilimai (linebacker, Tustin, California)
Three of those six committed visitors (Maea, Fotheringham and Pilimai) also hold BYU offers and will have previously taken visits to BYU before visiting Utah.
Headlining the group of uncommitted visitors to the Ute program are East High athlete Johnnie Lang, who led the Leopards to a state championship in 2015, and Anae. Another top prospect, Donovan Thompson (linebacker, Miami) wrapped up his official visit on Thursday.
"It's an important weekend for Utah football," said Utezone.com publisher Dan Sorensen. "With less than a week to go before signing day, coaches have the opportunity to put final touches on their recruiting class while working to shore up commitments from several prospects who are considering other schools. It's a great opportunity to build some momentum leading up to NLI day."
For BYU, there may be even more drama heading into the last weekend of official visits.
Around 20 prospects are expected in Provo this weekend, including committed prospects such as receiver Jonah Trinnaman (Snow College), who reaffirmed his BYU commitment after visiting Utah the weekend prior, and Brighton High's Jackson Kaufusi (linebacker), who committed to BYU shortly before this weekend's visits.
Like Utah, BYU will host three prospects committed to the program who visited Utah the prior weekend. Those include Trinnaman, Maple Mountain High quarterback Jaren Hall and Bountiful High linebacker Max Tooley.
The uncommitted visitor list is headlined by 5-star prospect Mique Juarez, who recently took an official visit to Alabama. The Torrance, California product had previously committed to USC but opened up his recruitment shortly after the Trojans let go of then head coach Steve Sarkisian.
Another former USC commitment making his way to BYU this weekend is defensive line prospect Keanu Saleapaga from La Mirada, California. Saleapaga recently took a visit to Colorado and mentioned he'll either sign with the Buffaloes or the Cougars come NLI day.
Other uncommitted prospects expected to make official visits to BYU this weekend include running back Hirkley Latu (Kahuku, Hawaii); running back Tre Miller (Dixie High); Brighton receiver Simi Fehoko, who is committed to Stanford; quarterback Hayden Livingston (Rigby, Idaho); Kearns High running back Sione Finau, who is committed to Oregon State; along with Maea, Kirby and Anae.
"With less than a week until Signing Day, BYU head coach Kalani Sitake, and his new coaching staff, have been gaining momentum," said Mitch Harper, publisher of cougarnation.com on the rivals network. "Regardless of what happens in the next five days, Sitake has already impressed many by reaffirming commitments from everyone in this 2016 class. Any new additions at this point are just gravy for the Cougars."
Email: bgurney@desnews.com
Twitter: @BrandonCGurney