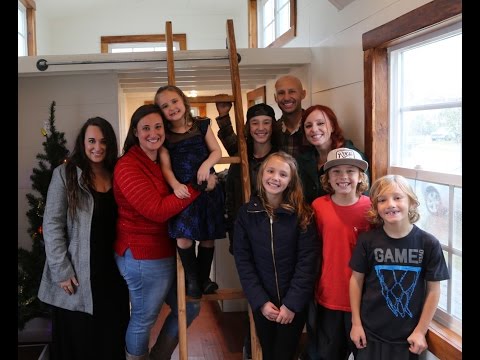 View 7 Items

Lindsay Larson had a dream of owning a tiny house.
After separating from her daughter's father, Larson moved into a maintenance building on her workplace's property. The building frequently flooded creating less than ideal living conditions. Larson purchased the shell of the tiny house she had dreamed of owning. The house needed serious renovations, but Larson was on her way to her dream. Part of a growing trend, a tiny house is a smaller, fully functioning version of the average home. "The typical American home is around 2,600 square feet, whereas the typical small or tiny house is between 100 and 400 square feet. ... They enable simpler living in a smaller, more efficient space," according to thetinylife.com.
Her dreams were put on hold when flooding in Larson's hometown of Pensacola, Florida, was declared a national disaster in April 2014. The flooding ruined the tiny house, but Larson didn't let this deter her; she simply viewed it as a setback and began saving again.
More than 1,600 miles across the United States in Gilbert, Arizona, the Micah Slade family was trying to think of something special to do for its annual video Christmas card. Four years ago, the Slades began creating video Christmas cards to share with their family and friends, but for 2015, they wanted to do something memorable.
Turning to their faith as members of The Church of Jesus Christ of Latter-day Saints, they began fasting and praying to know what to do. Micah Slade remembers being in the temple when he had the idea to build a house for someone. Thoughts of tiny houses flooded his mind along with the phrase "a home for the holidays."
Slade knew building a tiny house would be a lot of work for his family of six. It was already August, and the house had to be finished by December.
"I knew it was going to be a very time-sensitive type project," Slade said. "We had to really bust on it, and it would be a lot of hard work and everything, but we just put it all on our to-do list, the whole thing, and just met it head-on. We just tried to do it and learn along the way."
The family completed enough of the house by Thanksgiving to record a video inviting people to nominate anyone within the continental United States who needed a home for the holidays. Submissions had to include an essay and a $20 donation to Charity: Water.
Larson was reading a blog when she saw the contest information. She forwarded it to her sister, Lacey.
"I was mostly sharing to say, 'Hey, look, isn't this cool?'" Larson said. "Two days later, she informs me that she, in fact, submitted an essay on my behalf. I laughed, thought it was a kind gesture but naysayed all the reasons it would happen."
Larson thought her distance from Arizona would disqualify her — and it could have. The Slade family received 75 submissions from Boston to California. They received one that would have been convenient to deliver just 8 miles down the road from their home. But the Slades were more concerned about the house going to the right person than they were about convenience.
They read all of the submissions, asked for second opinions to remove any bias and prayed about which candidate needed the tiny house.
Lacey Larson's submission on her sister's behalf stood out because it described someone who had been through a number of challenges but always looked for the positive.
"She seems to just handle it with positivity and optimism and 'We can overcome this' and 'That's OK.' Her house floods, and she's like, 'Oh, I guess I needed to declutter anyway.' Just that kind of attitude made us think this person is grateful, and she would be so glad and grateful to have something like this, and it would springboard them."
They knew the tiny house was meant for her.
On Dec. 20, with the emotional and financial support of family and friends, Slade and his family began their cross-country trek to deliver the tiny house.
Although they met opposition along the way in various forms, including two flat tires in Texas, Slade said they learned they could "do hard things for other people, and nothing good comes without some sort of sacrifice."
They arrived in Pensacola nearly 48 hours later, and on Dec. 22, they met Lindsay Larson and her 5-year-old daughter, Kellan, for the first time.
"We meet her, and she's like 10 times better than we thought, than we would've ever expected," Slade said. "She's just such a gracious person."
For Larson, the experience was the fulfillment of a dream, and she now refers to the Slades as her superheroes.
"To be very exact, I think they set the bar for humanity," Larson said. "These beautiful people have a sense of generosity, compassion and kindness unmatched by any others I have ever met. My goal from here on out is to instill in my daughter these traits that the Slades exemplify. What a world this would be if we were all on the Slade level."
Slade remembers Larson asking why they would do this for her and if there was anything she could do to express her gratitude.
As his family was about to drive away and head back to Arizona, Slade grabbed a book out of the truck and took it to Larson. As he handed her a copy of the Book of Mormon, he told her that all he asked in return was that she read the book that inspired his family's project.
"This was something that we knew we needed to share with her," Slade said. "What drove this whole thing? Why are we doing this? The only thing we can put a finger on is that it's from the teaching of the Book of Mormon that we've learned."
Larson promised she would read the book, and that is a promise she intends to keep.
"Micah tells me that they live their lives based on the messages from this book," Larson said. "I promised to read it, cover to cover, and I will gladly with a thankful heart. I didn't expect the invitation, but I also didn't expect a free home, so there really isn't anything I wouldn't do for my friends in return."
Slade said he and his family learned that their project was about much more than giving someone a home.
"We kind of did this whole thing with this thought that we were doing service and helping somebody in this certain area when in all reality the Lord knows so much better, and he really wanted to reach out to her and touch her in some way," Slade said.
"I think the whole purpose for this whole project and everything was really all about, more than even giving her some place to live or whatever, was that he cared about her and that someone listened and let her know that."
The Slades returned to Arizona on the morning of Christmas Eve with memories that will last a lifetime, while in Florida, Larson and her daughter finally had a home for the holidays.
"Sometimes I lie on the floor and look around and smile," Larson said. "Sometimes I cry a little. All the time I am happy. Having a dream come true is surreal. I'm not sure I'm out of the shocked stage yet."