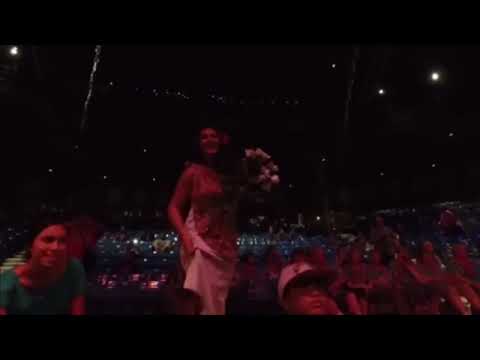 View 7 Items

Christian Parker, brother of NBA superstar Jabari Parker, proposed to girlfriend Terina Oto on New Year's Eve with the help of friends at the Polynesian Cultural Center in Laie, Hawaii.
Oto, a lead performer in the evening show at the Polynesian Cultural Center, thought the choreographed dance was a tribute to the service missionaries at the PCC, but it was all for her. Parker enlisted the help of Oto's uncle, a choreographer at the PCC, and the uncle came up with the idea to create a flash mob. Parker then recorded a song in a studio in Chicago, using the voices of LDS friends such as The Jets and The Moleni Brothers.
On the night of the proposal, Oto escorted the service missionaries, who she thought were being honored, to the front of the stage after the PCC evening show. She then watched as more than 200 people, including students at her preschool, family, friends and co-workers, participated in the flash mob that led to Parker's proposal.
Parker said what made him know Oto was the woman he wanted to marry was her positivity. Oto told Parker she could live anywhere there is warm water and no roaches. She also said she didn't want an engagement ring, only a date on which she and Parker can be sealed in a temple of The Church of Jesus Christ of Latter-day Saints.
"I know that you said you didn't want a ring. You just want a temple date, so June 23. I hope that you'll meet me there and be my eternity," Parker said before popping the question and giving her a ring.
The temple date has since changed, but Oto said yes.
"Thank you for all your hard work, time and every detail you put into this memorable occasion," Oto later wrote to Parker on Facebook. "Thank you for being so thoughtful and including so many people that I love the most. … I have to admit it was overwhelming at first, but there's no doubt that I went to bed feeling so loved by many and especially from you, my fiance."
The couple met 10 years ago when Parker was a freshman at BYU-Hawaii, but the two were only acquaintances until one year ago, when they reconnected at a wedding. They have been dating ever since.
Parker and Oto will be sealed in the Laie Hawaii Temple on June 24.
Parker, a 30-year-old from Chicago who served a mission in Georgia from 2006-2008, said single life has been fun, but he is excited for the next stage of life.
"For me, I feel like it's the real beginning to eternity," Parker said.
Watch a more detailed video of Parker's proposal here.