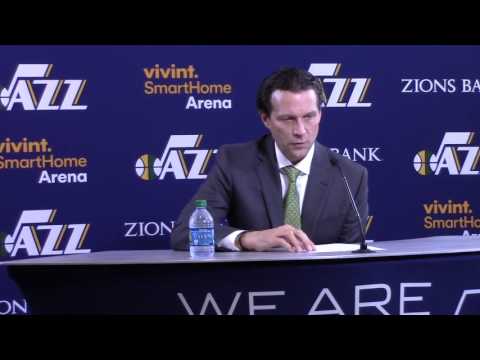 View 19 Items



He's big for us — the little things that he does for us, the passing, the screening, defensively he makes guys second-guess.

—Jazz small forward Gordon Hayward
SALT LAKE CITY — Rudy Gobert noticed something upon his return to NBA action on Thursday night in Houston.
A five-week absence helped his hops.
"I tried to be aggressive. I felt good," Gobert said. "I jumped higher than I was jumping before the injury. I feel great."
The Utah Jazz are also feeling great — and are certainly capable of reaching higher than they have been — with their 7-foot-1 defensive anchor back in the lineup.
Gobert, who'd missed 18 games with his knee injury, played an instrumental role in the Jazz's 98-83 defeat of the Miami Heat, scoring nine points with five rebounds, four assists and, perhaps best of all, four blocked shots.
The final block came late in the game and just about caused Jazz fans to scream even louder than when they roared after winning free chicken sandwiches thanks to two missed Hassan Whiteside free throws in the fourth quarter.
"He's big for us — the little things that he does for us, the passing, the screening, defensively he makes guys second-guess," Jazz small forward Gordon Hayward said. "So it was good to have him back."
Gobert was restricted to 15 minutes in his first game back Thursday against the Rockets after being sidelined with a sprained left MCL. On Saturday, the Stifle Tower was on the court for 28 ½ minutes.
"I have to push it a little bit. The team wants me to be careful, which is normal," Gobert said. "I feel great. I played double the minutes from last game and I'm ready to play full now."
Gobert credited his teammates for the win, which snapped a three-game losing streak.
"I think all the guys stepped up — Chris (Johnson), Trey (Burke)," he said. "Everybody worked hard defensively and that's why we won the game."
Defensively, though, the Jazz's defensive success all starts with Gobert in the middle, so that's why his teammates are thrilled to have him back.
"I thought he looked good," Hayward said. "It's going to take him a while to get back into the flow of things. I'm sure he's probably a little winded, but I thought he looked good."
QUICK UNDERSTUDY: Gobert credited his backup, third-year center Jeff Withey, for filling in nicely for him while he was out.
"He got better. He got more confidence," Gobert said of Withey, who's averaging 5.0 points, 4.4 rebounds and 1.4 blocks in only 15.6 minutes (numbers similar to Gobert's per 36, by the way).
"I've been trying to help him talk to him during the game on the bench," Gobert added. "He got better during the game, during the stretch when I was hurt."
HEATED SHOWDOWN: This was the first duel for Gobert this season against Miami center Hassan Whiteside. The Jazz center missed the teams' first meeting with a sprained ankle.
"I was a bit mad with the game in Miami," Gobert admitted at Saturday's shootaround. "Now I'm just focused on the game. We need to win this game. I'm not going (in with) a one-on-one mentality. I'm just trying to respect the game plan and win the game."
Mission accomplished.
While Gobert had his nice stats, Whiteside finished with 10 points, 11 rebounds and four blocks.
However, the Jazz outscored Miami by 10 points while Gobert was on the court, while the Heat gave up five to Utah while Whiteside was out there for 30 minutes.
SNAKE-BITTEN?: Gobert was bummed that Rodney Hood got injured in the first game he played in since the end of November.
"It's tough. Coming back, Rodney gets hurt," Gobert said. "We've just got to stick together. I think we're going to be fine. It was a tough stretch."
Gobert did offer some hope for those who want Hood to return soon.
"I don't think Rodney's going to be out too long," he said of the shooting guard, who was sidelined Saturday. "I think we're going to be healthy pretty soon."
TWITTER: DJJazzyJody