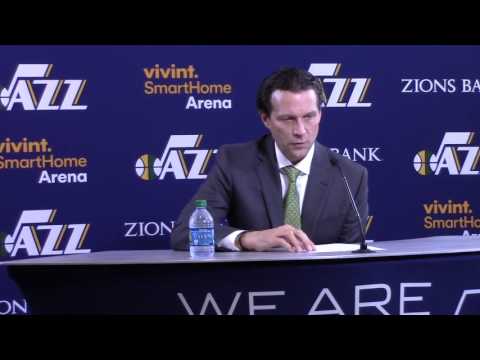 View 20 Items



SALT LAKE CITY — Alec Burks still can't do weight-bearing exercises and he glides around with one knee on a scooter, but the Utah Jazz guard's health situation is improving.
"I'm getting better," Burks said Saturday night as his teammates played the Miami Heat. "I ain't in no pain right now, so it's good."
Burks joined the Jazz's MASH unit two weeks ago when he crashed to the court hard after being fouled by Clippers veteran Paul Pierce. Burks hit his head on the hardwood, suffering concussion-like symptoms, and fractured his left fibula. Fortunately, his surgically repaired left shoulder wasn't hurt in the fall.
"I didn't know what was happening, for real, to be honest," said Burks, who noted his head is feeling better. "I do that all the time. I fall in the air, so I thought I was going to bounce back up."
Burks eventually got up and shot free throws, which he had to in order to return to that game (though that didn't happen).
"It wasn't good," the fifth-year player said, smiling. "I didn't make them, so it was even worse."
Initially, it was announced the surgery wouldn't be required on Burks' broken ankle, but further evaluation determined that the quickest course to recovery would necessitate putting a steel plate in his leg.
"(I was) just trying to find out what the best situation for it so I could speed up the process (and) I found surgery was so that's what I wanted to do," he said. "I want to get back as quick as possible."
No timetable has been set, but the hope is that Burks will return shortly after the All-Star break in mid-February.
In the meantime, Burks is looking forward to being able to begin the rehab process. For now, Burks said he's doing "nothing much" other than keeping his ankle elevated and staying off of his leg.
"I'm just getting better," he added.
The Jazz were down to three healthy wings against the Heat on Saturday. Starting shooting guard Rodney Hood missed the game with a sore right foot, and Elijah Millsap was waived earlier this week.
Utah is also without point guard Dante Exum (knee surgery) and power forward Derrick Favors (back spasms).
Burks shook his head when asked about the Jazz being snakebitten on the injury front.
"Man, it's something you can't control," he said. "You can't control people getting hurt, so it is what it is."
Burks happened to have one of his biggest fans in the arena when the Heat visited Saturday night.
Earlier this week, Miami guard Dwyane Wade was asked to name the most underrated player in the NBA.
The superstar's answer was popular amongst Jazz fans.
"Alec Burks for Utah," Wade wrote. "He's out right now but he can play."
Burks didn't see Wade's Twitter love until the next morning when Jazz trainer Brian Zettler told him about it.
"I was wondering why my Twitter was going crazy," he said. "The O.G. showing love. It was appreciated."
Burks smiled when asked if he agreed with Wade's assessment.
"Of course. Why wouldn't I?" he said. "That's just the type of confidence I have in myself."
The Jazz are crossing their fingers his confidence — and healthy body — will return sooner than later.
EMAIL: jody@desnews.com
TWITTER: DJJazzyJody