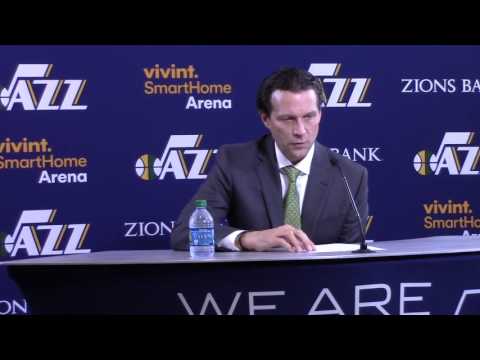 View 19 Items



We've talked about trying to get better throughout whatever challenges we have with injuries and fatigue on back-to-backs and playing through adversity. I think our players could have been down, but we just tried to maintain a strength of character as a group and not let those things affect us.

—Jazz coach Quin Snyder
SALT LAKE CITY — It may have been the most unlikely win of the season, but certainly the most satisfying as the Utah Jazz knocked off the Miami Heat 98-83 Saturday night at Vivint Arena.
Here were the Jazz coming off three straight losses, playing with a severely depleted lineup, going against one of the best teams in the Eastern Conference and getting down by double digits in the first half, only to rally back and win going away.
The win upped Utah's record to 16-20 as they head off to Los Angeles for a game against the Lakers Sunday night, which will be their fifth game in seven days.
"It's a really good win for our team," said Quin Snyder. "We've talked about trying to get better throughout whatever challenges we have with injuries and fatigue on back-to-backs and playing through adversity. I think our players could have been down, but we just tried to maintain a strength of character as a group and not let those things affect us."
The Jazz got a terrific game from Gordon Hayward, about the only Jazz player left standing after the spate of injuries this year, who carried the Jazz on his back much of the night, scoring a season-high 34 points on 14-of-22 shooting, including 18 points in the third quarter when the Jazz made their move.
"I knew I needed to be aggressive throughout the game," Hayward said. "Once I saw a couple go in, the basket opened up a little more and I was able to get some more. Everything slows down and the game comes easier. Things were going in for me. I was turning the ball over so much (8 turnovers), I may as well just throw it at the rim."
Snyder said of Hayward, "we rode him tonight" and added "with without Alec (Burks) and Rodney (Hood) and Fave (Derrick Favors) out there, a lot of that falls to Gordon. He's been really poised and been terrific through this whole time."
As well as Hayward played, aside from the turnovers, he had all kinds of help from his scrappy teammates.
How about Chris Johnson scoring 14 points in his first Jazz career start and helping shut down all-star Dwyane Wade to just eight points on 3-of-17 shooting?
Then there was Rudy Gobert playing in just his second game after sitting out five weeks with a knee injury and scoring nine points with five rebounds and four blocked shots.
The two rookie starters also contributed as Raul Neto tied his career-high with 13 points while dishing out a team-high five assists, while Trey Lyles grabbed 10 rebounds and played strong defense. Joe Ingles hit two 3-pointers in a two-minute span early in the fourth quarter to extend the Jazz lead to seven.
While the Jazz were missing Favors for the ninth straight game, Hood, who injured his ankle in Houston Thursday night and Burks, who is out until at least next month, the Heat came in at full strength, including former all-stars Wade and Chris Bosh.
"Four of out top six from the summer (are not playing). Guys that are playing, though, are ready to go and ready to compete," Snyder had said before the game.
The Heat came into the game with the fourth-best record in the Eastern Conference at 22-14 after a win over Phoenix Friday night. They took a 29-19 first-quarter lead thanks to 70-percent shooting (12 of 17) and still led 49-45 at halftime.
That's when Hayward heated up, hitting a couple of baskets early in the third quarter, including a 3-pointer. Then he hit a 15-footer in the lane to put the Jazz up for good at 61-60, then scored the next 11 Jazz points as they took a 72-68 lead into the fourth quarter.
"You have to give him credit he's such a savvy scorer,'' Miami coach Erik Spoelstra said of Hayward. "He was doing it off drives, off movement, off pick-and-rolls. We had three or four different defenders on him and two or three different looks. He's really grown as a player."
For Miami, Bosh led the scoring with 24 points, while Goran Dragic added 16 points and Gerald Green chipped in 13 off the bench. Hassan Whiteside had a double-double with 10 points and 11 rebounds.
The Jazz get right back at it Sunday with a game against the Los Angeles Lakers at the Staples Center. It will e btheir first of four games against Kobe Bryant, who is in his final year in the NBA.