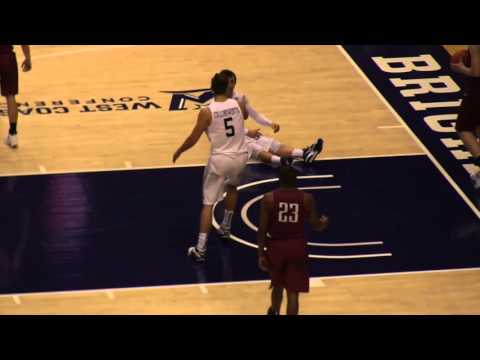 View 22 Items

PROVO — During the 24 hours leading up to tipoff Thursday night between BYU and Santa Clara at the Marriott Center, the big news, of course, was Utah's controversial decision to cancel next year's rivalry game.
The Cougars and Kyle Collinsworth helped fans forget about that, at least momentarily, against the Broncos.
Collinsworth recorded his ninth career triple-double, an ongoing NCAA record, and Nick Emery scored a game-high 23 points, in BYU's easy 97-61 win over Santa Clara.
"It's quite amazing what we're seeing because it's hard to have an effect like that on a college basketball game," coach Dave Rose said of Collinsworth's latest triple-double feat. "It takes a really rare talent to be able to rebound at that clip, assist at that clip and score at that clip. I like it when Kyle is really engaged and aggressive. That was a good combination tonight. He was engaged on both ends of the floor."
Collinsworth finished with 21 points, 11 rebounds and 10 assists.
"From a team perspective, when I do get triple-doubles, it means we're rebounding well and we're getting assists well," Collinsworth said. "For me as an individual, the main focus going into the game is rebounding. When I can rebound and get the ball in my hands, I can go straight up the floor and find shooters like Nick and Chase (Fischer) and Zac (Seljaas) and all those guys. It creates a whole new game for us. I just focus on rebounding and the rest just seems to happen because we have great shooters."
Emery hit 9 of 12 shots from the field, including 5 of 6 from 3-point range as he broke out of a bit of a slump.
"You look at his line, and in 24 minutes, that's a pretty impressive line," Rose said. "He got in some foul trouble in the second half. But he was another guy that was really aggressive and really engaged. He's a competitor. He's a real gamer. It was good to see him get back on track. Tonight, you got to see the potential he really has to affect the college game. He was good, he was really good, tonight."
With the Utes citing safety issues for their reason for interrupting the series that dates back to 1909, everybody remembered Emery slugging Ute guard Brandon Taylor in the rivalry game in December.
Well, Emery's scoring punch knocked out Santa Clara Thursday.
BYU improved to 11-5 overall and 2-1 in West Coast Conference play. The Broncos fell to 5-12 and 1-4.
It marked the Cougars' 10th consecutive victory over Santa Clara since joining the WCC in 2012. BYU has never lost to the Broncos in that time.
Seljaas ended up with 14 points, Fischer chipped in 13 for BYU and Kyle Davis had 10. Jared Brownridge led the Broncos with 16 points.
"We did a nice job contesting Brownridge's shot. We were tough on him," Rose said. "For the most part, we protected the rim pretty well and challenged shots."
Collinsworth made an impact on the defensive side, as he guarded Brownridge as well.
"He made it really tough on Brownridge," Rose said of Collinsworth. "His size, his length, his quickness and his athleticism allows him to challenge."
The Cougars led at halftime, 48-34, then built its lead to 21 against Santa Clara with a 59-38 advantage minutes into the second half. That stretch included a 3-pointer and a layup by Emery.
A 3-pointer by Jordan Chatman with a 5:30 remaining in the game gave the Cougars a 81-51 lead. A Collinsworth steal and dunk moments later put BYU up 83-51, and an Emery 3-pointer, which gave Collinsworth nine assists, saw the Cougars widen the gap to 86-52.
Each time Collinsworth passed a ball to a teammate, fans shouted, "Shoot it!" to whichever BYU player had the ball.
"It's a little awkward," Rose said of Collinsworth pursuing a triple-double late in a game.
Collinsworth achieved his triple-double with a dish to Kyle Davis with 3:23 remaining, prompting a big cheer from the Marriott Center crowd.
BYU never trailed against Santa Clara, jumping out to an early 14-6 lead after back-to-back putbacks by Collinsworth, who recorded seven points and seven rebounds (and zero assists) just seven minutes into the game.
Thanks in part to 3-pointers by Seljaas, Fischer and Emery, the Cougars extended their lead to their largest lead of the first half of 18 points, 38-20, with a little under five minutes left until halftime.
Brownridge, who didn't hit his first field goal until the midway point of the first half, ended the half with 14 points on 4 of 10 shooting from the floor.
Collinsworth had 14 points, eight rebounds, four assists and two steals at the intermission. Emery scored 12 and Fischer had 11 at the break.
The Cougars host San Francisco Saturday (7 p.m., MST, BYUtv).
TIP-INS: Collinsworth eclipsed Danny Ainge for second place on BYU's career assist list. … Emery scored in double figures for the 13th time this season … Seljaas has hit a 3-pointer in nine consecutive games.