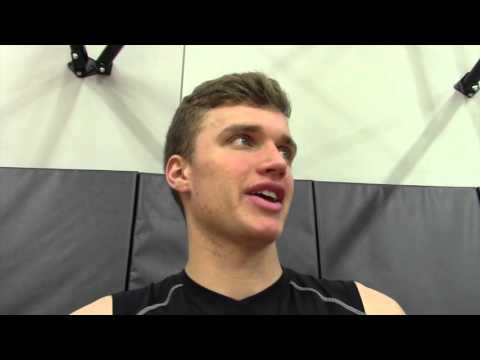 I'd love to jump in, but I mean it's just that one thing holding me back — losing my year and only having the one semester.

—Jayce Johnson
SALT LAKE CITY — Larry Krystkowiak opened his weekly press conference Tuesday by proposing to talk politics, before shooting that notion down.
"I could never answer that question without Twitter outrage," the Utah basketball coach joked.
While there is a presidential election on the horizon, there's another big decision coming up on Krystkowiak's radar as the season rolls further into Pac-12 action.
Will freshman center Jayce Johnson, who joined the team mid-December after enrolling early, play this year?
"Until you have those discussions with he and his family and make sure everyone's on the same page and understands the repercussions of it, it's a little bit of a tightrope to be walking," Krystkowiak said.
Krystkowiak and Johnson have met on a couple of occasions regarding that decision as each side seeks to determine the best course of action to take. If Johnson plays, he might contribute immediately. If he doesn't, he earns valuable experience as a redshirt heading into next year.
"He says it's up to me," Johnson said, following a practice on Wednesday. "It's what I feel. He would love to put me in, give me minutes, play me, but honestly it's my decision and how I feel. … For me, I've sat down and thought about it so much."
As Johnson ponders that decision, Krystkowiak and crew have been impressed with Johnson's ability since jumping into practices two weeks ago. The coaches say he led the team in rebounding in recent practices while going up against fellow center Jakob Poeltl, and added a dash of extra physicality to the team's practices.
"Jayce is just — he's an energy guy," Poeltl said, following Wednesday's practice. "He's going to give you 100 percent effort in practice every day and if he plays, he's going to give it to you in the game, too. That's what makes him good. He's a strong body. He can get a lot of rebounds and finish under the rim."
Johnson would give Utah depth in the paint, which doesn't go much deeper than Poeltl. Krystkowiak noted that freshman forward/center Makol Mawien is redshirting this year, as Brekkott Chapman, Chris Reyes and Kyle Kuzma, who is listed as day-to-day after landing hard in Utah's loss at California on Sunday, rotate around the frontcourt with Poeltl.
Johnson sat on the bench when Kuzma went down and when Chapman fouled out, which he said made the inner-debate even more difficult. He wanted to check in, but knew he needed more time to play out the pros and cons.
Johnson might give Utah a boost in the paint, but if he were to join Utah's frontcourt mix now, he'd sacrifice more than half of his designated freshman year and head into next season as a sophomore.
"I'd love to jump in, but I mean it's just that one thing holding me back — losing my year and only having the one semester," Johnson said.
Counting Saturday's matchup at Colorado, Utah has 16 games left in the regular season in addition to any postseason run. Continuing to wait could cut the number of games Johnson logs during his freshman year and his collegiate career if the eventual decision is to play.
However, there is no rush from either side.
"It's a big decision," Johnson said. "I have to make sure it's right."