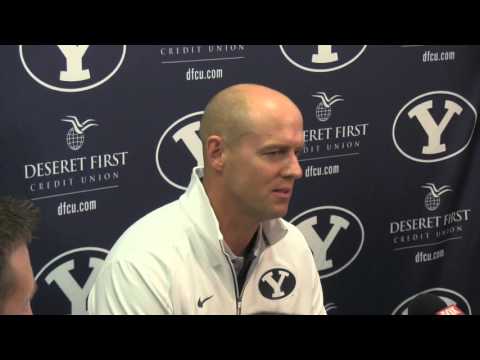 View 16 Items



PROVO — With precious little time spent within the program, BYU's three new assistant coaches are focused primarily on one thing: recruiting.
There's just one month left until National Letter of Intent Day and severely understaffed coaches Ty Detmer, Ilaisa Tuiaki and Ed Lamb are trying to put together a recruiting class that matches up with their coaching philosophies and what they, along with head coach Kalani Sitake, want to accomplish at BYU.
All three have hit the ground running, making house calls to desired recruits while working to maintain some of those players previously committed to the program when Bronco Mendenhall was the head coach.
But the recruiting process isn't focused on just those yet to sign with the program, according to Lamb.
"It's about recruiting and we use recruiting in a sense of those players that will join us, but also those players on the team," Lamb said. "Recruiting the current roster is something that's really important to us. So we've spent a lot of time trying to get used to who each player is on the roster, what they represent, what their strengths are and where their challenges are."
Coaches addressed the team, as a whole, early on Tuesday, but mentioned that one-on-one interviews and evaluations will be an ongoing process.
Still, from what they've seen, they say it's been impressive.
"I've watched some film and I'm excited," Tuiaki said. "I think that we've got some good talent and I think that the kids play hard, which is a tribute to what Bronco has done in the time he's been here and also to the kids…I'm excited about the talent that's on the team."
A staff that suits the players: Sitake has yet to add five coaches to his staff, and all coaches currently on staff say they wish those additions would happen sooner rather than later. With regards to who will be added and when, there's been a lot of discussions.
"It's a daily, on-going process and I'm not privy to all of those conversations," Lamb said. "We meet briefly, as a staff, each day and really just talk about the general shape of the staff — how it ought to look and there are specific names, that I'm not at liberty to share, but it's coming together really well."
What the coaches learn about the players currently on the team will help dictate the coaches hired.
"Once we have a sense for that, then I think it shapes the way we need to put together a staff in order to go about the business making the current roster the best it can be, along with the player that will come to round out the roster, " Lamb said of further evaluating what's currently in the program.
Current targets: Coaches were typically guarded with regards to which type of players they're currently targeting and how many on the signee-commitment list, gathered by Mendenhall and his staff, will they work to retain.
"We're working through some things and doing what we think is best for the program. And all of that goes through our head guy," Tuiaki said. "But we have to do what we think is best for the program — recruit kids and work through it."
As far as the pitch to recruits is currently, it varies from recruit to recruit.
"The pitch is trying to personalize it for every kid," Tuiaki said. "So that they feel like this is the right fit for them. And to be honest, some kids at the end of it, we'll just say, 'OK, it's not the right fit,' for him or for us and you just got to do what's best for the kid, even if he ends up going somewhere else."
Email: bgurney@desnews.com
Twitter: @BrandonCGurney